The Gang Leader as President
Josh Marshall
We awake to a bewildering, sobering tableau. A second night of protests engulfed Minneapolis in the wake of the police killing George Floyd and a news conference in which the county district attorney, Mike Freeman, appeared to resist bringing charges against the police officer, Derek Chauvin, who was videotaped kneeling on Floyd's neck before he died.
Protesters-turned-rioters took control the city's 3rd precinct after police evacuated the building and then set it on fire. In the early morning, Minneapolis Police arrested a compliant CNN news crew and reporter Omar Jimenez live on air. Overnight, President Trump, still egging on his faux battle with Twitter and threats to regulate it out of existence, went on the platform to threaten mass carnage against the city's "thugs."
Just spoke to Governor Tim Walz and told him that the Military is with him all the way. Any difficulty and we will assume control but, when the looting starts, the shooting starts. Thank you!
Read More
| News
String together coverage of COVID-19 "stay-at-home" orders in The Federalist, the conservative website, and it begins to resemble an ode to death itself.
Read More
| Miscellany
We're launching the TPM Journalism Fund as an additional way for readers and members to support TPM. Every dollar contributed goes toward expanding our editorial staff.
| Cafe
Is it May already? Does time mean anything anymore?
Yes, it's disappointing that we're all still stuck inside our homes with summer right around the corner. We know this is made especially difficult if you're a parent with children who are trying to finish off the school year online. With that in mind, TPM is sharing some recommendations of children's books that might help your little ones — or you — pass the time. No, this will not just be a page listing the Harry Potter books in order of best to very best. (I actually have not read the Harry Potter series, but that's a discussion for another time. Bring on the roasting in the comments.)
Read More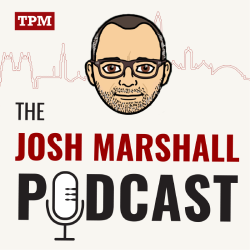 Ep. 121: 11/3 and 911
Josh, Kate and David analyze President Trump's scattershot attacks as he struggles to lay a glove on Joe Biden, as well as the Central Park 911 call heard '...
MEMBER EXCLUSIVES
PRIMEWIRE