Crisis
Josh Marshall
A really dramatic, wild scene unfolding as I write. Maybe you will have watched it live on TV. The President was first scheduled to do live remarks at 6:15 PM. Then it was 6:30 PM. Protestors have been in Lafayette Park all day but entirely peaceful. Police and military personnel from various agencies just about exactly at 6:30 started pressing a confrontation with what had been for the day an entirely peaceful crowd. They then started firing tear gas and flash bangs. It is impossible to believe that this overlapping timing was not intentional and intended to create a law and order tableau for President Trump to enter into.
Tear gas, flash bangs, apparently rubber bullets and mounted police heading into the crowd. This all looks not just one way but made for TV. By design.
| Muckraker
"Too vague to discuss."
That's the view of a national security attorney, one of several TPM reached out to about President Trump's much-discussed but apparently little-thought-out designation of antifa as a terrorist organization.
Read More
| News
String together coverage of COVID-19 "stay-at-home" orders in The Federalist, the conservative website, and it begins to resemble an ode to death itself.
Read More
| Miscellany
We're launching the TPM Journalism Fund as an additional way for readers and members to support TPM. Every dollar contributed goes toward expanding our editorial staff.
| Cafe
I've come to the conclusion that the outside is overrated. There, I said it. I know it's June and I know summer is just getting started, but why spend your days sweating it out in the humid, hazy outdoors when you can be inside with the A/C pumping? I'm a homebody, so maybe that's what's underlying my opinion here.
Read More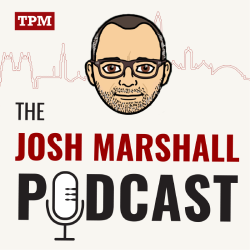 Ep. 122: Eyewitness Accounts
Josh, Kate, David and New York reporter Matt Shuham discuss what they're seeing, hearing and thinking as protests over the killing of George Floyd continue ...
MEMBER EXCLUSIVES
PRIMEWIRE