Some Thoughts on How We and I Will Cover the COVID-19 Story
Josh Marshall
TPM is basically a political news and investigations website. We cover a range of topics. We cover the big stories of the day even when they are not inherently political. Where we can we do it with an emphasis on their political and policy dimensions. But political news is the core of what we do.
We are all now in position in which the key big story of the day is the COVID-19 virus outbreak. It is fundamentally a public health story. But in addition to having major economic impacts, the COVID-19 is now impacting almost every question tied to politics, policy and governance.
So I wanted to share a few thoughts about how I and we will cover it.
Read More
| Miscellany
Our new 'Support Independent Journalism' merchandise is now available in the TPM store. Wear your support for truly independent journalism with all profit from sales going directly back into our journalism, not into the pockets of hedge funds or corporate overlords.
TPM PRimers: get caught up
| Weekly Primers
Another Blow To North Carolina's Voter ID Requirement
| Weekly Primers
House Oversight Panel Advances D.C. Statehood Bill
| Weekly Primers
With Impeachment Over, Trump Seeks Vengeance
TPM CAFE: OUTSIDE VOICES AND ANALYSIS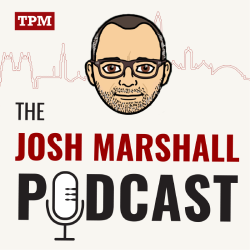 Ep. 107: 2020's Grumpy Old Men
Josh, Kate and David are joined by TPM's Executive Editor David Kurtz to talk about the upcoming South Carolina primary and Super Tuesday contests, and why ...
MEMBER EXCLUSIVES
PRIMEWIRE