So Where Are We?
Josh Marshall
We're seeing a lot of talk about the decoupling of the infrastructure bill and the reconciliation bill. Let's start by stating the obvious: this isn't great. But we've been in the land of the not great for at least a couple weeks. That said, we should remember that the joined approach isn't simply about timing. It's the commitment that the President's agenda is both bills and that both have to pass. Insisting on passing them together in sequence was a way of guaranteeing that both would pass – giving each side a veto over what the other side wanted most.
Read More
| News
Senate Republicans made good on their threat to filibuster a continuing resolution that would have funded the government for a few more months and suspended the debt ceiling through December of next year.
Read More
| Muckraker
The House select committee investigating the Capitol insurrection has issued its first batch of subpoenas, homing in on further unearthing the White House's role in the Jan. 6 attack on Congress.
The panel released the witness subpoenas last night, demanding documents from and interviews with Steve Bannon, Mark Meadows, Kash Patel, and Dan Scavino.
Read More
| Muckraker
Imagine for a moment if it had come out during the 2016 campaign or in the first year of the Trump presidency that GOP political operatives were accused of illegally funneling Russian money into the Trump campaign.
Now, some five years later, that's precisely the accusation federal prosecutors are making in a new case in DC.
What took so long?
Read More
| News
As legislative efforts to expand voting rights hit the brick wall of the filibuster in the Senate, and as conservative courts across the country side with state Republicans' novel restrictions on the franchise, the third branch of government is preparing to fill in the gaps where it can. And for members of Joe Biden's Cabinet, homework is due.
Read More
| News
As Democratic moderates stake out ultimatums, party leadership tries to keep the agenda in one piece and the White House attempts to polish the messy optics of legislative sausage-making, staffers continue to plug away at crafting the actual reconciliation package behind the scenes.
Read More
| News
In May, a federal judge dismissed a Trumpy lawsuit over the 2020 election results in Antrim County, Michigan, where a clerk's error had briefly resulted in a miscount of the vote. "Expert" witnesses in the suit had seized on the discrepancy, which they claimed was the result of Dominion voting machine technology "purposefully designed" to tamper with vote totals.
Read More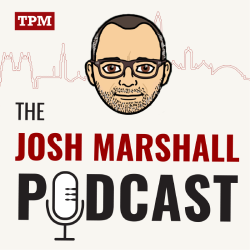 Ep. 191: Big Tent Wrangling
Josh and Kate discuss the debt ceiling, impending government shutdown and fate of the two-track infrastructure plan as Democrats try to get their house in o
MEMBER EXCLUSIVES
PRIMEWIRE