Possible Developments in the Treatment of Acute COVID-19
Josh Marshall
This appears potentially quite important. Since it has to do with technical clinical details and treatment protocols I'll try to be both as precise and general as possible. Yesterday I noticed this grainy youtube video posted on March 31st by a New York City emergency and critical care physician, Cameron Kyle-Sidell. Kyle-Sidell said that he thought the treatment protocol and basic understanding of acute COVID-19-induced respiratory distress were both wrong. He said that what he is seeing in his ICU does not look like pneumonia but rather oxygen deprivation (hypoxia). Thus the treatment shouldn't be focused on high pressure for someone whose lungs aren't able to function but rather more effective ways of delivering additional oxygen. Critically, he argued that the high pressure ventilation might be damaging the lungs. He also said his impressions were based both on his ICU work over the previous two weeks and conversations with other clinicians around the country.
Read More
| Muckraker
With COVID-19, it's one step forward, two steps back.
Read More
COVID-19 Around The Globe
| News
The resistance some states have shown to implementing aggressive coronavirus responses has led public health experts to call for President Trump to issue nationwide stay-at-home guidance.
Read More
SOLUTIONS FOR OUR DEMOCRATIC CRISIS
| Cafe
Staying mentally grounded has become increasingly difficult as COVID-19 continues to dominate the news cycle and our lives. Finding things to help distract ourselves and to get out of our heads for a little bit are a must, whether it's a new hobby or skill, talking to family and friends, TV shows, movies or a good book. While we at TPM join much of the world in practicing social distancing, we asked our staff to share what books they're reading while they cope with isolation.
Read More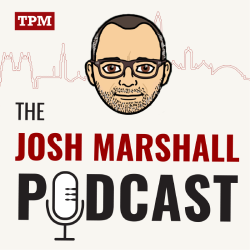 Ep. 113: The Peak
Josh, Kate and David talk models, primaries and the administrative response to the coronavirus pandemic....
MEMBER EXCLUSIVES
PRIMEWIRE