| News
The resistance some states have shown to implementing aggressive coronavirus responses has led public health experts to call for President Trump to issue nationwide stay-at-home guidance.
Read More
| News
Anti-government extremist Ammon Bundy led a meeting last week where he agitated for Idahoans to physically defy the state's stay-at-home order, which is meant to slow the spread of the COVID-19 pandemic.
Read More
SOLUTIONS FOR OUR DEMOCRATIC CRISIS
| Cafe
Staying mentally grounded has become increasingly difficult as COVID-19 continues to dominate the news cycle and our lives. Finding things to help distract ourselves and to get out of our heads for a little bit are a must, whether it's a new hobby or skill, talking to family and friends, TV shows, movies or a good book. While we at TPM join much of the world in practicing social distancing, we asked our staff to share what books they're reading while they cope with isolation.
Read More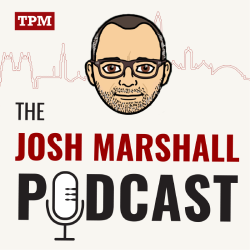 Ep. 113: The Peak
Josh, Kate and David talk models, primaries and the administrative response to the coronavirus pandemic....
MEMBER EXCLUSIVES
PRIMEWIRE