Commission Battle Will Be in the Senate
Josh Marshall
Just this afternoon we've seen two developments on a possible Jan 6th Commission. The House GOP will formally 'whip' the vote, i.e., they'll use the party apparatus to get all their members to vote no. This seems more than anything to be a signal to Donald Trump from McCarthy and Scalise that they are all-in to protect him. Does anyone GOP member not know what's expected of them from Trump, McCarthy and Scalise? Of course not.
At the same time, TPM alum Sahil Kapur reports that Sen. Mike Rounds (R-SD) seems to be in support of the bill. Rounds isn't a Senate fire breather. But he's not a Romney/Murkowski type either.
Read More
| Muckraker
As prosecutors bear down on Rudy Giuliani, his legal team has made a decision: take his antics of the past two years and hold them up as a knot prosecutors will have to untangle.
Read More
| News
The International Energy Agency released a report on Tuesday that declares reaching net zero CO2 emissions by 2050 will require "huge leaps" in clean energy innovation, including the widespread use of technologies that aren't on the market yet, but that focus heavily on tapping renewable energy sources.
Read More
| Prime
As I reported Monday, it's no exaggeration to say that the Mississippi abortion case the Supreme Court took up is the biggest threat Roe v. Wade has faced yet.
Read More
| Prime
The House Judiciary Committee claimed a win last week in the somewhat-forgotten but still-raging fights over lingering congressional investigations into former President Trump.
Read More
| News
As Virginia approached the peak of its COVID surge last January, Robyn Sweet was sick with the disease and caring for a patient who was dying from it.
Then she heard the news: her father had been arrested for invading the Capitol on Jan. 6.
Read More
Top essays this week in tpm Cafe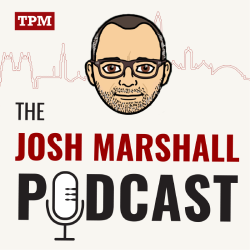 Ep. 172: Reverberations Of January 6
Josh and Kate discuss Liz Cheney's ouster and the various congressional investigations into the event that ultimately led to her firing....
MEMBER EXCLUSIVES
PRIMEWIRE