Surveying the Whirlwind
Josh Marshall
In the last 48 hours I've struggled to make sense of the totality of what is unfolding across the country. Social media is at its best and its worst, fanatically zooming in on the worst incidents or the occasionally the most inspiring, making it all but impossible to make sense of the larger picture. Yet conventional journalism manages to do little better. I think this is because everything actually does seem to be happening at once: civil rights protestors protesting and sometimes escalating into riot; white supremacists acting as agents provocateurs to goad on their fantasies of race war; white left radicals doing the same to advance their own vision of liberatory social violence. And then you have the police. I have no doubt many, most police are doing their best to do their job in this moment. But the novel technology of smart phones is capturing and magnifying numerous incidents around the country in which police officers are caught acting less like a civilian constabulary working to protect the peace, lives and property than something more like another gang, with its own political agenda, sometimes turning not only on protestors with excessive force but on the civilian population itself.
At its best and its worst, the refrain of protest – that the discrimination and abuse is systemic – is vindicated inasmuch as good or at least middling people are drawn along with bad or destructive actions.
Read More
| News
String together coverage of COVID-19 "stay-at-home" orders in The Federalist, the conservative website, and it begins to resemble an ode to death itself.
Read More
| Miscellany
We're launching the TPM Journalism Fund as an additional way for readers and members to support TPM. Every dollar contributed goes toward expanding our editorial staff.
| Cafe
Is it May already? Does time mean anything anymore?
Yes, it's disappointing that we're all still stuck inside our homes with summer right around the corner. We know this is made especially difficult if you're a parent with children who are trying to finish off the school year online. With that in mind, TPM is sharing some recommendations of children's books that might help your little ones — or you — pass the time. No, this will not just be a page listing the Harry Potter books in order of best to very best. (I actually have not read the Harry Potter series, but that's a discussion for another time. Bring on the roasting in the comments.)
Read More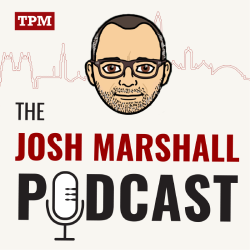 Ep. 121: 11/3 and 911
Josh, Kate and David analyze President Trump's scattershot attacks as he struggles to lay a glove on Joe Biden, as well as the Central Park 911 call heard '...
MEMBER EXCLUSIVES
PRIMEWIRE