There It Is: Enemies of Democracy
Josh Marshall
On Wednesday I noted how critical it is that Democrats go on offense to protect democracy in this country. This is not only a critical policy imperative. It is also good politics. The critical point, as I argued, is that Democrats need to go on offense now – pushing a broad array of reforms to secure civic democracy in this country – because Republicans will certainly use this election as another excuse to impose further restrictions. And here we have one of the first of what will certainly be many examples.
Read More
| Miscellany
Today, TPM is 20 years old. This December, as we close out one of the most exhausting, stressful, and bizarre years of our lives, we'll be revisiting and celebrating some of the most interesting and noteworthy events from TPM's history.
Read More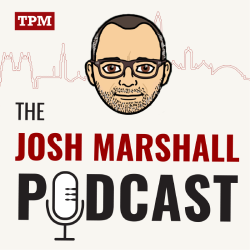 Ep. 147: TPM's Investigative Reporters Take Us Inside Their Scoops
Josh Kovensky, Tierney Sneed and David discuss the latest on the Trump campaign fruitless effort to steal the election, the surge of coronavirus cases as we ent...
MEMBER EXCLUSIVES
PRIMEWIRE