The Uncanny Political Moment
Josh Marshall
There's a sizable batch of new polling out which shows that President Biden's infrastructure plan is popular with a broad cross-section of the public. The popularity isn't quite as overwhelming as it was for the American Rescue Plan. But by almost every standard in a polarized age the numbers are still overwhelming. A new poll sponsored by the Times shows 64% support. Democrats almost unanimously support it (97%). 72% of Independents support it. And even 29% of Republicans support it. The support is spread broadly across demographic groups and the individual components of the plan poll well too.
Read More
| News
When Justice Amy Coney Barrett was confirmed to the Supreme Court in October 2020, the anti-abortion community celebrated the beginning of a new era. The Court would now be heavily skewed to the right, and its newest member had been open about her own beliefs.
Read More
| News
As the global pandemic required election officials to drastically rethink how voting would work in 2020, philanthropic groups stepped up and contributed millions of dollars that paid for much of the changes needed to election infrastructure. Officials have since said that that money — particularly in light of how Congress struggled to provide enough federal election funding — helped them thwart a pandemic voting fiasco. The charity grants covered everything from election equipment to temp workers to personal protective gear, and some local election offices saw their 2020 budgets doubled by the private funding they received.
Read More
| Prime
Rep. Matt Gaetz's (R-FL) handling of his quickly unfurling scandal, centered on a reported investigation into his possible sex trafficking of a minor, is reminiscent of another scandal-ridden politician: former President Trump.
Read More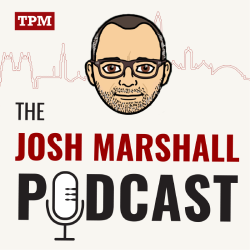 Ep. 168: Politics of Opaqueness
Josh and Kate discuss policing reform, analyze the dynamics around the infrastructure package and introduce a new segment. ...
MEMBER EXCLUSIVES
PRIMEWIRE