No, No, Please Not That!
Josh Marshall
Leaving off the Trump Era we are now headlong into the Joe Manchin Tea Leaf Reading Era. But here from Manchin this morning we have yet more evidence that we're not in Fiscal Policy Kansas anymore.
In addition to his tour of the Sunday shows yesterday, Manchin sat for an interview with Axios/HBO and Mike Allen. In it Manchin says he's ready to back a big infrastructure bill – in the neighborhood of $2 to $4 trillion. But he's got a big demand first.
His demand? He wants a higher corporate tax rate and a rollback of most of Trump's tax cut. From Axios …
Read More
| Prime
The Justice Department signaled Friday it wanted to put a spotlight on its work responding to and disrupting domestic terrorism, marking a turn from the Trump era when any acknowledgement of a rise in far-right extremism could be met with a scolding from the then-president.
Read More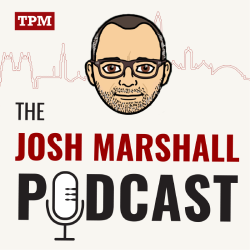 Ep. 162: The Cuomo Show
Josh, Kate and David are joined by the New Republic's Alex Pareene to talk Gov. Andrew Cuomo, a January 6 commission, and our enduring confusion about Sen. ...
MEMBER EXCLUSIVES
PRIMEWIRE