You Have To Tell Your Story
Josh Marshall
The passage of Biden's $1.9 trillion COVID relief bill is a massive political triumph. In the nature of online conversations there's focus on the negatives. But it is difficult to convey how surprising and remarkable it is they managed to get this bill through all but untouched. This was a very aggressive proposal and almost certainly part of that was an effort to make a high opening bid because the need to get literal unanimity in the 50 senator Democratic caucus would get it whittled down. But they got it through all but untouched.
But I'll say this again. A big, consistent and concerted messaging plan is critical to explain to the public just what is in the bill, how those things which are in it will connect to events over the next year and where everyone stood. There's time. But I see little evidence of that happening so far. And it is critical because – as I keep saying – everything that happens from January 20th on needs to be part of an argument to voters (an explicit and voluble argument) about why they should keep Democrats in power in the 2022 midterm election.
| Prime
The Justice Department signaled Friday it wanted to put a spotlight on its work responding to and disrupting domestic terrorism, marking a turn from the Trump era when any acknowledgement of a rise in far-right extremism could be met with a scolding from the then-president.
Read More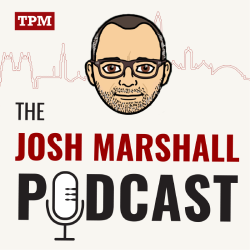 Ep. 162: The Cuomo Show
Josh, Kate and David are joined by the New Republic's Alex Pareene to talk Gov. Andrew Cuomo, a January 6 commission, and our enduring confusion about Sen. ...
MEMBER EXCLUSIVES
PRIMEWIRE