Europe's Vaccine Misfortune
Josh Marshall
Europe is again grappling with a problem we in the US are really lucky to have avoided. European and British regulators now seem to be increasingly confident the AstraZeneca vaccine is associated with a serious but extremely rare blood-clotting side effect. Until now the UK – which has one of the world's leading vaccination campaigns – has rejected reports of adverse side effects. But now they're seeing them too and are recommending those under 30 get other vaccines. (There's some indication younger people may be more susceptible to the side effect; and of course they face less threat from COVID.)
This isn't just a major setback for Europe. It's a major setback for the whole world. The global effort to vaccinate the populations of poorer nations (COVAX) relies heavily on the AstraZeneca vaccine because it requires less complex refrigeration and transport technology.

Read More
| News
The delays that the pandemic caused to the 2020 census will take the state redistricting process into uncharted territory.
Read More
| Prime
Impeachment was a crucial forum for holding Trump accountable, but there are other ways to exact a price for his attempts to subvert the election. And we're hearing rumblings that some of those actions are already in motion — including lawsuits targeting Trump's election conspiracy of the sort the NAACP has filed on Rep. Thompson's behalf, defamation litigation against his lawyers, and criminal investigations like the one out of Fulton County, Georgia.
Read More
| News
Senate Majority Leader Chuck Schumer (D-NY) has a trick up his sleeve: namely, an attempt to create a third reconciliation vehicle this year, which would let Democrats pass more legislation on a simple majority vote.
Read More
| News
There's no playbook for how President Biden's Justice Department can protect minority voting rights in the coming round of redistricting.
Read More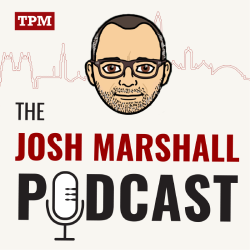 Ep. 167: Gaetzkeeper
Josh, Kate and David discuss the newest developments in the Matt Gaetz saga, as the congressman tries to twist the alleged investigation into a fundraising ...
MEMBER EXCLUSIVES
PRIMEWIRE