Finally the Bigs Are Taking Notice
Josh Marshall
Been a long day. So I don't have time for a full write up. But the airlift program and the shipment seizures are finally getting some big media org attention. The Times put out this article tonight. They were able to name the entity on the West Coast which I alluded to as having a shipment seized but wasn't at liberty to name: Kaiser Permanente hospital system. They also add more detail on the airlift. The companies can sell half on the open market, half they have to allocate according to need as ascertained by FEMA. The details on seizures raise more questions than they answer. Give it a read. More tomorrow.
COVID-19 Around The Globe
| News
The resistance some states have shown to implementing aggressive coronavirus responses has led public health experts to call for President Trump to issue nationwide stay-at-home guidance.
Read More
SOLUTIONS FOR OUR DEMOCRATIC CRISIS
| Cafe
Staying mentally grounded has become increasingly difficult as COVID-19 continues to dominate the news cycle and our lives. Finding things to help distract ourselves and to get out of our heads for a little bit are a must, whether it's a new hobby or skill, talking to family and friends, TV shows, movies or a good book. While we at TPM join much of the world in practicing social distancing, we asked our staff to share what books they're reading while they cope with isolation.
Read More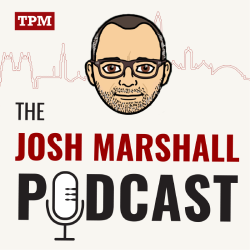 Ep. 113: The Peak
Josh, Kate and David talk models, primaries and the administrative response to the coronavirus pandemic....
MEMBER EXCLUSIVES
PRIMEWIRE