Community Goes Full Feral With Anti-Antifa Hysteria
Josh Marshall
We should have more on this shortly. But it seems we have another case where anti-Antifa hysteria led members of one community in Washington state to go full feral and create a harrowing Deliverance type situation for a multi-racial family from Spokane who was looking to go camping. While stopping off to purchase camping supplies at Forks Outfitters in Forks, Washington, the family was confronted by "seven or eight carloads" of people demanding to know if they were with Antifa. This appears to have been in response to widespread rumors fanned in right wing media that "antifa" was sending formations into suburbs to loot subdivisions and rural homes. After the family decided to flee, they were then pursued by two of the vehicles with passengers apparently carrying automatic weapons. Camping that night the family heard gunfire and power saws down the road from there campsite and decided to leave. But soon they found that that self-styled anti-Antifa warriors had trapped them by cutting down trees to block the only road they could leave by. Local Facebook pages were lit up with reports about the success against Antifa. A group of high schoolers rescued the family by clearing the trees and the local Sheriffs department is now investigating.
Late Update: Here's Kate Riga's full report.
| News
A Surreal Scene In D.C.

Esper In The Hot Seat?

Trump's Former Defense Secretary's Scathing Statement
Gen. James Mattis, President Trump's former defense secretary, issued a scathing statement Wednesday evening condemning Trump's photo-op. Trump, predictably, lashed out at his former aide on Twitter.
One of Trump's staunchest congressional allies, Sen. Lindsey Graham (R-SC), came to the President's defense Thursday and railed against Mattis' statement. "It is so fashionable to blame President Trump for every wrong in America," Graham said in an appearance on Fox News.
Former White House chief of staff John Kelly, himself a retired Marine general, defended Mattis in an interview with the Washington Post on Thursday.
| Miscellany
We're launching the TPM Journalism Fund as an additional way for readers and members to support TPM. Every dollar contributed goes toward expanding our editorial staff.
| Cafe
I've come to the conclusion that the outside is overrated. There, I said it. I know it's June and I know summer is just getting started, but why spend your days sweating it out in the humid, hazy outdoors when you can be inside with the A/C pumping? I'm a homebody, so maybe that's what's underlying my opinion here.
Read More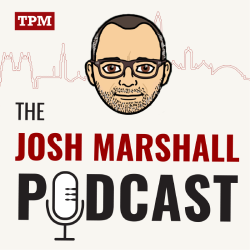 Ep. 122: Eyewitness Accounts
Josh, Kate, David and New York reporter Matt Shuham discuss what they're seeing, hearing and thinking as protests over the killing of George Floyd continue ...
MEMBER EXCLUSIVES
PRIMEWIRE