Who's Gonna Tell'em?
Josh Marshall
Of the many lessons of the last decade, one of the most salient is that good policy does not make for good politics. Not automatically. That's simply not how it works. It was one of the underlying premises – intertwined with much else – that led to the disappointments and failures of the Obama years. Ex-President Trump got grief when he wanted relief checks to go out with his name on them. That's not at all legit. But he had the right idea. You need to tell people when you're doing things for them. No one else is going to do that.
This belief that good policy will take care of itself is deeply rooted in the technocratic, meritocratic mentality that animates so many professional Democrats. There's a lot to that worldview that is good and we should celebrate. This is one of its blindnesses. There is no good policy that isn't conjoined to good politics. You just have to do the politics because there's no good policy without building, nurturing and sustaining constituencies for good policy. That's the only way good policy can be sustained over time, from election to election. Because the most ingenious and humane policy is a failure if it isn't sustained, if voters don't know that it happened, why it happened and what they need to do to make it keep happening.
Read More
| Five Points
The confirmation hearing for Merrick Garland — the moderate, well-liked federal appellate judge who was infamously denied a Supreme Court seat by Senate Republicans — did not exactly provide the kind of contentious, partisan fodder that accompanied past attorney general nominations. But that doesn't mean Democrats and Republicans passed up an opportunity to use the proceedings to take swipes at department conduct during previous administrations.
Read More
| Prime
January 20 was a tough day for the QAnon community.
Read More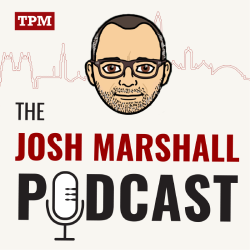 Ep. 160: After The Acquittal
Josh, Kate and David discuss the end of the impeachment trial and the seven Republican senators who joined the entire Democratic caucus in voting to convict...
MEMBER EXCLUSIVES
PRIMEWIRE