Your COVID Moments #4 … "Our profession was gone in a night."
Josh Marshall
From TPM Reader AM …
My wife and I are both (or were) freelance musicians in Chicago. At this time last year, I was playing in the pit of a musical at a theatre in downtown Chicago. I had been following the news about the coronavirus with increasing dread throughout February—partly because there were early covid cases in Chicago in January, partly because I was playing in front of 500 people 8 performances a week, but most of all because it was easy to see that the federal response was currently and was going to continue to be maliciously incompetent. Our first panic grocery shop was the third week of February, by which point I had insisted that my octogenarian parents cancel all possible outside activities (including the choir they sang in) and skip the performance of the show that they were planning on attending on March 15.
Read More
| News
President Biden has chosen for top positions at the Justice Department three advocates who have spent their lifetimes in the civil rights arena and the last four years in particular combatting the Trump-era's most egregious assaults on democracy.
Read More
| Prime
The Justice Department signaled Friday it wanted to put a spotlight on its work responding to and disrupting domestic terrorism, marking a turn from the Trump era when any acknowledgement of a rise in far-right extremism could be met with a scolding from the then-president.
Read More
| Prime
January 20 was a tough day for the QAnon community.
Read More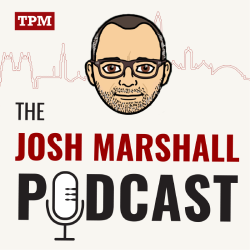 Ep. 161: Tanden Tantrum
Josh, Kate, and David discuss the slow sinking of Neera Tanden's nomination for OMB director, as well as the first public hearing after the January 6 Capito...