The TPM Glossary
John Light
At TPM, we have certain terms we use over and over. Dignity wraiths. The brittle grip. A new one in recent months: Schrodinger's DHS secretary. You can find a (very) partial list of these terms — Josh Marshallisms, largely — here.
For our 20th anniversary celebration next month, we're putting together a master list. It's quite an undertaking: Twenty years of proprietary terms. But we think it will serve as a useful guide to some of the key themes of the last two decades. Also, we think it will be funny.
However: 20 years is a long time, and we need the help of our dedicated readers to remember some of these terms.
So, if you remember one that we're missing, shoot us an email.
| Miscellany
Today, TPM is 20 years old. This December, as we close out one of the most exhausting, stressful, and bizarre years of our lives, we'll be revisiting and celebrating some of the most interesting and noteworthy events from TPM's history.
Read More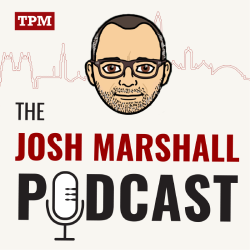 Ep. 147: TPM's Investigative Reporters Take Us Inside Their Scoops
Josh Kovensky, Tierney Sneed and David discuss the latest on the Trump campaign fruitless effort to steal the election, the surge of coronavirus cases as we ent...
MEMBER EXCLUSIVES
PRIMEWIRE