Silencing Fauci?
Josh Marshall
I've been watching the mix of very worrisome mishandling of the Coronavirus by the White House along with more positive developments from within the federal infectious disease bureaucracy. To be clear, in this case I'm talking mainly about things the President and his White House advisors have said – misinformation, happy talk, etc. I'm not talking about ways they may have concretely messed things up in the field. That is much less clear. On the CDC front, I'm not talking about "good news" in terms of the outbreak but rather signs that actual experts seem to be doing or saying the right things regardless of President Trump's nonsense.
Read More
| Miscellany
Our new 'Support Independent Journalism' merchandise is now available in the TPM store. Wear your support for truly independent journalism with all profit from sales going directly back into our journalism, not into the pockets of hedge funds or corporate overlords.
TPM PRimers: get caught up
| Weekly Primers
Another Blow To North Carolina's Voter ID Requirement
| Weekly Primers
House Oversight Panel Advances D.C. Statehood Bill
| Weekly Primers
With Impeachment Over, Trump Seeks Vengeance
| Weekly Primers
Trump Hawks 2020 Campaign Merch From The Oval Office
TPM CAFE: OUTSIDE VOICES AND ANALYSIS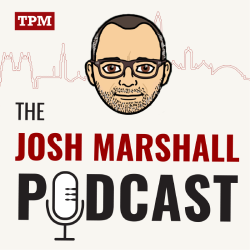 Ep. 107: 2020's Grumpy Old Men
Josh, Kate and David are joined by TPM's Executive Editor David Kurtz to talk about the upcoming South Carolina primary and Super Tuesday contests, and why ...
MEMBER EXCLUSIVES
PRIMEWIRE