| Cafe
Staying mentally grounded has become increasingly difficult as COVID-19 continues to dominate the news cycle and our lives. Finding things to help distract ourselves and to get out of our heads for a little bit are a must, whether it's a new hobby or skill, talking to family and friends, TV shows, movies or a good book. While we at TPM join much of the world in practicing social distancing, we asked our staff to share what books they're reading while they cope with isolation.
Read More
How States Are Responding
| Miscellany
Our new 'Support Independent Journalism' merchandise is now available in the TPM store. Wear your support for truly independent journalism with all profit from sales going directly back into our journalism, not into the pockets of hedge funds or corporate overlords.
TPM PRimers: get caught up
TPM CAFE: OUTSIDE VOICES AND ANALYSIS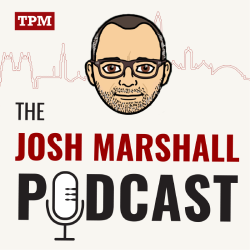 Ep. 112: Fealty During The Pandemic
Josh, Kate and David analyze the progress of a crisis under Trump, and how states — and even smaller communities — are coping....
MEMBER EXCLUSIVES
PRIMEWIRE