As Donald Trump kicked off his presidency with a flurry of activity — degrading democratic norms, blazing new trails in manipulation and untruth, strenuously denying any election-related wrongdoing — TPM's Editors' Blog helped make sense of the big stories of the day.
Below are the top 10 most-read Ed Blog posts from 2017.
10. This Is Big
By Josh Marshall
"The critical points Tait reveals are these. 1) That in his conversations with Smith and his associates it was clear that they did not care if the sources of the emails were Russian intelligence officers or if the emails had been hacked by Russian intelligence. They were entirely indifferent to this reality. They didn't care. 2) Smith discussed what seemed to be highly detailed and confidential information about the inner workings of the Trump campaign, details that made Tait think that Smith wasn't just some name dropper freelancing but actually had deep ties into the campaign and especially with Mike Flynn." Read More…
9. The Crisis Is Upon Us
By Josh Marshall
"The President stands accused, now with a mounting array of evidence, of conspiring with a hostile foreign power to win the Presidency. He has now made clear that he will not permit any investigation of those accusations." Read More…
8. Flynn's Deeds Are Much Worse Than We Thought
By Josh Marshall
"This may not be surprising. Or it's not out of the blue. But it's worth taking stock of the recent round of stories about disgraced National Security Advisor Michael Flynn and what those stories collectively tell us." Read More…
7. He Can't Even Fake It
By Josh Marshall
"People with certain autism spectrum disorders have difficulty reading social cues which most people understand intuitively. Therapists have developed techniques which can help them learn through training what comes effortlessly to others. I can't help thinking of this when I see President Trump touring Texas with his litany of jarring, tone-deaf or just plain weird comments. But the deficit in this case isn't social cue cognition. It's empathy." Read More…
6. End Of The Tea Party Era?
By Josh Marshall
"Politico and the Times just broke news a short time ago that Jim DeMint, former Senator and now President of the Heritage Foundation, may be about to get the boot. On the one hand, this is a pretty insider story: who runs one of the two or three big conservative think tanks in DC. But it's a notable development on a few fronts." Read More…
5. Stephen Miller May Have Some Problems
By Josh Marshall
"Fascinating piece here in the Times applying some Times level sleuthing to shed more light on those Papadopoulos court documents from last week. We get some idea of the backstory of Joseph Mifsud, apparently a failing and shambling academic career that was on its final skid when Russians showed up in 2014 with money and newfound respectability, an old story. Other gaps of the story are filled in. But the big one is Stephen Miller." Read More…
4. On Trump, Keep In Simple (In 5 Points)
By Josh Marshall
"After a tumultuous and chaotic two weeks of the Trump presidency, we are now seeing a new raft of counter-intuitive articles ranging from 'Does Trump Even Want to Succeed as President?' to 'How Trump Has Everyone Just Where He Wants Them and Is Kicking Ass.' We should all bear in mind that while generally unpopular, Trump has extremely high levels of approval among Republican voters and continues to maintain near lockstep allegiance from congressional Republicans. But on Trump, in trying to figure out what and how he's doing, we should keep it simple. Because at this point we know Trump quite well." Read More…
3. A Big Shoe Just Dropped
By Josh Marshall
"I don't know how much attention it's received. But the appearance of the name of Felix Sater in this new article in the Times is one of the biggest shoes I've seen drop on the Trump story in some time. The new story explains that a group of Trump operatives, including top lawyer Michael Cohen and fired former campaign manager Paul Manafort, along with a pro-Putin Ukrainian parliamentarian named Andrii V. Artemenko and Mr. Sater are pushing President Trump on a 'peace plan' for Russia and Ukraine." Read More…
2. No White House Leaks Like This … Until Now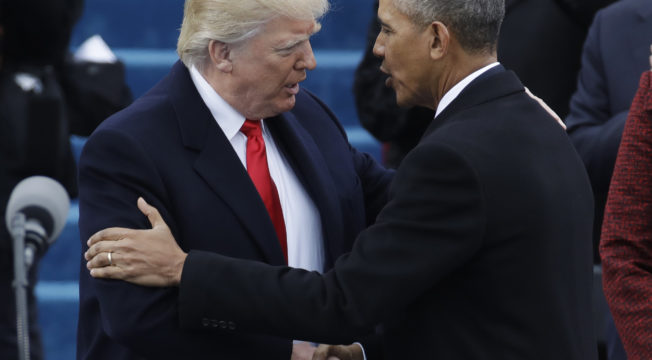 By Josh Marshall
"We now have a story from The Washington Post ("The first days inside Trump's White House: Fury, tumult and a reboot") to match yesterday's from The Times ("Rocky First Weekend for Trump Troubles Even His Top Aides"). They are each a classic type for a major newspaper. Throw your biggest reportorial names at the story, talk to every one and put together an over-arching from-the-inside narrative. They are each fascinating, occasionally comic and in some ways horrifying reads. But there is an underlying, not-made-explicit message to both which is perhaps the most important. We are three days into the administration and the Trump White House leaks not so much like a sieve as a bucket with no bottom." Read More…
1. Priebus: Trump Considering Amending Or Abolishing The 1st Amendment
By Josh Marshall
"A number of press reports have picked up this exchange this morning between ABC's Jonathan Karl and White House Chief of Staff Reince Priebus. But people have missed the real significance. Priebus doesn't discuss changing 'press laws' or 'libel laws'. He specifically says that the White House has considered and continues to consider amending or even abolishing the 1st Amendment because of critical press coverage of President Trump. Sound hyperbolic? Look at the actual exchange (emphasis added) …" Read More…