BFD and STFU – It's All Down to Biden
Josh Marshall
Our friend Ed Kilgore has a piece in New York Magazine that's worth your time to read. The gist is that the Democratic party and its tenuous control of the federal government is at a critical moment of decision. There's now a very real chance that the President's whole agenda could go down in flames. Remember 1994 and 2010 and then multiply one times the other. The consequences for the country and the Democratic party will be vast and hard to calculate. This isn't just about saving Biden's presidency. That actually gets things backwards. It's the ability to pass legislation like this that was the point of all the effort that went into the 2018 and 2020 cycles in the first place.
I have a quibble on exactly what Ed says should happen next. But I think it's largely a tactical one. Big picture we totally agree.
Read More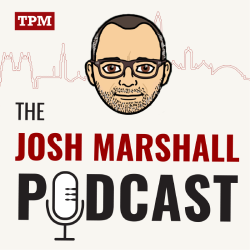 Ep. 191: Big Tent Wrangling
Josh and Kate discuss the debt ceiling, impending government shutdown and fate of the two-track infrastructure plan as Democrats try to get their house in o...