Podcasting has come a long way since Merriam-Webster awarded "podcast" the word of the year in 2005. iTunes has more than half a million active shows, and analytics data shows that people aren't just flipping through channels when they listen to podcasts: listeners make it through 90 percent of an episode on average, and they rarely skip ads. This makes podcast listeners a gold mine for advertising dollars, but if you're just starting out and trying to attract an audience in such a booming industry, getting the ball rolling can be intimidating.
The four courses in the How To Start A Podcast Bundle can put you well on your way to making money with this creative outlet. Here's what the bundle includes:
Podcasting 101
A great podcast idea will never make it to an audience if you don't have the right equipment and editing skills. The Podcast 101 course makes choosing the right microphones on a budget, creating rich audio, and finding your target audience a snap. Award-winning podcast producer John Lee Dumas will steer you in the right direction when it comes to syndication and marketing, too. With carefully chosen audio equipment and sound editing, your podcast can attract advertisers and make listeners stay tuned throughout your ads.
Power Your Podcast With Storytelling
Once you've got your gear set up and you know how to edit, you'll need original, intriguing content to hook your audience. Alex Blumberg, a former radio journalist on NPR's smash hit "This American Life," will take you through the storytelling process step by step. With his expert instruction you can improve your narrative instinct to sniff out the captivating elements of a story, prepare for an interview and get thought-provoking answers from your subject, then put it all together with integral story composition skills.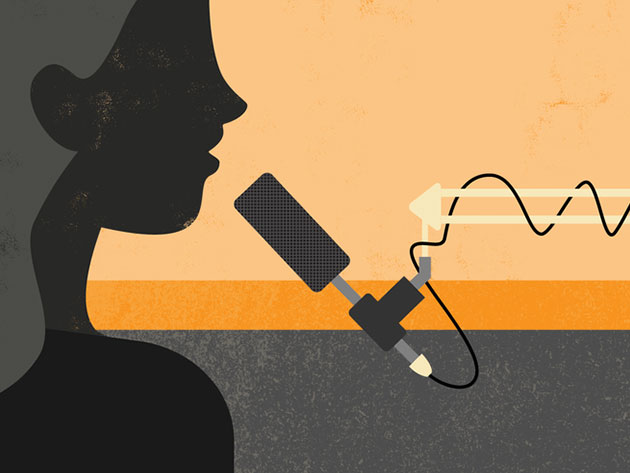 Essential Storytelling With Producers From "Snap Judgment"
Senior producers of NPR's popular podcast "Snap Judgment" lead this course to take your storytelling to the next level. Beyond basic narrative structure and carefully thought-out interviews, you'll learn how to pitch your story, follow a narrative arc, and establish stronger connections with your audience. Those connections will leave your listeners hungry for more, and you'll be able to grow your audience and create a marketable brand once you have those elements down.
Start Your Profitable Podcast And Build A Brand
Once you understand the nuts and bolts of podcasting, instructor Lewis Howes (host of the popular "The School of Greatness" podcast) will show you how to create a program that pays with marketing and monetization tips. In less than five hours you'll go through the anatomy of a great episode, how to set your podcast apart, and how to choose the right format for monetization.
The tips and tricks in the How To Start A Podcast Bundle's four courses will help you dive into podcasting and make some income from your own home studio. Usually, the bundle costs $266, but right now it's just $49 — that's 81% off.