Whither blogging? Yes, according to Google Search results, which project that searches for the word "Tumblr," the name of a specific company and blogging platform, will eclipse those for the more generic term "blog" before the end of 2012.
The observation was made by Randall Munroe, the creative mind behind popular web comic XKCD, who created a graph of Google Search results by volume to show Tumblr's ascent. Here's his graph: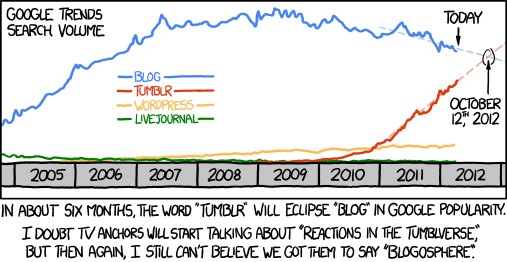 Tumblr, which launched in 2007, has seen a meteoric rise in popularity, with numerous news organizations jumping on the bandwagon in recent years, including TPM.
(H/T: Jessica Bennett)