President Donald Trump used one of his favorite tactics to attempt to shift focus away from his campaign and administration: blame the Democrats.
In a Wednesday morning tweet, Trump tried to pin Russian election meddling on the Obama administration by stressing that the meddling took place while Barack Obama was President. Trump urged Attorney General Jeff Sessions to investigate Obama's response and "Dem crimes," though he misspelled Sessions' name.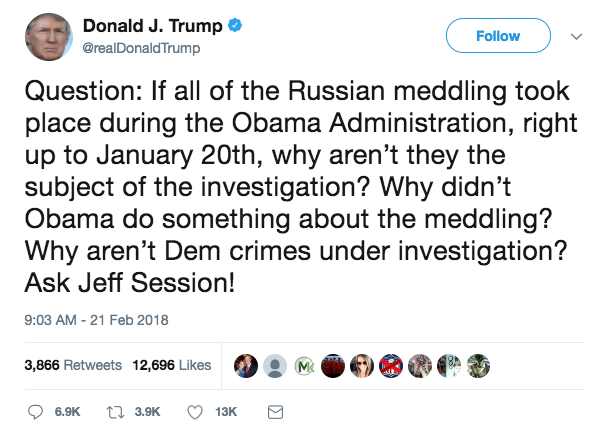 A few minutes later, Trump fixed the tweet to spell Sessions' name correctly.
Trump seems to overlook one large part of the Russia investigation — how Russia went about interfering in the 2016 election and how future meddling could be prevented. Each time a major news story or advancement in special counsel Robert Mueller's investigation breaks, Trump focuses solely on the investigation into his campaign. Trump uses every tidbit he can to deny that his campaign colluded with the Russians, ignoring revelations about how Russians went about sowing discord in the U.S. political system.
Recently, when the Justice Department announced the indictment of several Russians for meddling in the 2016 election, Trump focused on the fact that the indictment did not say that Trump campaign aides knowingly worked with the Russians.
Russia started their anti-US campaign in 2014, long before I announced that I would run for President. The results of the election were not impacted. The Trump campaign did nothing wrong – no collusion!

— Donald J. Trump (@realDonaldTrump) February 16, 2018
Deputy A.G. Rod Rosenstein stated at the News Conference: "There is no allegation in the indictment that any American was a knowing participant in this illegal activity. There is no allegation in the indictment that the charged conduct altered the outcome of the 2016 election.

— Donald J. Trump (@realDonaldTrump) February 17, 2018