Yesterday I got my first look at the new front page publishing system I mentioned in this post over the weekend. It's an amazing feat of coding skill, both from a technical perspective as well from a journalistic and aesthetic one. That pride and excitement is mainly an internal matter for our team. Most of you are rightly concerned not with the inner workings of the machine but the final product. But what really excites me about bringing this online is that I believe it will greatly enhance our ability to bring you the news, to do what we do.
I don't want to set expectations too high. It's not a magic on Day One kind of thing. It's more a starting point. There are a lot of things we've wanted to do to capture the arc of our stories and help readers see the patterns and change over time that we simply haven't been able to do before. This gives us the tool kit to do those things. It may sound like I'm overstating the importance of what is essentially layout. The news is the news. How you lay it out on the page is at best a secondary thing, you might say. But my thinking in recent months and years actually comes at it a little differently. We are overwhelmed with streams of information from a multiplicity of sources, many interesting, many poor. The key is to see the patterns and trajectories over time amidst that cacophony: what's new, what matters and how it helps us understand what's coming next. This is part of what we're trying to do with our Weekly Primers. But that is only a small, beginning part.
With all that let me take a moment to give you a sense of the full arc of what we're working on. Because what we're doing is not only about what we believe is the best way to cover the news. It is also about what constitutes a news site's "audience" and how a news organization can maintain financial vitality through understanding, tending to and cultivating that audience.
Let me start with some sobering news. Earlier this week The New York Times reported that facing massive and apparently persistent losses, Condé Nast is putting three of its magazines up for sale and making other drastic cost-cutting measures to survive. This is a dizzying development for anyone involved in any facet of publishing. Condé publishes The New Yorker, Glamour, Vanity Fair, Bon Appetit, Architectural Digest, Wired, Vogue and lots and lots of other publications, most of which constitute a or sometimes the prestige publication in their respective spaces. Condé doesn't just have a rep for being profitable. Its very brands exude this flush profitability, vast budgets for the best writers, expense accounts and CEO offices for its top talent and editors. Graydon Carter's quarter-century reign at Vanity Fair, just ended, embodied this kind of flush literary elan. "Spare no expense" might be the subhed for half of Condé's brands. And you don't have to if money comes in like a torrent. Even in the straightened and often catastrophic early 21st century publishing world, Condé has managed not just to survive but to do so with print magazines, the things that are supposed to be dying.
The fact that they're in trouble means no one is safe. I've told you about all the digital publications that are ramping down or going under. This is part of the same story, part of the story about the over-supply of publications, the diversion of ad dollars from publications to social platforms and the role of venture capital money investing massive sums in publications built on tech business models rather than publishing business models.
So where does this leave TPM amidst this chaos and creative destruction? Well, good news and bad news, though more of the former than the latter, I think. In fact I believe the big picture is all good news. We're just not quite to the promised land yet.
For the last three and a half years the entire focus of our publishing and business operation has been to shift away from advertising toward membership as our main source of revenue. This isn't a moral or aesthetic commentary on advertising. In fact, it's not against advertising at all. I love advertising. That's not something I ever would have thought I'd say in my twenties. But necessity grew into fascination. Advertising done well and smart involves an immense amount of creativity. But advertising, as a primary revenue source, turned out to be a dagger pointed at the heart of our operation because of its instability and the fact that it was tied to forces totally outside our control and completely unrelated to anything we do.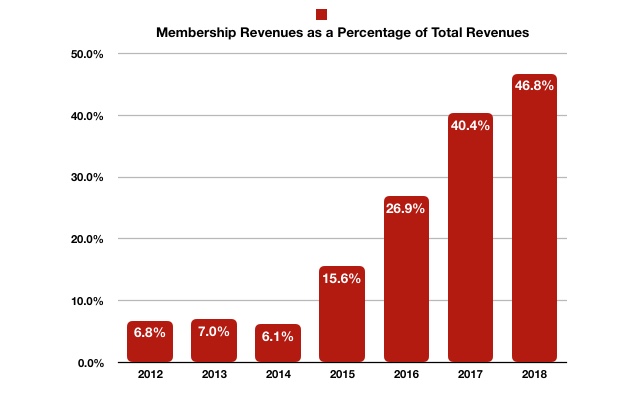 A key reason TPM is still around is that we saw this coming a lot earlier than many peers and competitors. In fact, recently we've reached a critical milestone. Just about half have of our revenue comes from membership fees. We're not home free. Far from it. The big picture and the numbers are still daunting. But I'd say we're about 2/3 of the way there. The plan has worked so far. And I'm optimistic we'll get the whole way there. We have our annual Prime membership drive coming up at the end of the summer and we're launching a new project in the fall that will be a critical part of the mix.
My optimism is based on the fact that firing half your staff is not a plan. Pivoting to video is not a plan. Looking for another infusion of venture capital money which you'll pretend is somehow a source of revenue instead of money to create something self-sustaining is not a plan. But this is not a criticism, at least not in the moment. Oftentimes you find yourself in situations where you know your plan makes no sense but you simply lack the money or options to do anything else. We know some of that ourselves. As part of this transition we still have to run some ads that are annoying and I'd rather not be running. For now and for a bit longer, we have no choice. But the specific nature of our publication — having a real audience as opposed to a heavily capitalized distribution system — gave us an option that was not only an option but something I think many now realize is the way a news publication should run.
The digital advertising economy is fundamentally broken for publishers. I've described in various posts how and why this is the case. But the fact that it is broken is the only business-relevant fact for us. Having your primary source of funding be subject to economic and media concentration and tech forces that you have zero control over and have nothing to do with you is totally unworkable, especially if those "forces" are all going in the wrong direction. Our connection to our readers is quite different, especially since the connection is deep and long lasting. It's something that has a lot to do with us and something that we should have a lot of influence over. If you sign up to become a member and we don't do our job well enough and you stop subscribing then we're screwed. But that's on us. We should be extremely well positioned to publish a really good TPM. If we can't, we can't. But that's a challenge in which our level of effort and creativity should be strongly tied to our success or failure.
This brings things nicely into alignment. Our core business focus is aligned with our editorial focus, being a trusted and necessary source of news and analysis for our core audience. We think we're here for voracious consumers of news about politics, who are deeply concerned with the substance at the heart of politics and want to insight into what's changing and not, what matters and not, understanding the fullness of the story over time rather than simply being hit with a rapid fire cacophony of images and headlines. This is what you will start to see us doing more, providing more ways not just to navigate TPM but the entire political news environment, something very few of us have time to do without help along the way because we are all busy and the flood of information, which isn't the same as insight or knowledge, is more than it's ever been.
The TPM Journalism Fund: A New Way To Support TPM
We're launching the TPM Journalism Fund as an additional way for readers and members to support TPM. Every dollar contributed goes toward:
-Hiring More Journalists
-Providing free memberships to those who cannot afford them
-Supporting independent, non-corporate journalism