Why Now on Manafort and Kilimnik?
Josh Marshall
I want to recommend you read Josh Kovensky's write up of yesterday's Treasury Department statement about the 2016 Trump campaign's direct tie to Russian intelligence. The Mueller report and the later Senate intelligence report were both unwilling or unable to determine whether Manafort associate Konstantin Kilimnik had passed the campaign information he received from Manafort to Russian intelligence. Treasury said he did. This is not a huge surprise since Kilimnik is widely reputed to be a Russian spy. And we should note that these are assertions listed in what amounts to a bill of particulars. They don't explain what evidence underlies these claims. But this is the first time the US government has connected the pieces so clearly and categorically.
Why now?
Read More
| News
The Pause
GaetzGate Details Get Messier
Another Police Killing In Minneapolis
The police shooting of a Black motorist Sunday brought more grief and turmoil to the Minneapolis area in the midst of the ongoing trial of Derek Chauvin for the alleged murder of George Floyd last year. Here's our Monday piece on what we knew about the shooting as details emerged.
Police said the officer who shot the Black motorist Daunte Wright mistook her gun for a taser, noting she shouted "taser" repeatedly before firing the weapon.
Both the officer who shot Wright, Kim Potter, and the police chief who claimed the shooting was accidental, Tim Gannon, resigned Tuesday. Potter was charged with second-degree manslaughter on Wednesday.
| News
When Justice Amy Coney Barrett was confirmed to the Supreme Court in October 2020, the anti-abortion community celebrated the beginning of a new era. The Court would now be heavily skewed to the right, and its newest member had been open about her own beliefs.
Read More
| News
As the global pandemic required election officials to drastically rethink how voting would work in 2020, philanthropic groups stepped up and contributed millions of dollars that paid for much of the changes needed to election infrastructure. Officials have since said that that money — particularly in light of how Congress struggled to provide enough federal election funding — helped them thwart a pandemic voting fiasco. The charity grants covered everything from election equipment to temp workers to personal protective gear, and some local election offices saw their 2020 budgets doubled by the private funding they received.
Read More
| Prime
Rep. Matt Gaetz's (R-FL) handling of his quickly unfurling scandal, centered on a reported investigation into his possible sex trafficking of a minor, is reminiscent of another scandal-ridden politician: former President Trump.
Read More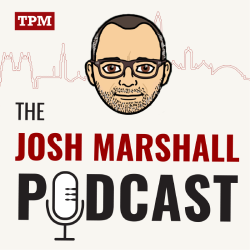 Ep. 168: Politics of Opaqueness
Josh and Kate discuss policing reform, analyze the dynamics around the infrastructure package and introduce a new segment. ...