The Jan 6 Investigation Puts the Legal Profession on Trial Too
Josh Marshall
I've noted several times over recent weeks that former President Trump lacks most of the unique protections he had as President. That means the Jan 6th committee should be able to press a real investigation whereas the House committees in the previous Congress and the two impeachment processes could not. Much of this is because ex-Presidents have no executive privilege. But it's just as much that they don't control the Justice Department and that possession is 9/10ths of the law. The current President, in some cases directly and in others indirectly, has custody of the records of the government of the United States. But it's a small wrinkle to this story that I want to expand on today, both because it's interesting to know in its own right but because it's a window into how this latest investigation really puts not only the judiciary but the elite legal profession itself on trial.
Read More
| News
A Georgia judge on Wednesday dismissed a lingering lawsuit over the 2020 election that had attracted significant attention from Trump-aligned election truthers.
Read More
| News
In the last couple of weeks, Sen. Bernie Sanders (I-VT) has assumed a new role: spokesperson for the Democratic caucus' frustration.
Read More
| Muckraker
It was Jan. 3, and Jeffrey Bossert Clark had finally said yes.
Read More
| News
Though it's a galling reality to the vast majority of the Democratic caucus, Sens. Joe Manchin (D-WV) and Kyrsten Sinema (D-AZ) will force the $3.5 trillion dollar reconciliation price tag to come down significantly.
Read More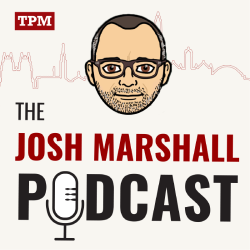 Ep. 194: Time To Act
Josh and Kate discuss the plodding reconciliation negotiations, coming showdown on the Jan. 6 comm