Driving is one of the hallmarks of personal independence. However, our dependence on technology is deepening every day, and it's not always great for hitting the road — especially if you're texting or otherwise distracted. However, technology can also make driving safer for you and the drivers you're sharing the road with. Here are five tech wonders that will make your next car trip simpler and safer.
HUDWAY Glass Heads-Up Navigation Display
The navigation programs on your smartphone can help you avoid traffic and arrive at your destination more quickly, but constantly glancing down at your screen can get you pulled over or even cause an accident. HUDWAY's Heads-Up Display casts your route, speed, and other apps onto your windshield, showing you your map without blocking your view.
FenSens Smart License Plate Frame
Many luxury cars come equipped with front and rear parking sensors to help avoid fender benders when you're parallel parking. You can add this technology to any car with FensSens's Smart License Plate Frame. It installs in five minutes and instantly beams alerts to your smartphone, so you'll never ding your car's bumper when you park again.
MSRP: $149.99
Sale Price: $119.99 (20% off)
GoSafe S780 Dash Cam with Sony Image Sensor
Dash cams give you an extra set of eyes if someone tries to get away with damaging your car, but they can be hard to use in low light situations. The GoSafe has a Sony Image Sensor that highlights dark streets and parking garages, recording both the front and rear of your car for a fuller picture.
MSRP: $299.99
Sale Price: $199.99 (33% off)
CHOETECH Air Vent Fast Wireless Qi-Certified Car Charger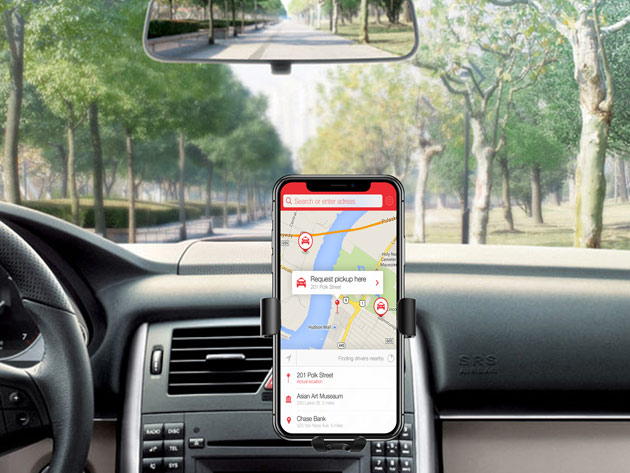 Mount your phone for easier navigation viewing and charge it at the same time with this Air Vent Fast Wireless charger. The 360-degree phone mount holds you Qi-compatible phone in place while delivering 10 watts of speedy charging power. Just securely clamp your charger onto your car's air vent and turn it to your preferred angle for safer driving that won't drain your battery.
MSRP: $40.99
Sale Price: $22.99 (43% off)
Ridy Distracted Driving Alert Device
This Indiegogo funded gadget uses machine learning to analyze blink frequency, eye movement, and other facial expressions to determine when you've looked away from the road or when you're nodding off. It plays a sound to get your attention back to driving, and it works with regular glasses or at night.
MSRP: $129
Sale Price: $99 (23% off)
Want your products featured in The TPM Shop? Learn more about how to sell your products online!
The TPM Journalism Fund: A New Way To Support TPM
We're launching the TPM Journalism Fund as an additional way for readers and members to support TPM. Every dollar contributed goes toward:
-Hiring More Journalists
-Providing free memberships to those who cannot afford them
-Supporting independent, non-corporate journalism