Former Maricopa County sheriff and presidential pardon recipient Joe Arpaio sued several news organizations and journalists for defamation and false light on Monday for allegedly misreporting the details of his contempt of court conviction.
But at least two of the three errors Arpaio cited have been corrected, contrary to his suit's claims.
In July 2017, Arpaio was convicted of contempt of court, a misdemeanor, for continuing his practice of targeting immigrants with traffic stops, defying a judge's order. A month later, President Donald Trump issued the first pardon of his administration to Arpaio, saying that his "life and career … exemplify selfless public service."
In the 10-page filing in Washington, D.C. District Court on Monday, Arpaio cites one CNN TV segment and articles from Rolling Stone and HuffPost, accusing them of recklessly getting the details of his case wrong. He also accuses them of failing to issue corrections — which is untrue, at least for Rolling Stone and HuffPost.
The suit cites a Rolling Stone article from politics staff writer Tessa Stuart that, per a copy included in the filing, initially erroneously referred to Arpaio as an "ex-felon." The lawsuit accuses Rolling Stone of "silently" changing the article to correct the details and then asserts: "However, as of today, there is no indication on the Rolling Stone Article that a mistake had previously been made in referring to Plaintiff Arpaio as an 'ex-felon.'"
Yet the article currently has — and has had for weeks, according to archived versions — a correction at the bottom clarifying that Arpaio was convicted of a misdemeanor, not a felony. "We regret the error," the correction states.
The HuffPost article from senior political reporter Kevin Robillard initially erroneously said Arpaio had been "sent to prison for contempt of court." Arpaio's lawsuit does not explicitly acknowledge that the HuffPost article was corrected, but according to evidence Arpaio himself submitted as part of his suit the article was corrected within a day and noted: "A previous version of this story mistakenly indicated Joe Arpaio went to prison for his conviction." That correction stands today.
Apparently, that wasn't enough for Arpaio, who incorrectly alleged in his suit on Monday: "As of today, the HuffPo Article is still available through Defendant HuffPo's website and no efforts have been taken by Defendant HuffPo or Defendant Robillard to correct this false statement."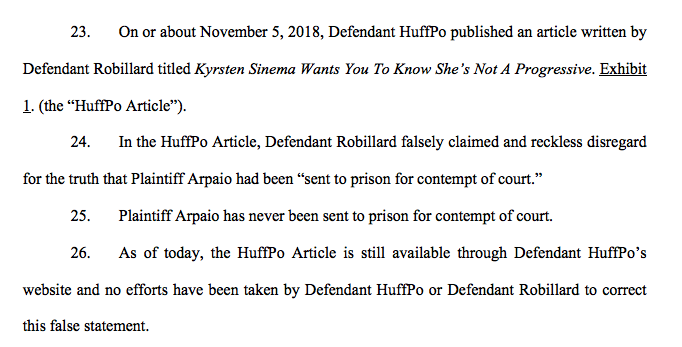 The suit also cites an on-air segment introduced by CNN's Chris Cuomo, in which the anchor incorrectly described Arpaio "a convicted felon."
Arpaio's suit states accurately that "the CNN Broadcast is still available through Defendant CNN's website." Though it's not clear whether Arpaio's second claim about Cuomo's erroneous statement, that "no efforts have been taken by Defendant CNN, Defendant Cuomo, or Defendant Zucker to correct this false statement," is accurate.
TPM has reached out to HuffPost and Rolling Stone for comment. CNN declined to comment through a spokesperson. Arpaio directed TPM's questions to his layer, Larry Klayman of Freedom Watch.
In a brief phone call, Klayman told TPM he hoped "you will do a fair reporting or you will wind up in the case yourself."
"I know where you guys come from, so, I mean, I'll give you the response, and it better be accurate or you'll be joined in the case," he said, adding later: "We're done, okay? You put one thing that's in there incorrect and you will be sued, and you can put that in there, alright? By me and my client."
Asked about the apparent factual errors in the filing — HuffPost and Rolling Stone have corrected their articles, contrary to the suit's claims — Klayman was defiant: "Once something is on the internet, it's always on the internet and the damage has already been done."
"My suit is correct," he said. "You can go on the basis of the suit."
A press release on Freedom Watch's website characterizes the suit as "furtherance of Freedom Watch's 'Leftist Media Strike Force.'"
Arpaio, 86, says in the suit that he will run for Senate "or other public office" in 2020 and alleges that his chances in that race "have been severely harmed by the publication of false and fraudulent facts in the Defamatory Article. This also harms Plaintiff financially, as his chances of obtaining funding from the Republican establishment and donors for the 2020 election have been damaged by the publication of false and fraudulent representations in the Defamatory Article."
He later lists the "actual compensatory and punitive damage" of the reporting errors as being "in excess of $300,500,000."
Read Arpaio's full suit below: