A group headed by an ex-Trump voter fraud commissioner that was sued over misleading reports it produced claiming to show mass non-citizen voter registration is taking its legal defense to a whole new level.
In new court filings, the group is blaming state election officials for any inaccuracies in the reports, and is seeking to drag them into the litigation and saddle them with any liability for the group's reports.
The Public Interest Legal Foundation, whose president, J. Christian Adams, is also a defendant in the lawsuit, asked a court to make the Virginia Department of Elections a third-party defendant in the lawsuit.
PILF and Adams were sued by a handful of people named in their reports — Alien Invasion in Virginia and Alien Invasion II — who claim they were defamed by being identified in the reports as non-citizens who were removed from Virginia's rolls as part of what PILF claims was a pattern of "Felonies upon Felonies."
The Richmond chapter of the League of United Latin American Citizen is also a plaintiff in the lawsuit, which alleges voter intimidation as well.
Get TPM in your inbox, twice weekly.
The individuals are all citizens, and the lawsuit alleges that PILF, in mischaracterizing voter roll data it obtained from local elections officials, made false and reckless accusations about those named in the reports. PILF had sought lists of people whose voter registrations were canceled on the basis of  questions about their citizenship, but in many cases those cancellations were clerical errors, or reversed once the voter affirmed he or she was in fact a citizen.
PILF's initial attempt to get the lawsuit thrown out failed this month, when U.S. District Judge Liam O'Grady ruled in favor of letting the case proceed.
PILF's latest filing responds to the allegations made by LULAC and others, while asking the court to dismiss the case with prejudice.
PILF denied the allegation in the complaint that the group was "informed" by Virginia election officials "that they were drawing false conclusions" from the data the group had received from them.
"Defendants were never informed that any of the government records were inaccurate," the filing said.
However, documents referenced in PILF's own Alien Invasion II and included as ancillary exhibits, indicate that at the very least, the group was in possession of emails from election officials raising concerns about the accuracy of the voter roll data and how it might be misrepresented by the group.
One email, sent from Arlington's Director of Elections in January 2017 to a listserv for Virginia elections officials, said that the data report requested by PILF was "NOT accurate and will be misinterpreted and misrepresented by this organization."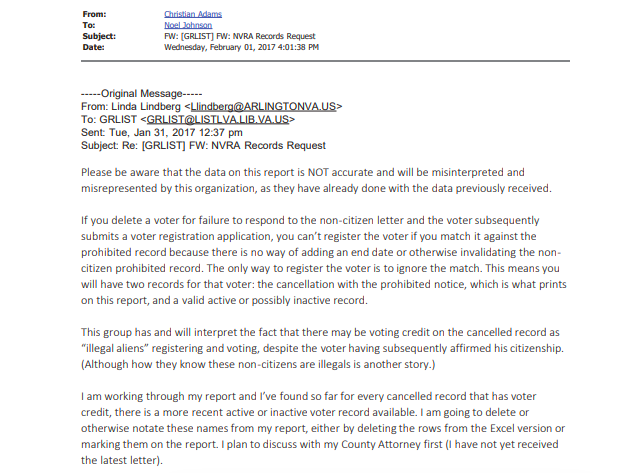 It's not clear how PILF obtained that or other listserv emails — neither Adams nor PILF's spokesperson responded to TPM's inquiry seeking clarification — but Adams forwarded the email to PILF's attorney the day after the elections director sent it to the listserv.
That and other similar emails were released by PILF in May 2017 as part of Alien Invasion II report.
Now PILF is seeking to blame Virginia elections officials for whatever harm a judge may find was caused by its reports, in part because PILF "neither knew nor had reason to believe that there was any issue with their methodology or the accuracy of the underlying government records."
In moving to blame and liability to the Virginia Department of Elections, PILF is seeking "judgment against the Department for all sums that may be adjudged against Defendants in Plaintiffs' favor and all costs and expenses, including attorneys' fees, incurred as a result of Plaintiffs' suit irrespective of whether any judgment is entered against Defendants. "
Read the filing below: