The special counsel investigation is over, but that doesn't mean it's complete.
Robert Mueller's report lays out multiple examples of ways the investigation was "impaired," either by lying witnesses or by successful deletion of key conversations.
"Several individuals affiliated with the Trump Campaign lied to the Office, and to Congress, about their interactions with Russian-affiliated individuals and related matters," the redacted report reads. "Those lies materially impaired the investigation of Russian election interference."
The impairments cover alleged lying by witnesses, including the well-known cases of Michael Flynn, Michael Cohen, and George Papadopoulos.
But they also cover cases where Mueller was hindered by deletion of data on encrypted apps, or by the simple fact that the target was located outside the United States, as the redacted report lays out in detail.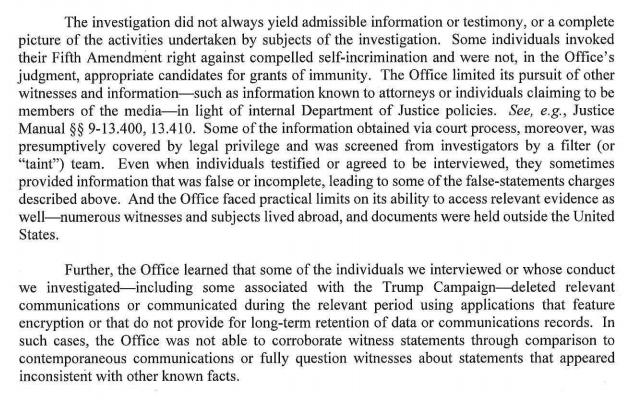 Below are a few key instances when investigators were stymied in their probe.
Konstantin Kilimnik
During a February hearing in Paul Manafort's case, special counsel prosecutor Andrew Weissmann described allegations that the Trump campaign manager shared internal polling data with alleged Russian spy Konstantin Kilimnik as going "very much to the heart of what the special counsel is investigating."
The investigation's conclusory — but redacted — report reveals that Manafort instructed Rick Gates to "periodically" sent Kilimnik polling data during the campaign.
"Gates then deleted the communications on a daily basis," the report reads.

Later on, the special counsel writes that it "could not assess what Kilimnik" did with the data, or others that received the information from Kilimnik did with it, in part due to investigators' limitations in obtaining evidence.

Part of that had to do with Manafort's dissembling after entering into a cooperation agreement with prosecutors. Mueller notes multiple times in the report that he only cites Manafort when the Trump campaign manager's words were corroborated by other evidence, or to highlight a case where Manafort's lying is significant.
Carter Page
Bucket hat aficionado Carter Page cut his teeth at the Trump campaign in various ridiculous ways, sometimes related to Russia, but he attracted scrutiny in part due to a July 2016 trip he took to Moscow. Mueller's team was hindered by its inability to investigate much of what took place in Russia.
"Page's activities in Russia — as described in his emails with the Campaign — were not fully explained," Mueller writes, after a long section that's redacted due to grand jury material.
Page, it should be noted, is an absurd character who the Russians saw as far from the center of Trumpworld. But still, his activities in Russia are a notable omission in the investigation.
George Papadopoulos
International coffee boy George Papadopoulos prevented FBI investigators from adequately interviewing Maltese professor Josef Mifsud, who claimed to Papadopoulos that the Russians had "dirt" on Hillary Clinton.
Mueller writes that Papadopoulos's lies to the FBI in January 2016 "hindered investigators' ability to effectively question Mifsud" when he was in Washington, allowing him to leave the country before further investigation.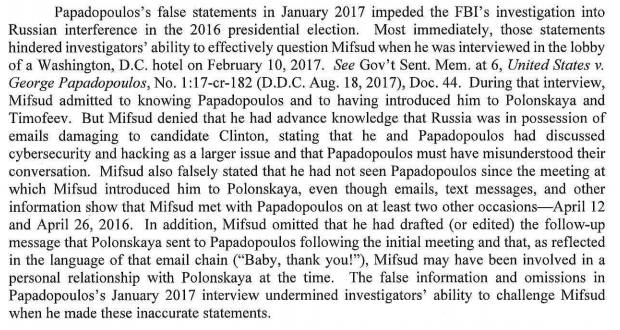 Wikileaks
The section of the report that covers Wikileaks, amid its heavy redactions, points towards a key question that Mueller was unable to answer, though it's not entirely clear that Mueller was hindered by a lack of access to evidence.
Before a section describing the timing of Wikileaks' release of emails stolen by Russian operatives from John Podesta's email account, a partially redacted sentence says that "the investigation was unable to resolve REDACTED."

It's not clear if investigators were impaired in some way as they investigated Wikileaks' activity. Republican operative Roger Stone does stand accused of making false statements and witness tampering with respect to this part of the investigation.
It is the among the most heavily redacted sections of the report, and so the reason why Mueller was "unable to resolve" the redacted question remains unclear.
Support The TPM Journalism Fund
Contributions allow us to hire more journalists
Contributions allow us to provide free memberships to those who cannot afford them
Contributions support independent, non-corporate journalism