With the flurry of Thursday and Friday now behind us, I want to put together what I think are the most pertinent pieces of evidence, leads and dangling threads that would be the top priority of any real investigation into the Ford/Kavanaugh accusations. These could be journalistic investigations as much as law enforcement ones, and it seems the former will be required because the latter doesn't seem to be happening in any real sense.
To start, obviously, someone needs to interview Mark Judge. He is the only possible witness to the alleged event and is also an alleged accomplice. There are also his books and what he allegedly told his college girlfriend: at least one incident of multiple teenage boys having sex with a profoundly intoxicated girl.
What I want to focus on here are a series of connections that do not prove anything in themselves but provide clear investigative leads to follow up on, leads which I suspect would generate significant new evidence.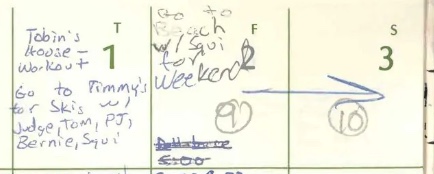 Let's start with that calendar entry that shows an early evening get together for beer with Timmy, Judge, Tom, PJ, Bernie and Squi. That is three of the people Blasey Ford said were at the party in question (Kavanaugh, Mark Judge and "PJ"). It sounds like the same kind of informal, get together and get drunk early evening event that she describes. Given how few leads we have to go on and that broad similarity, that is an obvious place to start.
The calendar was released just before the Thursday testimony. But we learned key information about it from both witnesses during the hearing. "Squi" is Chris Garrett. His name comes up about a dozen times in the calendar. Kavanaugh and Garrett were clearly close friends, at least during that summer. Critically, he was also the boy Ed Whelan accused of being the actual attacker in that bizarre Twitter self-immolation. We'll come back to that in a moment because it is key.
What we learned from Blasey Ford on Thursday is that she and Garrett were a couple at around this time — either at this time or in the months just prior. In her testimony, she said "going out with" rather than "dating." This is more a matter of the jargon of the day than any real difference. A reasonable interpretation is that they had a brief romantic relationship that wasn't very serious and didn't last very long. From all the details we learned on Thursday it seems highly likely that Garrett was the connection that brought the two social circles together.
Critics of Blasey Ford have argued that this couldn't be the event because she would have remembered if her boyfriend or recent ex-boyfriend were there. That sounds right. But remember that these were prospective entries on the calendar. Maybe Garrett just didn't show up. Another wrinkle is that what appears to be "Timmy's" house was about a dozen miles from the country club Blasey Ford said the party was near. That's not far by car but very far on foot. Regardless, enough of the key players in this alleged incident appear to have been together that evening that it is a critical and obvious place to follow up. Even if the attack didn't happen at that party, asking questions about that evening could generate relevant evidence. In any serious investigation, you probe that event and details are likely to shake free which either tend to confirm or undermine the accusations.
For now let's just note that Kavanaugh says he didn't know Blasey Ford and their social circles didn't overlap. But what we learned Thursday was that in the summer in question one of his close friends was dating Blasey Ford. So whether or not he remembers her or remembers her name, clearly that summer their social circles were overlapping and the most obvious point of overlap is Chris Garrett.
The biggest clue to me is one that is arguably outside the scope of the investigation altogether. It's that Ed Whelan Twitter thread, concocted with the PR firm for the Federalist Society, which chose Kavanaugh and is in essence managing his confirmation. Whelan claimed that he came to his conclusions by finding people who looked like Kavanaugh and looking at where people lived at the time in question. He came up with Chris Garrett.
Set aside the propriety of accusing what appears to be a totally innocent person with only laughable evidence. Georgetown Prep says it currently enrolls 491 students in four grades. Depending on how widely he cast his net, that means that Whelan was choosing from at least 100 and as many as almost 500 people. He locked in on Garrett. What we learned Thursday is that he happened to choose a guy that Kavanaugh at least knew quite well at the time and the person who was actually dating the person who accused Kavanaugh.
As I explained in posts Thursday and Friday, I do not find this at all a plausible coincidence. Almost certainly, Garrett was chosen based on the knowledge of someone who knew the social circles in question quite well. Whelan is a few years older than Kavanaugh and grew up in California. The most obvious person with that knowledge is Brett Kavanaugh. He and Whelan are close friends and were working together closely on Kavanaugh's nomination.
Having investigated many stories as a journalist, I think it is highly probable that probing Whelan's efforts would show that it was based on Kavanaugh's information. If that is true it's highly likely that Kavanaugh knows much more about this incident or at least about Blasey Ford than he has let on to. Put those facts together with the effort to concoct a bogus cover story, and I think it is highly likely that digging into the Whelan backstory would reveal evidence of Kavanaugh's consciousness of guilt. Given the 36 years which separates us from the incident in question, that's probably as close as you'll get to clear evidence of his guilt.
Is this proof? Of course not. But accusing Garrett really can't be a coincidence. And if it's not, that points to a number of bad outcomes for Kavanaugh.
So what should be followed up on? Doing a real investigation, FBI agents would probably want to talk to as many people as possible. They certainly have other techniques I don't know about. But in addition to talking to Blasey Ford, Kavanaugh, Mark Judge and all the others named, Chris Garrett and Ed Whelan should be critical interviews, both about what happened 36 years ago and a potential cover up today.
Cover ups are bad in themselves of course. We should know about them. But in this case a cover up, if it happened, is especially important. Because it would likely provide clearer evidence of Kavanaugh's possible guilt and consciousness of guilt than can ever be gleaned about something that happened 36 years ago.