There are countless stories to tell about Alexandria Ocasio-Cortez's big upset win tonight in New York's 14th congressional district, based in adjoining (across the river) parts of Queens and the Bronx. But the most important one is that it really should not surprise us. New York is a dramatically different city than it was even ten years ago. The differences are vast compared to two or three decades ago when representatives like Joe Crowley and other challenged incumbents began their careers. It makes perfect sense that a young person of color with social democratic politics would be a winner in this district.
Here are some basic demographic facts about the 14th district.
Whites make up only a relatively modest quarter of the population. It is overwhelming a minority district. Fifty percent of district is Hispanic. (The numbers included here are from the 2010 census and the 2009-13 American Community Survey. Half is likely more accurate now than 46 percent. Full data set here.)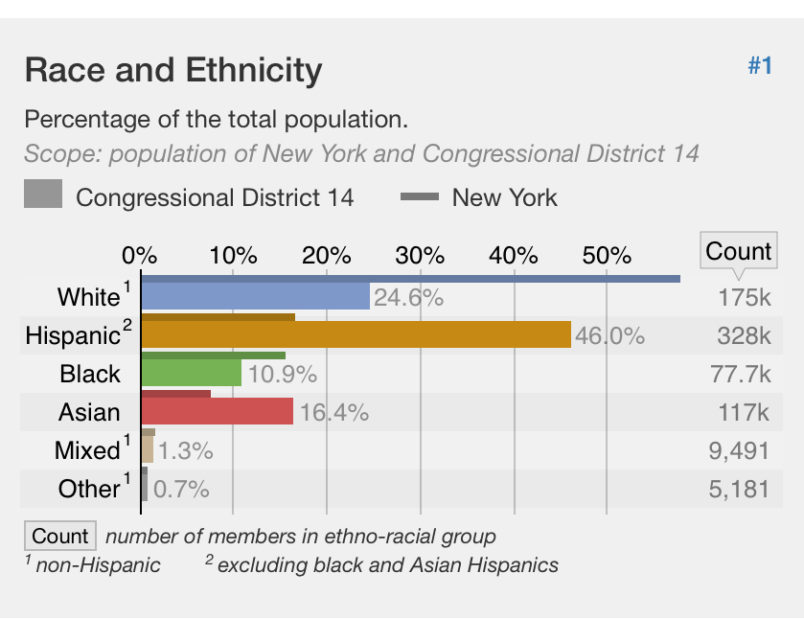 Half the population is foreign born.
It's actually a working class district, though there's a significant income disparity between the parts of the district in Queens and the Bronx.
Consistent with the above data, the district has a disproportionately large population of young adults.
As I noted below, what's striking about this race is that Ocasio-Cortez didn't just win. It wasn't even close. With very few exceptions none of the Reps in the city ever face contested elections. That means the ground can move under your feet and you don't even know it. Rep. Yvette Clarke barely survived a challenge in her Brooklyn district.
New York is a minority city. It's also an immigrant city.