Rep. Martha McSally (R-AZ) sent out a fundraising email from Donald Trump Jr. on Thursday attacking Rep. Kyrsten Sinema (D-AZ), who if she wins would become the first openly bisexual person to serve in the Senate.
The subject line: "The L Word."
Sinema is the first openly bisexual person to serve in the House, and if she defeats McSally in their close Senate race will become the first to serve openly in the upper chamber.
"The L Word" was a long-running Showtime television series about lesbians. Running from 2004 through 2009, it was the first major show featuring gay women as lead characters. When the term is searched on Google, every link on the first page of search results refers to the show.
The email doesn't explain what the subject line is referring to. In its eighth paragraph, it says that "Sinema thinks she can smear voters, call decorated veterans like Martha a liar, and still waltz into the Senate, and that's what's truly crazy" (bold in the original).
And in the 11th and final paragraph, Trump Jr. asks "Please help me support Martha today and let's keep another crazy liberal candidate out of the U.S. Senate. "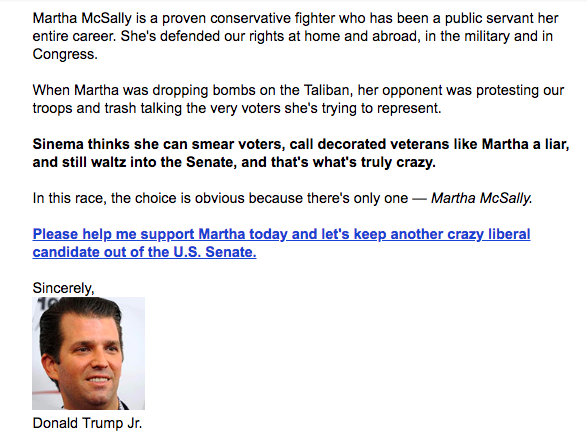 McSally spokeswoman Torunn Sinclair told TPM that the subject line referred to the word "liar."
"Where on earth did you even come up with that?! It literally says LIAR, in the email,"  she replied via email when asked if the subject line referred to the television show.
When TPM pointed out that line was describing how Sinema had painted McSally, she said it references both liberal and liar.
"Liar and Liberal. Liberal is a synonym for Democrat. The email references Democrats quite a few times," she said.
Sinclair didn't respond to an immediate follow-up question about which word it meant to reference, and whether McSally's campaign had crafted the email or if it had come from Trump Jr.'s team.
After TPM reached out to McSally's campaign about the original email, it sent out a revised email with the same text in the body but a different subject line: "Speaking of crazy."
Sinema's campaign didn't respond to a request for comment.
The full email is below.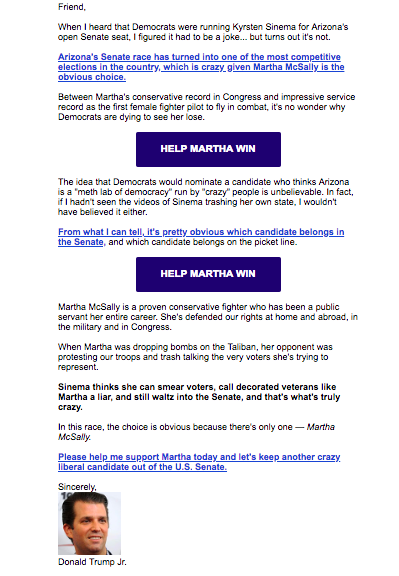 The TPM Journalism Fund: A New Way To Support TPM
We're launching the TPM Journalism Fund as an additional way for readers and members to support TPM. Every dollar contributed goes toward:
-Hiring More Journalists
-Providing free memberships to those who cannot afford them
-Supporting independent, non-corporate journalism