Senators in both parties called for a Senate Ethics Committee investigation into Sen. Al Franken's (D-MN) alleged sexual misconduct on Thursday, in the latest such scandal to roil Capitol Hill.
Sen. Kirsten Gillibrand (D-NY) called the news "deeply disturbing," adding that there should be an official investigation into "any allegations against any member."
Gillibrand, who has led the crusade to require sexual harassment training for lawmakers and Capitol Hill staff and make it easier for victims to come forward, spoke moments after Republican Majority Leader Mitch McConnell (R-KY) called for the Senate Ethics Committee to probe the allegations against Franken.
Sen. Amy Klobuchar (D-MN), Franken's home-state colleague, was even harsher in her statement.
"This should not have happened to Leeann Tweeden. I strongly condemn this behavior and the Senate Ethics Committee must open an investigation. This is another example of why we need to change work environments and reporting practices across the nation, including in Congress," she said in a statement.
That's the same place Democratic leaders landed after a chaotic few hours.
"Sexual harassment is never acceptable and must not be tolerated," Senate Minority Leader Chuck Schumer (D-NY) said in a statement after canceling a planned press conference. "I hope and expect that the Ethics Committee will fully investigate this troubling incident, as they should with any credible allegation of sexual harassment."
Franken himself released a statement apologizing for the actions, calling for an Ethics investigation, and promising to cooperate.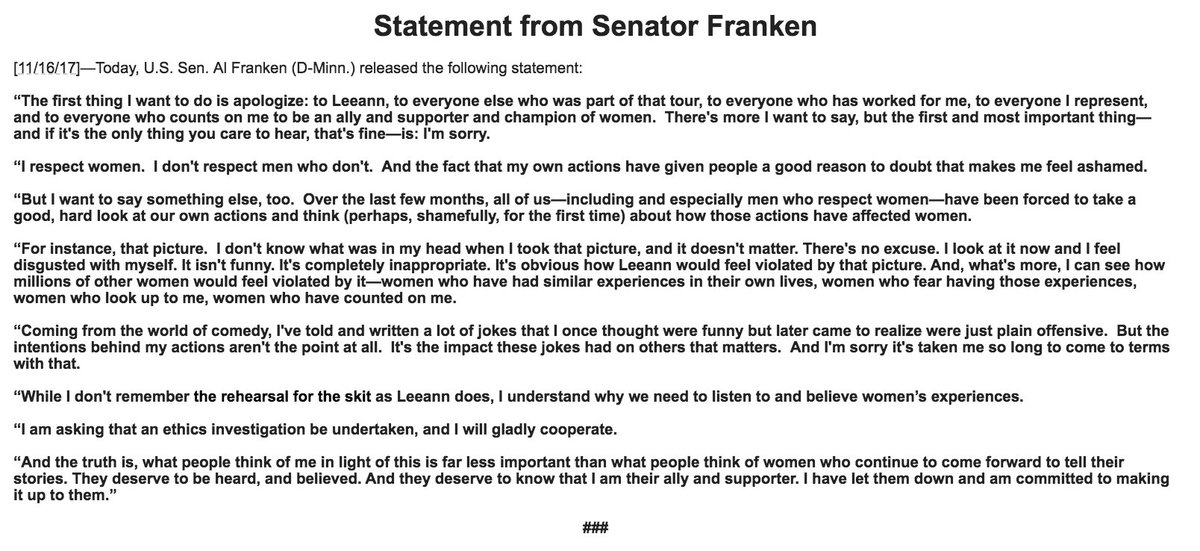 The allegations are the latest sexual misconduct claims to roil Capitol Hill, and come as Alabama Senate candidate Roy Moore's alleged improprieties with teenage women have thrown his race and the national GOP into chaos.
This time, it was Democrats who were scrambling to fake phone calls and avoid eye contact with reporters — though many were quick to criticize Franken's alleged actions.
Senators in both parties initially refused to comment on the accusations from a news anchor that Franken groped and kissed her in 2006, claiming they had not yet read the news or ducked reporter questions as they raced to the Senate floor.
That included Sen. Claire McCaskill (D-MO), another leader on sexual assault issues,  who would only say she'd "have a statement" soon.
She later issued a statement blasting Franken's behavior.
Re Al Franken: I'm shocked and concerned. The behavior described is completely unacceptable. Comedy is no excuse for inappropriate conduct, and I believe there should be an ethics investigation.

— Claire McCaskill (@clairecmc) November 16, 2017
"I have every reason to believe Ms. Tweeden's account," Sen. Tammy Duckworth (D-IL) told reporters Thursday. "Women should be able to feel safe and free in their workplace, and if there are such allegations they should come forward."
Sen. Gary Peters (D-MI) echoed Gillibrand's comment that the allegations are "disturbing," but like most lawmakers said he hadn't had time to fully digest the news.
The news of the accusations against Franken comes as Capitol Hill—like the entertainment and tech industries—has started to grapple more publicly with its long legacy of sexual harassment and abuse and demand perpetrators be held accountable. Earlier this week, the Senate passed a resolution requiring all members and their staff to undergo sexual harassment training, and women lawmakers have introduced further legislation that would make it easier for staffers to report harassment.
As he sped from the Senate floor into his office on Thursday, GOP Whip Sen. John Cornyn (R-TX) was asked if he's surprised that there are now allegations against a sitting senator.
"Not entirely," he quipped before closing the door.
Others, like Sen. Tammy Baldwin (D-WI), were hesitant to criticize Franken, who repeatedly said "I'm glad he apologized immediately" and refused to answer if an investigation was merited.
Baldwin's staff later sent along a more extensive clarifying statement.
"This kind of behavior isn't ok whether it's a Republican or a Democrat and I support an Ethics Committee investigation," Baldwin said in an a statement emailed from her press team.
Others clamped a phone to their ear to avoid reporter questions.
Even the usually chatty Sen. John McCain (R-AZ) rushed by reporters in a wheelchair, barking at his staff that they needed to be ready to respond to "events as they develop," and Sen. Jeff Flake (R-AZ) told TPM he hadn't heard enough to weigh in yet.
But no one in either party defended Franken.
"Sexual harassment and groping are never okay. They are never funny," Sen. Richard Blumenthal (D-CT) told TPM. "Senator Franken should have to address the claims made in the article."
Corrected on 11/16: A previous version of this story misidentified a Democratic senator who refused to discuss Franken.