With the Trump campaign calling for an "army" of poll watchers and armed right-wingers charged with plotting the kidnapping of the governor of Michigan, some observers are concerned this election season that various groups may interfere with the democratic process. 
Now two research groups have mapped out where right-wing groups might be most active before, during and after Election Day, based on a variety of variables including recruitment patterns, relationships with law enforcement, and perceptions about a coming "leftist coup." 
Swing states in the upcoming election are at "heightened risk," the report found, and specifically state capitals and so-called "periphery" towns that offer natural meeting points in suburban and rural areas. 
The organizations behind the report — The Armed Conflict Location & Event Data Project (ACLED) and MilitiaWatch — concluded that Georgia, Michigan, Pennsylvania, Wisconsin and Oregon were at the highest risk of increased militia activity around the election. 
What's Driving Armed Right-Wing Groups? 
The report identified some key trends driving recent activity from militias and other fringe groups.
For one thing, militia movements have realigned from being broadly anti-federal government to aligning with a single political party and candidate: The Republican Party, and President Donald Trump.
Protests against COVID-19 restrictions, as well as counter-protests against Black Lives Matter rallies and anti-fascist activists, have also provided recruiting and networking opportunities, the report found.
The report distinguishes between three primary categories of groups: "Mainstream militia" groups like the "Oath Keepers" and those that identify as "Three Percenters" — a callback to the supposed percentage of Americans who took up arms against the British — are more likely to align with law enforcement and see the police and military as allies, the report said.
So-called "right-wing street movements" like the Proud Boys and Patriot Prayer are more enthusiastic about brawling with their political opponents, the report noted, as their frequent battles with anti-fascist activists show. A third group, which the report calls "devolved right-wing libertarian groups" have maintained a skepticism of government authority and are "highly primed for civil conflict": Think the Boogaloo movement and Ammon Bundy's "People's Rights" network.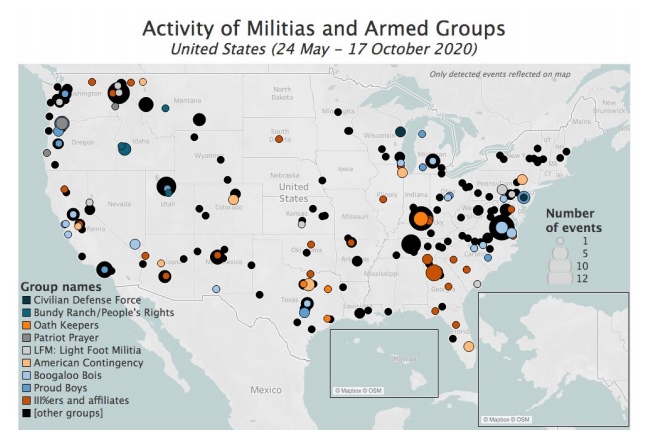 Why Are Certain States Considered High-Risk? 
The report's five highest-risk states, as well as those considered at "moderate" risk — North Carolina, Texas, Virginia, California and New Mexico — have experienced a combination of temperature-raising factors.
In Georgia, for example, Black Lives Matter protests (and armed counterprotesters) have filled the streets, former Vice President Joe Biden and Donald Trump are polling competitively, and various militia groups have faced off with the armed Black protest group "Not Fucking Around Coalition." 
In Wisconsin, whose electoral college votes will be crucial in the upcoming election, the report focused on Kyle Rittenhouse, the 17-year-old currently charged with killing two demonstrators at a Black Lives Matter rally. The report noted that local police offered water bottles to Rittenhouse's group, Kenosha Guard, and said "we appreciate you guys" on the night of the shooting. 
"These behaviors have brought attention to the 'friendliness' of police towards militia groups in the state," the report noted. 
Michigan, the site of a recent alleged kidnapping plot aimed at the governor, has been a hotspot of protests against COVID-19 restrictions for months, and militias have played a prominent role in the backlash. 
Pennsylvania has proved a durable home for the Proud Boys, a street gang that pushes "western chauvinism," but the state's more rural areas are also home to a number of more traditional militias, including the Pennsylvania Light Foot Militia and the newly-formed groups Civilian Defense Force and American Contingency. The report noted that those groups have focused on sharing "intelligence" about ongoing left-wing protest events and, in the latter's case, providing "a complementary weapons and tactics training program." 
In Oregon, clashes between fringe right-wing groups and anti-fascist activists and anarchists have been common in recent months. This is partly due to the region's history of organized, networked protest groups. Portland in particular, the report notes, "has been a long-term battleground for struggles between armed and unarmed, right- and left-wing contingents." 
We Can't Predict The Future
The report takes pains to note that it's no crystal ball: Violence or other potential activity from armed groups is unpredictable, and election-related confrontations may not be limited to society's fringe: Given the "highly charged political moment" in the United States, it noted, even individuals or groups with more mainstream political views may escalate confrontations or engage in violence.
Also, while some groups explicitly affiliate themselves with calls for ideological violence, "many US militias can be described as 'latent' in that they threaten more violence than they commit," the report noted. 
"It is yet unclear how many of these groups will react, no matter the vote's outcome," the report concluded. "Does a Trump loss lead to anger at the system and a backlash against what is deemed a stolen election? Does a Trump victory further empower groups that see him as a supporter, including through verbal encouragement ahead of the election? The answers to these questions are as numerous as they are uncomfortable."