President Donald Trump retweeted a video on Monday morning showing an unidentified white couple brandishing their firearms at anti-police brutality protesters in St. Louis, Missouri, who were peacefully marching toward city Mayor Lyda Krewson's home.
The video was ABC News' clip of a man pointing a large rifle at the line of protesters while his female partner swings a tiny pistol next to him.
A couple pointed guns at protesters in St. Louis as a group marched toward the mayor's home to demand her resignation. https://t.co/5EqDd43QCd pic.twitter.com/KWNaif77ch

— ABC News (@ABC) June 29, 2020
Trump retweeted the post without comment.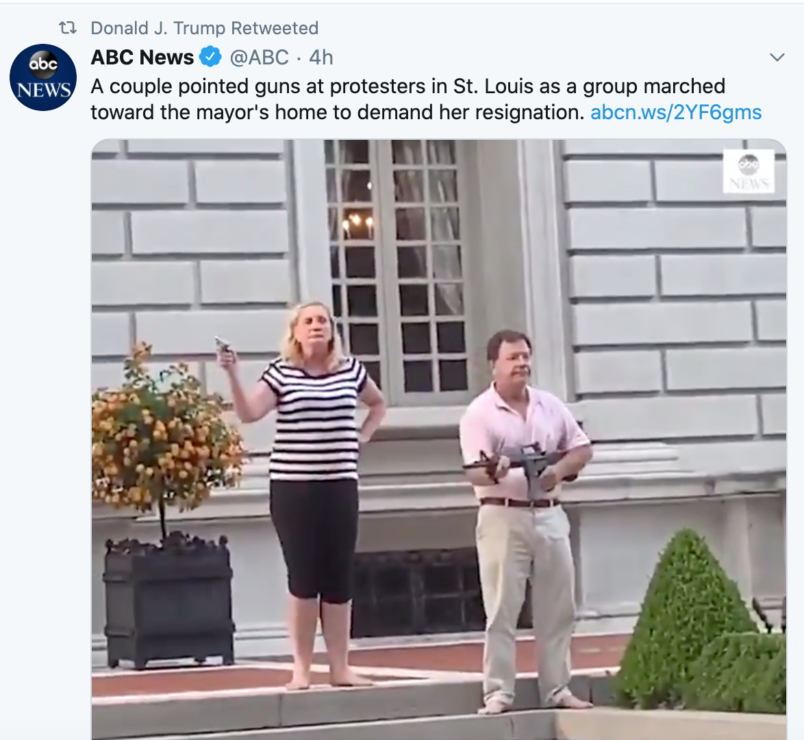 The demonstrators were demanding Krewson's resignation after she read aloud the names and addresses of those who had written to her asking for the St. Louis Metropolitan Police Department to be defunded as a solution to racist police brutality.
The man in the video told local CBS News affiliate News 4 on Monday that the protesters had "put us in fear of our lives."
"We were all alone facing an angry mob," said the man, who apparently refused to allow his name to be published.
The White House did not immediately respond to TPM's request for comment.