Vice President Mike Pence finally accepted late Tuesday the placement of plexiglass dividers during Wednesday's vice presidential debate after criticizing the move to protect against coronavirus infection. 
Late Tuesday, Frank Fahrenkopf, a co-chair of the Commission on Presidential Debates told the New York Times in an interview that following negotiations with Pence's team the vice president had ultimately accepted the dividers, which had been installed on the Utah debate stage earlier in the day based on consultation with officials from the Cleveland Clinic.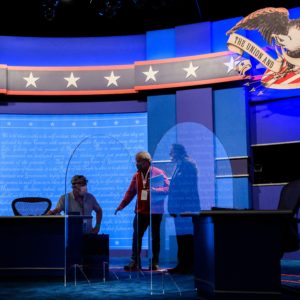 Marc Short, Pence's chief of staff, challenged the precaution earlier on Tuesday, saying there was "no scientific reason for the plexiglass."
"We don't think it's needed," Short said. "There's no science to support it. The tables are 12 feet apart, and each participant is tested."
The initial dismissal of the safety measure by Pence's team comes after the White House became a hotspot for coronavirus — with the President falling ill with the virus after mocking masks and undermining the guidance of scientists within his own administration. A growing list of White House staffers have reported positive tests for coronavirus since Trump's announcement early Friday. 
Amid ongoing resistance to mask-wearing that's been led for many months by Trump, debate-organizers also said they would remove any audience members who refuse to wear masks. Trump's family and aides notably defied rules set by the Cleveland Clinic at the first presidential debate just weeks ago. 
Sabrina Singh a spokesperson for Kamala Harris, said that the Democratic vice presidential nominee would appear at the debate and would be "respecting the protections that the Cleveland Clinic has put in place to promote safety for all concerned."
"If the Trump administration's war on masks has now become a war on safety shields, that tells you everything you need to know about why their Covid response is a failure," Singh said.