Americans are eyeing fellow countrymen with suspicion these days, and new polling indicates that a significant number of Democrats believe Republicans would condone violence if Trump were to claim the election had been stolen. 
Likewise, the poll from the research and civic non-profit More In Common found, a majority of Republicans believe Democrats would condone violence if the situation were reversed, and Biden claimed the election had been stolen. 
In fact, far more Americans believe those of the opposite party would approve of election-related violence than would condone it themselves, the poll, conducted by YouGov, found. 
The numbers, which More In Common says showed that Americans "significantly exaggerate the proportion of their political opponents who would justify election-related violence," comes just a week before the most fraught Election Day in recent history. 
"There's a really, really high sense of perceived threat," said Dan Vallone, director of More In Common USA, in an interview Tuesday. "It's become almost pervasive." 
The polling was relatively straightforward: 2,000 people were asked whether they would condone various actions if their party's presidential candidate appeared to have lost the election, but nonetheless declared that it had been "stolen" from them: Would they protest peacefully? Destroy property? Confront the opponent's supporters online? In the street? Would they be justified in physically attacking their opponent's supporters? 
Then, the same people were asked how they thought the other side of the aisle would answer the same questions. 
The number of respondents who thought it justified to physically attack the other candidate's supporters was relatively small: Just 3% of Republicans and 4% of Democrats. 
But both sides perceived the other as much more willing to condone violence: 49% of Democrats estimated that Republicans would condone physically attacking Biden supporters if Trump claimed the election had been stolen. And when the roles were reversed, 52% of Republicans thought Democrats would condone the same attacks if Biden claimed the election had been stolen.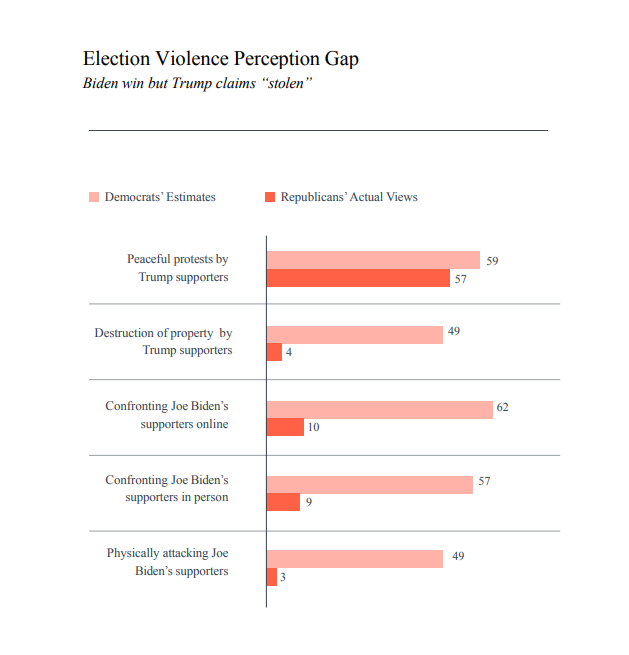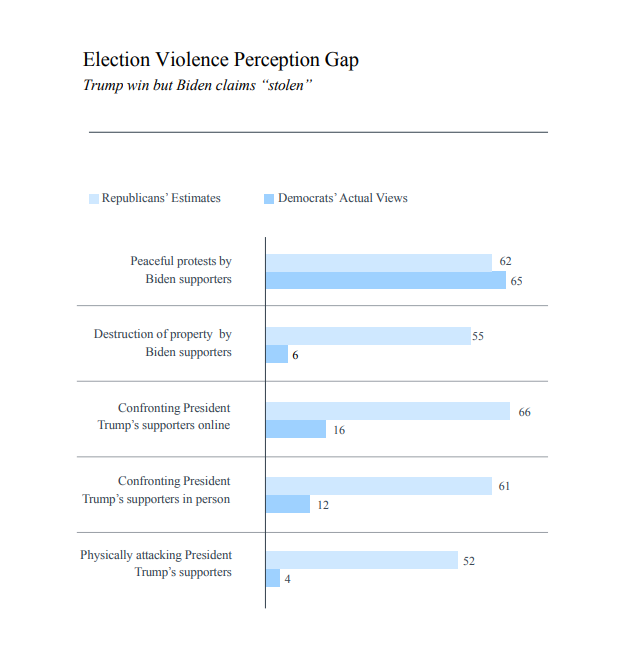 "It's really important to have an accurate understanding of peoples' willingness to condone violence, and even more importantly, from our vantage point, it's really important to understand the universally shared commitment to peace," Vallone said. 
"The norm here is peace," he added. "Anybody who is contemplating something other than peace is doing so outside of what the vast majority of Americans consider to be the appropriate boundaries of action." 
More in Common, in partnership with YouGov, surveyed 2,000 people between Oct. 14 and Oct. 20. The poll was weighted using the 2018 American Community Survey and the 2016 presidential vote tally. The margin of error is 2.37%.