The unknown foreign corporation that has been resisting a subpoena in a grand jury case believed to be related to the special counsel's Russia investigation filed a sealed briefing with the Supreme Court Wednesday. It was the latest sealed filing in the closely-watched case that has been mostly under wraps since a federal judge in Washington was considering it last year.
Most of what's known about the legal dispute comes from a vague judgement handed down publicly by an appellate court on Dec. 18. The appellate court, in upholding the subpoena, revealed that an unnamed corporation owned by "Country A" had sought to quash the subpoena, citing the Foreign Sovereign Immunities Act and because complying with it would violate Country A's laws. The appeals court affirmed the previous decision against the corporation by Judge Beryl Howell, the chief judge of the district court in D.C. Howell had also imposed accruing fines for the company's refusal to comply with her ruling upholding the subpoena. The appellate court's judgement did not mention special counsel Robert Mueller by name, but sightings by reporters at the courthouse suggest his team is involved.
The mystery company appealed the appellate court's decision to the Supreme Court on Dec. 22, and the following day Chief Justice John Roberts temporarily halted the lower court decisions — include the accruing fines  — while the Supreme Court was briefed on the dispute. Last Friday, prosecutors appear to have responded with a sealed filing, and the sealed filing by the company Wednesday is its reply.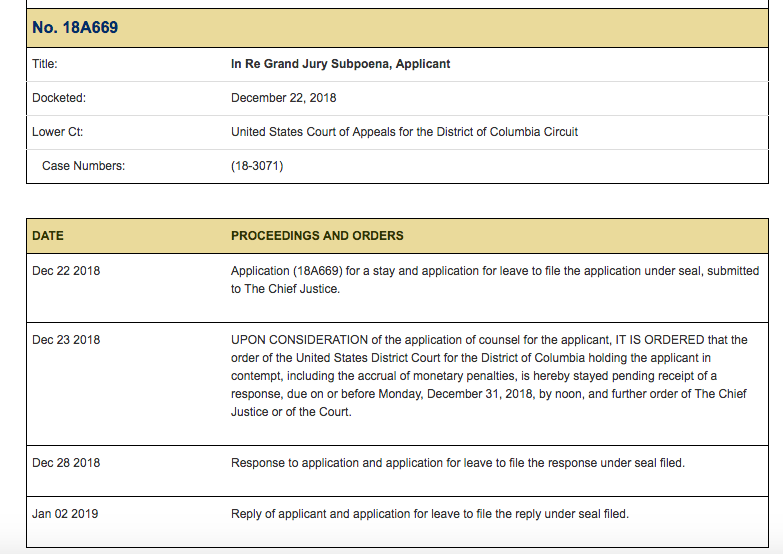 The legal proceedings so far have been highly secretive. Though dockets at the Supreme Court and appellate court level have been publicly viewable — meaning one can see when filings are submitted — almost none of the court documents themselves are public. When reporters tried to stake out a hearing scheduled in the case in front of the appellate court, courthouse security kicked them off that floor of the courtroom and even cleared the stairwells.
However, there have been a number of hints that Mueller is involved. Politico was first to report the apparent connection, after overhearing someone in the appellate court clerk's office ask for a filing from the special counsel on the day of a key deadline. CNN meanwhile spotted members of Mueller's team in the courthouse on days of proceedings when the case was at the district court level, and also observed two Mueller attorneys returning to his office not long after the appellate court hearing wrapped up. Additionally, at an earlier step in the case, there was an indication that an appellate judge who previously worked in President Trump's White House had recused himself from the dispute.
The TPM Journalism Fund: A New Way To Support TPM
We're launching the TPM Journalism Fund as an additional way for readers and members to support TPM. Every dollar contributed goes toward:
-Hiring More Journalists
-Providing free memberships to those who cannot afford them
-Supporting independent, non-corporate journalism