A new complaint unsealed Friday by the Justice Department against the alleged accountant who helped manage Russia's election-meddling activities on social media offered new details on how the Internet troll farm was financed.
Elena Alekseevna Khusyaynova, a Russian national based in St. Petersburg, was in charge of "the budgeting and payment of expenses associated with social media operations, web content, advertising campaigns, infrastructure, salaries, travel, office rent, furniture, and supplies, and the registration of legal entities" as part as the Internet troll campaign known as "Project Lahtka," according to the complaint.
The proposed operating budget for "Project Lahtka" that Khusyaynova billed between January 2016 and June 2018, according to the complaint, was $35 million; $10 million was billed just between January 2018 and June 2018.
"Project Lahtka" was first described in the grand jury indictment brought by special counsel Robert Mueller in February against 13 Russian individuals and a handful of Russian entities. It mentioned broadly the millions of dollars the Project Lahtka billed to two companies known as Concord Management and Concord Catering, both allegedly run by a oligarch known as "Putin's chef."
Concord Management, Concord Catering and the oligarch Yevgeny Prigozhin were named as defendants in Mueller's indictment, and Concord Management has hired American lawyers who are fighting the case in court.
The new complaint — which was not brought by the special counsel, but rather Justice Department prosecutors in the Eastern District of Virginia — in focusing on the accountant involved in the alleged conspiracy against the United States, goes into greater detail about how the money was moved around, and continues to be moved around for operations geared towards the 2018 midterms.
Khusyaynova, according to the complaint, assembled and submitted to Concord Management an itemized budget that broke down expenses by categories like rent, utilities, and garbage disposal, as well the costs of registering domain names and buying advertisements on various social media platforms. Those monthly budgets ranged from $1 million to around $2 million dollars (or 60 million to 120 million rubles), the complaint said, and Khusyaynova sought payments in installments.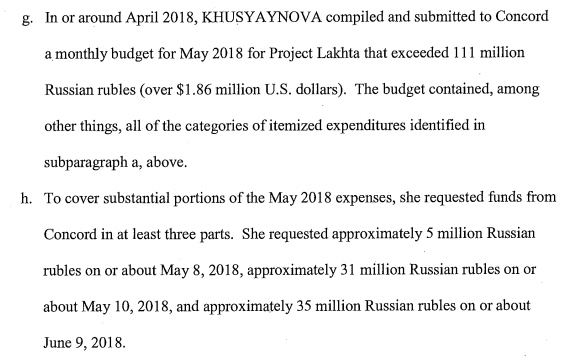 One occasion, the complaint describes Khusyaynova having to hassle Concord Management to make the payments.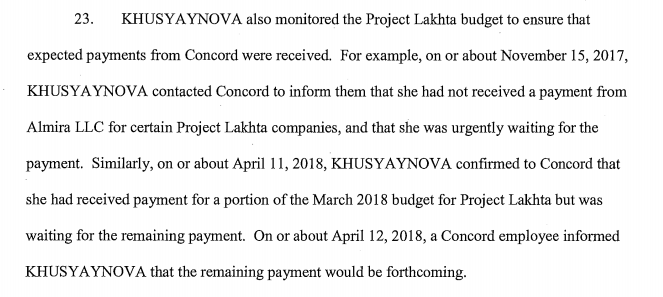 Thanks to the complaint, we know how much Khusyaynova allegedly billed for Project Lahtka's spending on Facebook and Instagram ads, at least from January 2018 through June 2018.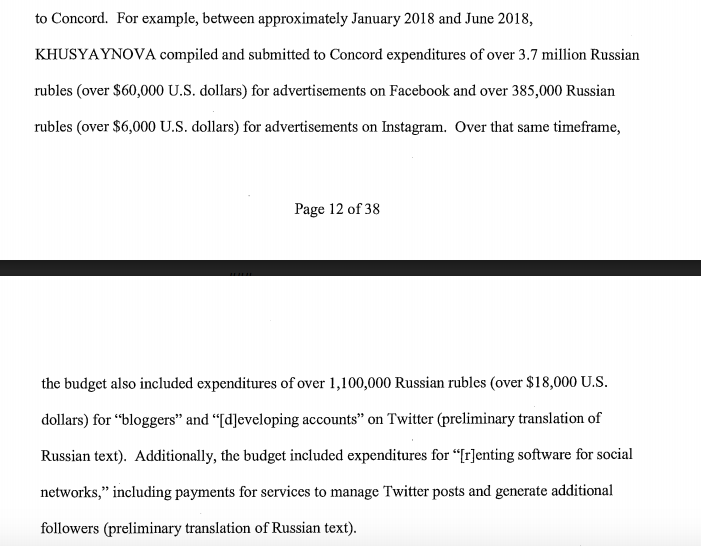 Read the full complaint below: