Rudy Giuliani's loose lips have caught up with him.
For months, the former New York mayor and current personal attorney to President Trump hasn't been exactly hiding his globe-trotting effort to dig up dirt on the President's personal political enemies.
That gambit — thanks to Trump's own appeal to Ukraine President Volodymyr Zelensky — is now the focus of a House impeachment inquiry that has moved quickly to subpoena Giuliani, and to request documents and depositions from his associates and State Department figures wrapped up in the endeavor.
The House probe was jumpstarted by a whistleblower's complaint that Intelligence Committee Chairman Adam Schiff has described as lawmakers' "road map."
Consider this piece your road map to that road map, and your guide to who and what House investigators are looking into, based on the subpoenas and requests they have issued:
Get TPM in your inbox, twice weekly.
The Scheme
Giuliani's crusade has been geared towards fueling fire around a fabricated claim that Joe Biden, when he was vice president, blocked an investigation into a Ukrainian energy company where his son Hunter sat on the board. In fact, Biden likely encouraged more oversight of the company by helping oust a prosecutor who was widely accused of turning a blind eye to corruption.
The Giuliani subpoena and other subpoenas of his associates point directly at his interest in digging up dirt on the Bidens, the company Burisma and its founder Mykola Zlochevsky.

Investigators are also interested in what Giuliani has been trying to dig up on the investigation into Paul Manafort — the former Trump campaign chairman who is now in prison for financial crimes related to work in Ukraine — in what appears to be an effort to cast doubt on the genesis of special counsel Robert Mueller's Russian probe.

The U.S. Players
Trump and Giuliani weren't working alone and appear to have American partners, including some of Trump's other favorite legal freelancers, and perhaps even officials in the Trump administration.
Joe diGenova and Victoria Toensing are both mentioned in the Giuliani subpoena. The husband-wife-duo are prominent Mueller critics who represented key players in the Russia probe and were briefly enlisted to represented Trump personally in that investigation, until they dropped out due to conflicts.
They're now reportedly involved in Giuliani's Biden opposition research effort (they've denied that the President was aware of their efforts) and have been lobbing wild-eyed claims about the impeachment drive on Fox News.
House Democrats are particularly interested in what government officials were doing to further Giuliani's goals. The whistleblower complaint describes two state department officials — Kurt Volker and Gordon Sondland — as trying to "contain the damage" of Giuliani's exploits, while Giuliani has claimed that they had in fact encouraged his work.

The House has requested that Volker, a Ukraine special envoy who resigned on Friday, and Sondland, the ambassador to the European Union, appear for depositions.
The Middle Men
Giuliani has reportedly relied on several Soviet-born figures who now live in the United States to broker his connections to Ukraine.
Lev Parnas and Igor Fruman— two Florida-based businessmen who were born in Ukraine and Belarus respectively — have both been described as Giuliani's "fixers." They have put Giuliani in touch with Ukrainian officials whom they believe can dig up dirt on the Bidens and have also pushed for probes into Ukraine's role in providing evidence in the Justice Department's Russia investigation.
The House wants to depose both men next week and also requested from them a set of documents similar to those demanded from Giuliani.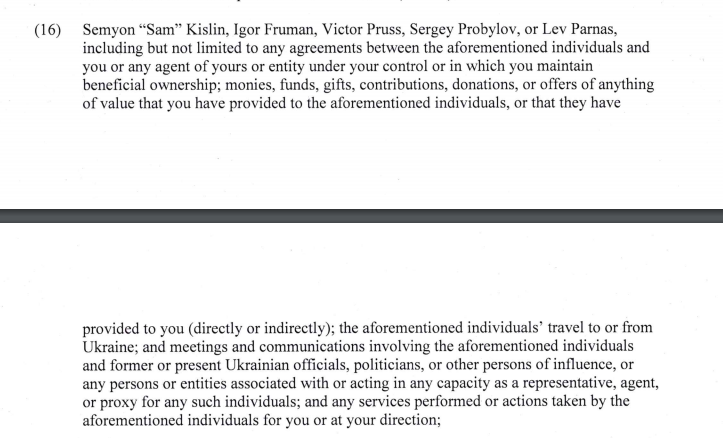 Also in the House's deposition list is Semyon "Sam" Kislin, an 84-year-old Russian emigre who has described himself as Giuliani's "ex-advisor." The Kislin-Giuliani relationship stretches back to the 1990s, when Kislin was donating to Gualiani's mayoral campaigns, and Kislin also has a link to President Trump's financial dealings of that era. More recently, Kislin has been trading fraud accusations with a former Ukrainian prosecutor who is key to the conspiracy theories against Biden.
The Ukrainian Side
Not surprisingly, Democrats want access to Giuliani's records related to the Ukrainian politicians and officials who are the targets of the pressure campaign. Serhiy Leshchenko is a former member of parliament who helped expose the "black ledger" payments to Manafort from Ukraine's pro-Russian politicians.
Ihor Kolomoisky is a Ukrainian oligarch in President Zelensky's circle who is being probed by the FBI for his own shady dealings; Giuliani, meanwhile, has accused him of being "super dangerous" and threatening toward Giuliani pals Parnas and Furman.
The Giuliani subpoena lists several other current and former officials swept up in his smear campaign against Biden. Among them: Petro Poroshenko, Zelensky's predecessor; Yuri Lutsenko, a former prosecutor who has made comments to conservative media figures — only later to retract them — that have helped fuel the bogus Biden allegations; and Victor Shokin, the top Ukrainian prosecutor Biden helped oust in conjunction with other western officials.

Giuliani records related to the mayors of Kiev and Kharkiv — including any contributions to those cities — are also listed in the subpoena.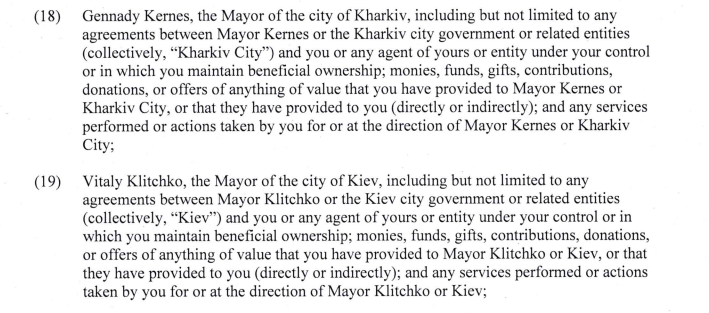 Then there are the Ukrainian businessmen whose work with Giuliani lawmakers are now interested in.

Pavel Fuks — who was also involved in the Trump Moscow project — was a client of Giuliani's as he was ramping up his international consulting. Vitaly Pruss is president of the consulting firm TriGlobal (also name-checked in the subpoena), which has had several dealings with Giuliani in recent years.
The Pressure Points
House investigators are interested in several episodes in which Giuliani and Trump may have applied pressure on Ukrainian officials — or their U.S. counterparts — to move forward with an investigation into the Biden.
The July 25 phone call, and other calls and meeting plans with Ukrainian officials, are an obvious focus.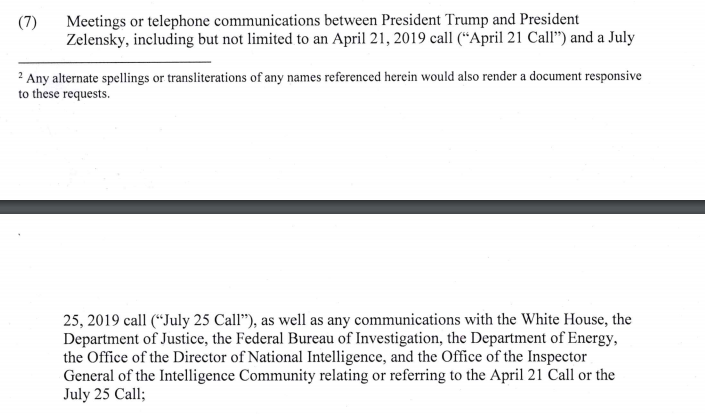 There are references to other allegations in the whistleblower complaint as well: that that Trump withheld military assistance to Ukraine as leverage; that Trump allegedly swapped out Vice President Mike Pence for Energy Secretary Rick Perry in the U.S. delegation sent to the Zelensky inauguration; and that he recalled U.S. ambassador to Ukraine Marie Yovanovitch because she was not deemed loyal enough to Trump's cause.

There's also mention of of May 23 White House meeting between Perry, Sondland and Volker.
Sketchy PAC Donations
This wouldn't be a Trump scandal if there wasn't also a question about where the money was flowing.
Lawmakers want to see any records pertaining to donations to political election campaigns coming from foreign individuals and those on the U.S. sanctions lists.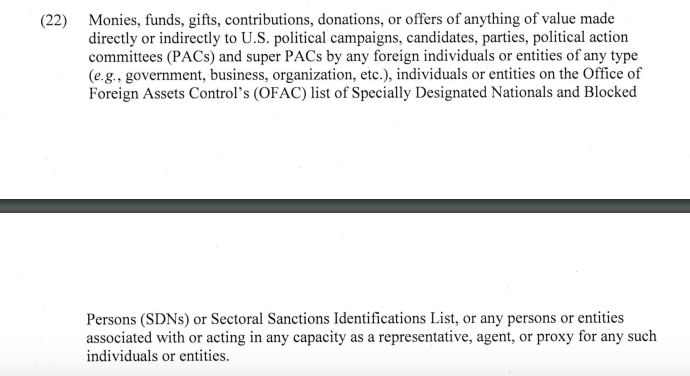 House investigators ask Parnas, Fruman and Kislin specifically for records regarding a mysterious $325,000 donation that the Giuliani associates made to the pro-Trump American First PAC in May 2018. The donation is linked to companies owned by Parnas, but the origin of the contribution is unknown, as TPM has previously reported.