FBI Director James Comey has filed a legal challenge in federal court in Washington, D.C., seeking to quash a subpoena served to him by House Republicans.
In the filing, Comey argues that he is willing to testify publicly, but that he is being asked to testify behind closed doors where he fears his testimony will be distorted through selective leaking.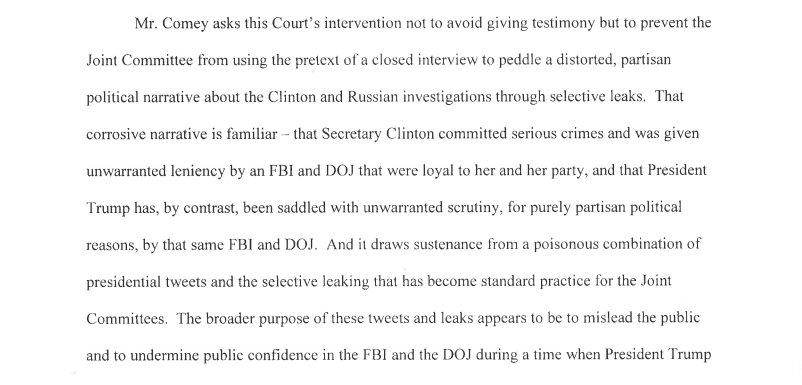 Comey is pushing for a public hearing instead of closed-door testimony, as the House subpoena calls for. The former FBI director argues that committee members would leak his testimony for political gain, writing that he "should not be coerced into a participating in an improper and partisan effort to undermine the legitimacy of an institution that he served for the better part of four years."
To that end, Comey cites a 1957 McCarthy-era Supreme Court case – Watkins v. United States – leaning on a portion of the decision in that case which states that while "[t]he public is of course entitled to be informed concerning the workings of government, [t]hat cannot be inflated into a general power to expose."
The Watkins case held that congressional investigations don't have unlimited authority to expose people's private lives. It came about after a union official was subpoenaed for his knowledge of supposed members of the Communist Party.
From there, Comey goes on to list others who have been subpoenaed for secret testimony before the committee and whose statements – Comey alleges – were later leaked.
Those include former FBI deputy director Andrew McCabe, former senior FBI counterintelligence official Peter Strzok, former McCabe attorney Lisa Page, FBI intelligence analyst Jonathan Moffa, DOJ lawyer Bruce Ohr, and former FBI general counsel James Baker.
Comey concludes by referencing Trump's repeated accusations against him of leaking and reported threat of prosecution.
"On numerous occasions, Mr. Comey has been falsely accused of leaking classified information," his attorneys write, adding a footnote citing a November New York Times report saying that "President Trump told White House counsel that he wanted to prosecute Mr. Comey, for among other things, leaking classified information.
Read the court filing below:
Support The TPM Journalism Fund
Contributions allow us to hire more journalists
Contributions allow us to provide free memberships to those who cannot afford them
Contributions support independent, non-corporate journalism