Even after the first bomb was discovered at the New Jersey home of Hungarian-American billionaire George Soros was discovered, alleged mail bomber Cesar Sayoc tweeted images linking Florida gubernatorial candidate Andrew Gillum to Soros.
The bomb reached Soros's residence on Oct. 22. Two days later, Sayoc tweeted a series of images implying a conspiracy between Soros and Gillum.
"$500,000 Soros Puppet Florida Candidate – Andrew Gillum," reads one of the images, with text emblazoned atop a photo of Gillum grinning.
— Cesar Altieri (@hardrock2016) October 24, 2018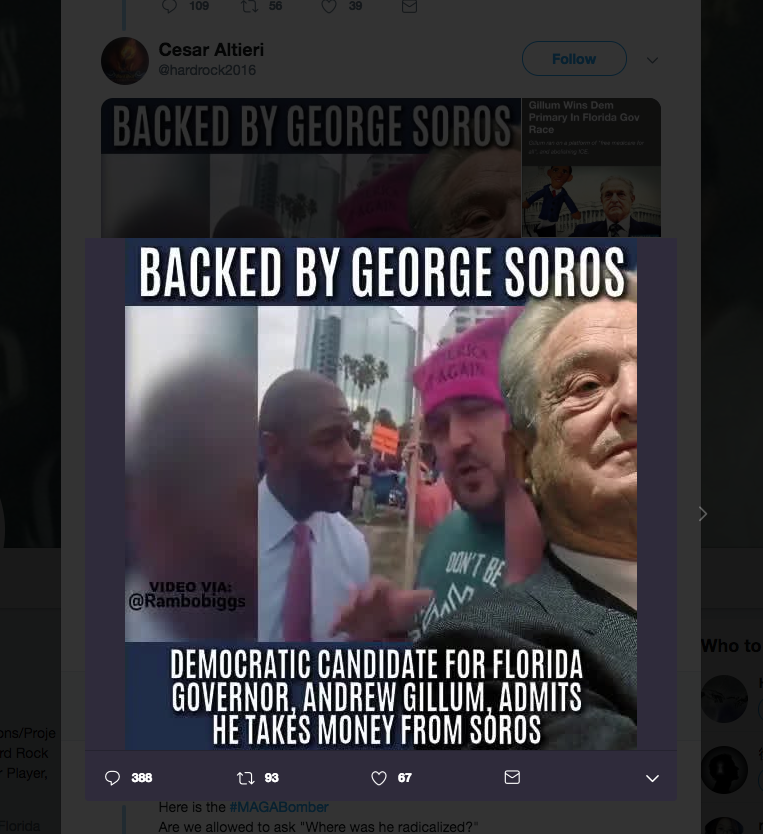 The FBI confirmed that the Twitter account belonged to Sayoc in its criminal complaint against Sayoc.
"There is an account with username 'Cesar Altieri' that contains the following, among other things…A post dated October 24, 2018–i.e., after the recovery of the Soros Package–that is critical of, among others, President Barack Obama and George Soros," the filing reads.
Before the bombs were sent to prominent Democrats and Trump critics, Sayoc actively posted to social media to praise President Trump and circulate conspiracy theories about Democrats.
Read the complaint here.
The TPM Journalism Fund: A New Way To Support TPM
We're launching the TPM Journalism Fund as an additional way for readers and members to support TPM. Every dollar contributed goes toward:
-Hiring More Journalists
-Providing free memberships to those who cannot afford them
-Supporting independent, non-corporate journalism