A black conservative group drew national attention last week for incendiary ads suggesting that black voters should support the GOP in the midterms because Democrats want to return to "lynching black folk" accused of sexually assaulting white women.
The Black Americans for the President's Agenda campaign has been roundly denounced by the Republican candidates it is purportedly trying to help win—and even by members of the group itself.
In a Friday Facebook post, Jill Upson, the organization's chairwoman, called the radio ads "very concerning." Upson said she "strongly disapprove[d]" of the ad's "coarse language" and claimed she had "nothing to do with its creation or production."
"Upon listening to the ad last night, I contacted the organization's founder and demanded that it be removed from the air and no longer played," Upson, a member of the West Virginia House of Delegates, who chairs the chamber's Select Committee on Minority Issues and the minority caucus, wrote in the post. "As a result of my request, the ad was taken down and will no longer appear on the airwaves."
But there's no indication that Upson's comments had any influence on how the spots were handled. The group's founder, perennial North Carolina congressional candidate and conservative bomb-thrower Vernon Robinson, has adamantly defended the ads in interviews, crowing that they have "the radical left" "screaming like stuck pigs."
Robinson told the Associated Press on Friday that his group earmarked $50,000 to run the Arkansas ads, and a similar version in Missouri, through the end of last week. "We have a plan, we're executing the plan," Robinson said.
Robinson and Upson did not immediately respond to TPM's requests for comment.
The group's "Emmett Till" ads first aired on radio stations in Little Rock, promoting the re-election of Republican Rep. French Hill.
Invoking the sexual assault allegations against Supreme Court Justice Brett Kavanaugh, the spot accuses Democrats of running amok with the #MeToo movement and "changing the presumption of innocence to a presumption of guilt."
"Girl, white Democrats will be lynching black folk again," one woman tells another in the ad.
"We can't afford to let white Democrats take us back to bad old days of race verdicts, life sentences, and lynching's when a white girl screams rape," the ad continues.
Hill released a statement condemning the "appalling" ad "in the strongest terms," while the state Democratic Party chair called it "overtly racist, dangerous and immoral." Arkansas Republicans on Friday filed a complaint with the state Ethics Commission, alleging that Robinson's group failed to register to campaign in Arkansas, according to the Texarkana Gazette.
Robinson ran similar ads in Missouri last week as well, attempting to boost GOP Senate nominee Josh Hawley in his close race against Democratic Sen. Claire McCaskill. However, the lynching reference was removed from the Missouri ad because a St. Louis radio station said it would not run the ad if it was included, Robinson told the Gazette.
Instead, the ad says that "black folk will be catching hell again" if Democrats regain power, facing "race verdicts, life sentences or worse."
Hawley's campaign has said that they "of course" condemn these messages.
The ads may not be particularly effective at swaying black voters, but they've certainly received significant attention.
That's essentially the modus operandi of Robinson, a former city councilman from Winston-Salem. Robinson has run unsuccessfully for Congress in the state three separate times, running on a virulently anti-Muslim, anti-immigrant platform. In memorable campaign ads, Robinson lamented that "you can burn the American flag and kill a million babies a year but you can't post the Ten Commandments or say 'God' in public schools."
"America would be nothing but one big fiesta for illegal aliens and homosexuals," went another radio ad highlighted by Right Wing Watch.
Though Robinson failed to gain much traction with voters, his 2006 campaign managed to draw in a whopping $520,000 from donors in just over two months. The majority of those contributions came from out of state. Robinson went on to serve as the director of the Draft Ben Carson for President Committee in the 2016 cycle, before founding Black Americans for the President's Agenda in February.
The PAC is "dedicated to promoting the policy initiatives of President Trump," including "stopping illegal immigration," "saving black babies from abortion," and "avoiding the fringe effort to change the presumption of innocence to that of guilt," according to the group's website.
It has pulled in money from a pool of predominantly white donors, as Slate first reported. Federal Election Commission filings posted on Open Secrets list $1,000 donations from well-known figures like San Francisco Giants principle owner Charles Johnson, who has a net worth of $5 billion, and philanthropist Patricia Duggan, wife of major Church of Scientology donor Robert Duggan. Per those filings, the group has $52,507 cash on hand and is $62,769 in debt.
As chairwoman, Upson has also rubbed shoulders with some major figures in the modern GOP. The group shared pictures of her posing with Republican National Committee Chairwoman Ronna Romney McDaniel at the Michigan GOP Convention, and Upson shared a picture of herself with Vice President Mike Pence in August.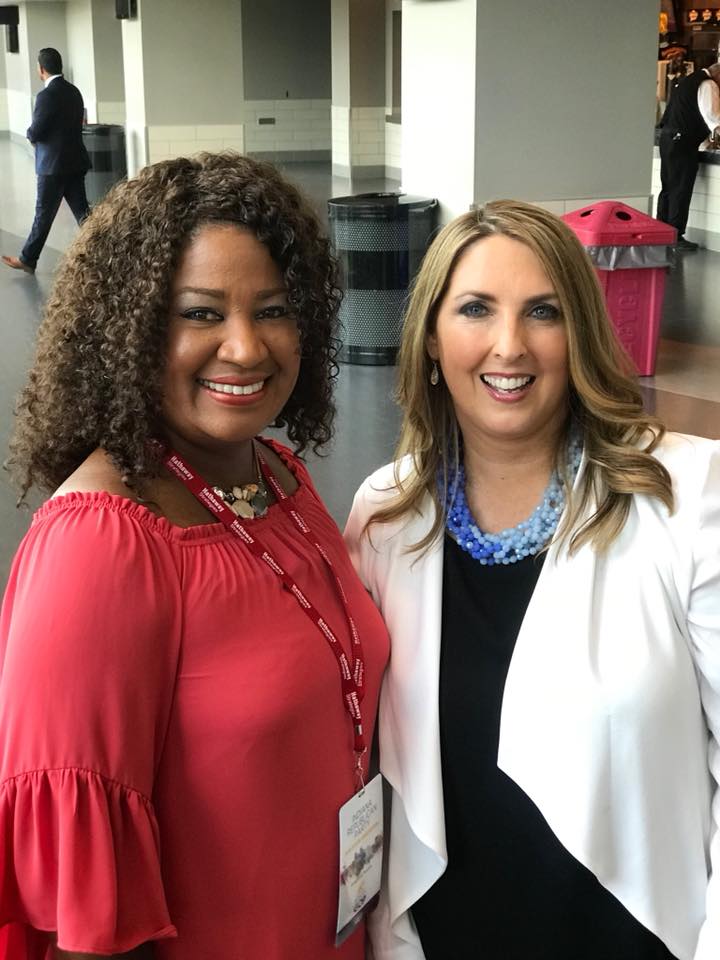 (Credit: Facebook, Black Americans for the President's Agenda)
The TPM Journalism Fund: A New Way To Support TPM
We're launching the TPM Journalism Fund as an additional way for readers and members to support TPM. Every dollar contributed goes toward:
-Hiring More Journalists
-Providing free memberships to those who cannot afford them
-Supporting independent, non-corporate journalism