Earlier this evening I told you about startling new revelations appearing to tie together the Russia probe with various of Donald Trump's and Jared Kushner's shenanigans in the Persian Gulf region. It's stunning stuff but it's complicated stuff. So check out the earlier post and the underlying articles from the Times and CNN to get the details. But no sooner did that happen than an attorney for Stormy Daniels posted a legal filing in which she asks a court to declare the "hush agreement" between her and Donald Trump and his lawyer, Michael Cohen, to be null and void.
But this rather sterile description doesn't do justice to what is contained in the filing – which includes the original "hush agreement" itself and another related document. Suffice it to say, it focuses not so much on Stormy Daniels staying mum about a sexual relationship with Donald Trump but on "certain still images and/or text messages which were authored by or relate to" Donald Trump. Let's put this baldly: Stormy appears to be saying she's got or had sexts and maybe even "dick pics" from President Trump.
So with that, let's get to the horrid details.
I have read the entire legal filing. I'm not a lawyer. But I think I can provide a basic description of what is contained in it. I will note or leave for others the legal points which are beyond my knowledge and experience.
First some backstory. According to the filing, after the Access Hollywood tape surfaced, Daniels tried to sell or publicize the story of her affair with Donald Trump (2006-07) and apparently the pictures or text messages or whatever else is described in the filing. Trump and Michael Cohen found out about it and made this deal to buy her silence and regain possession and intellectual property rights to the pictures or text messages.
According to Daniels, on February 27th of this year, Michael Cohen started an arbitration process in Los Angeles to try to stop Stormy Daniels from talking about her relationship with Donald Trump, which she says clearly in this filing was an "intimate relationship" during 2006 and 2007. The "hush agreement" which is dated October 28th, 2016 is included in the filing and it makes clear that disputes will be handled through confidential arbitration. So Cohen seemed to be seeking redress in that way, as set forth in the agreement.
First some side color: Donald Trump is referred to in the agreement by the pseudonym "David Dennison". Stormy Daniels is "Peggy Peterson." And yes, she's referred to in the agreement by the initials "PP" because of course she is. Daniels also claims that Cohen made her sign a false denial of the affair in January of this year "through intimidation and coercive tactics." Clearly Cohen has been very active on the Stormy beat for the last two months.
Back to our story.
Daniels says that the agreement is null and void and asks the court to find as such. She makes two legal arguments and what I would call one extra-legal argument. The first argument is that Donald Trump himself never signed the agreement – willfully, not through inattention – and thus there's no agreement. I suspect this is not a terribly strong argument since news reports at least suggest that Daniels accepted the payment of $130,000. My sense is that in most cases if you sign an agreement and accept the consideration, i.e., the money, that's an agreement whether or not the other person signs. And remember, Cohen signed on Trump's behalf. So this argument doesn't sound terribly strong.
Her further argument is that since Cohen publicly discussed the agreement that that voided the agreement. The agreement does make clear repeatedly that no one can discuss the existence of the agreement. Daniels says, in essence, that she doesn't have to go to arbitration, notwithstanding the agreement's stipulation to arbitration, because there's actually no agreement.
I have no expertise to judge whether these are strong legal claims. The extra-legal argument is, I think, the key one. That is, Daniels is saying out loud for everyone one to hear: not only did I have sex with President Trump but I had compromising text messages and "certain still images" that Trump went to herculean lengths to keep secret. To use the vernacular, she's pretty clearly suggesting she had "dick pics" from Trump or something very much like it. The legal filing is here. But I've marked up the key pages. Here are the references to what needs to be handed over to Trump and remain forever secret.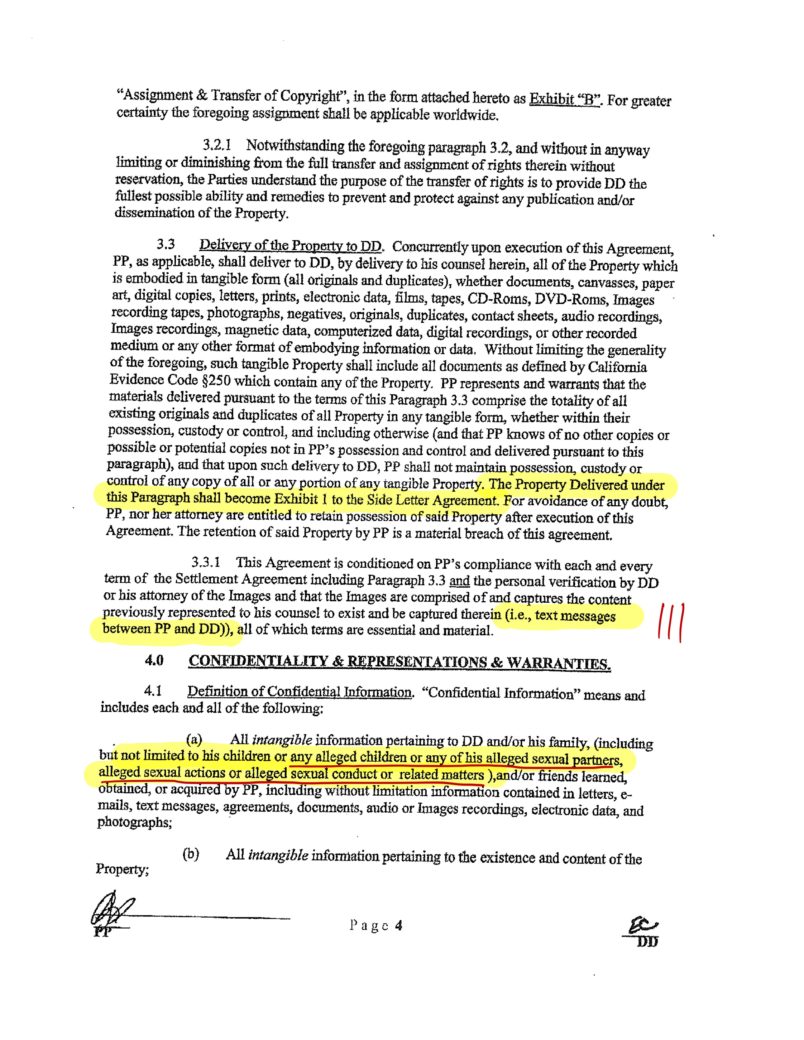 The agreement refers to these things Daniels has to turn over as the "Property" and at one point Trump, oddly enough, seems to be holding out for himself the opportunity to create "derivative works" based on his "still images" and texts with Stormy. But whatever, maybe it's just boilerplate language.
It takes a while to get through all the verbiage. But the gist of almost all of it is that Daniels has to agree to absolutely turn over all this "property", keep no copies, stipulate that no one else has copies, tell Trump and Cohen everyone who knows about the "property" and basically never talk about it until the end of time.
The penalties are pretty intense. The agreement contains what we might call an Austin Powers provision. If Daniels violates the agreement, not only does she have to pay back the $130,000 and whatever money she made from breaching the contract but pay Trump "the sum of One-Million Dollars" for each individual breach. The way the agreement is written just breaking the agreement once in the common sense meaning might amount to 10 or 100 or more individual breaches.
So there you have it. Daniels wants out of the agreement and claims it's null and void. Whether it's null and void or not she's making sure the corpse of this agreement is dead and dismembered and lying somewhere in the gutter. Because she's revealed the key details. So the cat is out of the bag. And one imagines that Cohen and President Trump will be hard pressed to enforce the agreement under current circumstances.