TPM is pleased to announce the winners of the 11th Annual Golden Duke Awards recognizing the year's best purveyors of public corruption, outlandish behavior, The Crazy, and general nonsense in this fine nation's political arena. The awards are named in honor of former Rep. Randy "Duke" Cunningham, the poster boy of the wacky modern scandal (for now, at least).
Our celebrity judges—Susie Bright, Katherine Krueger, Simon Maloy, KT Nelson and Erin Ryan—waded through the muck of all 34 finalists in seven categories, and selected the winners.
Check out the lucky nominees and reader/staff suggestions that selected them here. And now, drum roll please, the winners:
Click any of the links below to go directly to the category:
Meritorious Achievement In The Crazy
Most Heartwarming On-The-Record Quote From A Trump Associate
Literary Achievement in 140 Characters (or Instagram) By A Public Official
Best Shameless Cartoon Villain Move By An Administration Official
Best Moment From A Press Conference
BEST SCANDAL—GENERAL INTEREST: Rep. Trent Franks (3 of 5 votes) for his creepy attempt at a modern-day Handmaid's Tale
Susie Bright: Roy Moore's Alabama Senate Run
As Shakespeare might've described Roy Moore, he was "some hilding fellow, that had stolen the horse he rode on.''
Look— dude was banned from the mall.
Moore's Lady Macbeth wife, boasting of a single mysterious Jewish attorney to prove their campaign's purity— Fagin, right?— couldn't get him off that rap.  
Moore was a character out of a Mall Rats stag film directed by a Confederate Kevin Smith: "Say, little girl, would you like a chocolate covered pretzel?"  Snoochie Bootchies!
Don't cry for me, Roy-KKKarina. You lost 'Bama. Now you can devote your woodshed wailings to all the "Reds and Yellows, Blacks and Whites" whom presumably have color-segregated malls outside of Gadsden your pinto pony hasn't personally taken a dump in.
Shine on, you crazy dickhead— your lack of shame like black holes in the sky.
Katherine Krueger: Rep. Trent Franks' Surrogacy Disaster
To many readers' (likely) chagrin, I refuse to acknowledge the "Russia scandal" in this or any other category, just as I've fastidiously tried to avoid this ever-expanding Cold War noir thriller all year long. So I'm choosing the best good old traditional scandal from among the slate of nominees: elected Republican official does weird sex thing! Here's looking at you, former Congressman Trent Franks.
This has all the makings of a perfect scandal, general interest: a deeply conservative politician who's morally upstanding, anti-abortion rights, and a member of the "family values" clan in public but engaging in deeply weird, possibly criminal extracurriculars behind closed doors—in this case, asking two female aides about the possibility of paying them $5 million to have sex with him and then carry his child. As if that wasn't enough, Politico reported Franks went as far as trying to convince one woman he approached that she was actually in love with him, a deception that, personally speaking, would cost far more than $5 million to pull off.
Franks isn't the only member of Congress to be brought down by the mass of sexual harassment revelations stemming from our halls of power—and he certainly won't be the last—but this year, he was absolutely the weirdest.
Simon Maloy: Rep. Trent Franks' Surrogacy Disaster
I love this scandal because of the thick, distracting layers of weirdness we had to peel back in order to arrive at the simple truth at its core. The initial reports stated merely that Franks was abruptly resigning, and given that this was playing out as the #MeToo movement was gaining steam, everyone just assumed it was because of sexual misconduct.
Then things got wild. Franks' initial statement indicated that he was stepping down because of vague remarks he'd made about surrogacy that left his female staffers uncomfortable. While certainly weird behavior, it didn't really explain why he had to resign. The next day, however, we learned that Franks offered one of his staffers $5 million to be the surrogate for his child. That news got us closer to "step down immediately" territory, but it also raised more questions than it answered.
Then came the kicker: reports that Franks wanted to pursue surrogacy with his staffers by impregnating them himself. (Franks frowns on IVF owing to his extreme anti-abortion views, which apparently left do-it-yourself surrogacy as his only choice.) So in the end, after all that weirdness and obfuscation, the whole scandal came down to the simple, uncomplicated truth that Trent Franks was horny.
KT Nelson: Rep. Trent Franks' Surrogacy Disaster
I feel like most people would say Roy Moore, given everything that happened after – the scorching hot takes, the dissembling, the banned-from-a-mall thing…but I'm going to go with Trent Franks, just because his thing was so goddamn weird. Hitting on young girls is gross as hell and Roy Moore has definitely unseated Mackle as "worst Moore," but who on earth approaches an employee and is like "hello Martha, my wife and I would be very appreciative if you could carry the seed of my loins deep within your fertile womb." He gets high sex-pervert marks for his creativity, and bumps number one seed Roy right off the top.
Erin Ryan: James Comey Firing
While there are other scandals that are more hilarious than the Comey firing–Tom Price flying around in a private jet like the world's ugliest Kardashian, Trent Franks' lecherous womb-lust–none are as consequential as the firing of James Comey. I was in Jomsom, Nepal on May 9, at the tail end of a monthlong self-imposed soul penance trudge through the Himalayas. I hadn't had a decent WiFi connection in days. And in the middle of the night, my phone buzzed me awake from the slat of plywood I was sleeping on. I had about half a dozen push notifications from news organizations announcing the firing. At first I thought my phone had a virus. When I realized it was real, I started laughing hysterically, probably loud enough to wake everybody in the tea house. Leave it to President Donald Trump to trip over his dick so hard he takes down American democracy with it.
BEST SCANDAL—LOCAL VENUE: Rep. Greg Gianforte (3 of 5 votes) for his smackdown against a reporter the night before being elected to Montana's House
Susie Bright: Whitefish's Fishy Puerto Rico Contract
In past DUKE awards, I've usually picked the Local that made me laugh the hardest.
This is the one that makes me cry.
We all understand what happened: Trump's ever-fertile racist intuition thought a little island full of brown people would be good pickings for a couple of his White Supremacist friends to clean the bones.
He gave two gobs named "Whitefish" a no-show job to clean up Hurricane Maria — and the Montana steeds they rode in on.
It's Christmas as I write this… Most of PR still doesn't have power, and won't, for months. 1000+ people  died in the storm. Don't try to count the ruined lives: there is no number. Most Puerto Ricans have left their home.
There is no home.
FEMA, is, in their own words, "tapped out." They don't want to do emergency management anymore. White tears ever-flowing.
Just imagine what that multi-million-dollar "clean-up project" could have done in the hands of Puerto Rican US citizens.
Imagine if being despicable wasn't the first thing you thought of when we face our worst tragedies.
Sure, give the Whitefish Duo the Duke, but hit the trap door button on your way out. It's the one with the Sizzler emblem.
Katherine Krueger: Gianforte Bodyslams Reporter
In a year where very little non-Trump news seemed to break through—The New York Times' recent reporting that aliens are probably real barely made a blip—the most captivating story out of the special congressional race in Montana, Real America was then-GOP candidate Greg Gianforte bodyslamming Guardian US reporter Ben Jacobs and breaking his glasses for asking a question when Gianforte didn't much want to be asked a question by a meddling kid.
For fellow members of the press, who weren't allotted a single inch of slack in 2017, it was a reminder that most of America hates us. Montana voters cheered Gianforte's macho takedown of the liberal media writ-large all the way to the polls, where they chose him as their next body0slamming congressman. Jacobs was elevated to a heroic defender of the free press by his horrified colleagues in the Beltway media and his employer breathlessly reported on the reporter getting his glasses replaced, paid for by both the Guardian and his health insurer.
Fortunately enough for those involved in this particular conflict, it made for an excellent (local) scandal. I'll play a sad song on the world's tiniest violin in your honor, Ben.
Simon Maloy: Gianforte Bodyslams Reporter
Greg Gianforte's choke-slam of The Guardian's Ben Jacobs was, in all its ugliness, a sharply clarifying moment for U.S. politics. The Montana Republican got so mad at Jacobs' question about the CBO score of a health care bill that he violently attacked the reporter, then fled the scene, then lied and claimed he was a victim of Jacobs' deadly wrist-spinning ninja moves, then admitted he lied and apologized only after he'd won the special election for Montana's at-large House seat.
Only slightly less appalling than Gianforte's behavior was the response from national Republicans who quickly decided that they were fine with it so long as they didn't lose a seat in Congress. The chair of the National Republican Congressional Committee brushed off his candidate's physical assault of a journalist with a blithe "we all make mistakes." Vice President Mike Pence endorsed Gianforte and campaigned for him, but had nothing to say about his criminally violent behavior.
The GOP's non-response to Gianforte's attack on Jacobs offered a grim preview of how the party would later treat Roy Moore's sexual assault allegations—determined silence and carefully hedged expressions of disapproval, all of it driven by an overriding and myopic lust for power.
KT Nelson: Gianforte Bodyslams Reporter
Gianforte all the way, baby. A lot of people are mad about him doing this, but I thought it was more nihilistically funny than anything. Nobody got seriously injured, and could there be any more perfect representation of our current hellworld than a GOP candidate for congressional office literally beating a well-meaning member of the media to the ground hours before the election, then winning? Dude might have still been in holding at police lockup when the news broke that he won. Shit's wild.
I also thought it was funny that Ben Jacobs, the reporter who got bodied, rushed to Twitter afterward not to proclaim that Gianforte had "bodyslammed and pummeled me as I lay on the ground", rather "shoved me and broke my glasses". You could superimpose that shit over a picture of Milhouse Van Houten and nobody would think twice. And before you say "ohhhhh Krang is normalizing political violence wahhh" keep in mind that 1. there are roughly one hundred thousand kinds of political violence worse than the personal brawls of a random ass Montana congressman and 2. nothing I say actually matters, as evidenced by the outcome of that election.
Erin Ryan: Cy Vance's Questionable Attitude Toward Donors
Cy Vance had the chance to stop Harvey Weinstein and had a chance to indict the two most contemptible Trumplings. He could have stopped both the Weinstein reign of terror and the Trump reign of stupidity! But he didn't; conveniently, people close to both offending parties made serendipitous donations that put a stop to the probes. Cy Vance is the man who stood athwart historical catastrophe, yelling DONATE TO MY REELECTION CAMPAIGN!
MERITORIOUS ACHIEVEMENT IN THE CRAZY: Project Veritas (3 of 5 votes) for proving that diligent reporting wins.
Susie Bright: Project Veritas' WaPo Sting Fail
Move over,  "All the Presidents' Men."
For every reporter, every writer, who ever nailed a fraud to the wall, this is a righteous moment.
I find Jaime Phillips—the fraudster who tried to convince Post reporters, that nominee Judge Moore impregnated and abandoned her—to be a complete reality show.
She's got it all! Number one, she can't act. You didn't have to be a prize-winning journalist to smell that. Phillips has all the cray-cray that gets you shortlisted for a televised fight-night brawl with Cash Me Ousside's Danielle Bregoli.
Katherine Krueger: Hannity's Anti-Keurig Crusade
Meathead Fox News host Sean Hannity's biggest fail of the year, a genre I hold especially dear, had been using his platform to harass the family of Seth Rich by giving credence to internet conspiracy theorists offering up quarter-baked explanations for why Hillary Clinton herself had the young DNC staffer murdered. But then, Hannity met his intellectual match: a shitty brand of automatic coffee makers.
The setup is already classic Hannity: it all began because he was defending an alleged pedophile…….in the name of conservatism, or something. But after Keurig pulled their ads—giving Hannity the perfect way to deflect criticism for that whole defending-sex-with-children thing by transforming it into manufactured flashpoint in his own personal culture wars—try-hard right-wingers started posting videos online of themselves smashing their overpriced coffee makers. Not only was this excellent grassroots activism on the part of Hannity's fans—truly, what better way is there to trigger the libs than by smashing an expensive thing you already own—it also forced Keurig into an awkward corner.
Most corporations want nothing less than for their actions to be read as political, even as benignly political as no longer routing money to a guy who's not so sure Roy Moore's days of cruising the local mall for teen girls isn't a vast liberal media conspiracy. So the company took the crazy cake by apologizing for "taking sides" in the whole matter, which Hannity spun as a personal apology, calling for an end to his writhing fan base's one-sided holy war on Big Instant Coffee.
And, as always, it was a pertinent reminder that we truly live in the dumbest possible timeline of events.
Simon Maloy: Project Veritas' WaPo Sting Fail
James O'Keefe's disastrous attempted sting of the Washington Post edges out the competition here due to its bottomless cynicism and spectacular backfire. This was a trademark O'Keefe failure in that it was extremely public, massively embarrassing, and ultimately ended up proving the exact opposite of the ill-considered point O'Keefe was trying to make.
O'Keefe's plan to have one of his Project Veritas operatives lie to the Post and claim that Roy Moore raped her, got her pregnant, and pushed her to have an abortion was meant  to "prove" that the scurrilous liberal media would rush to print any damaging story about the Alabama Republican. Instead, the Post did the proper vetting and immediately punctured O'Keefe's ruse, thus vindicating the paper's journalistic standards and lending added credibility to its reporting on Moore.
This humiliating failure stands alongside other O'Keefe classics, like the time he tipped off a target by accidentally recording a voicemail explaining his planned sting, and the famous S.S. Dildo fiasco. Luckily for O'Keefe, he labors under no expectation of competence. The founder of Project Veritas (or alleged founder, if the New York attorney general's office is reading this) fails and faceplants and self-sabotages constantly, but still manages to squeeze more donor money out of numbskull right-wing billionaires.
KT Nelson: Hannity's Anti-Keurig Crusade
I gotta go with my main man Sean here. Hannity has always been nuts, but there must be a massive bubble of congealed baconfat pressing on the batshit lobe of his brain at this point because he has gone further off the rails than scientists previously thought possible. It's not just the Keurig thing. His drooling admiration for Donald Trump has altered something deep within him—ten years ago Sean was a pretty cookie-cutter rightwing dickhead in a suit, now he's screaming about pizzagate and Seth Rich and getting into scorching Twitter feuds with a bot someone set up for Roy Moore's sad horse.
The Keurig shit was particularly hilarious, as it fits into the grand conservative tradition of giving money to libs in order to own the libs. Buying $500 worth of Starbucks cups with "MAGA" written on them to own Starbucks. Burning $6,000 NFL season tickets that I already paid for to own the now-communist NFL. Hell, I'm old enough to remember back when Hannity promoted buying and then pouring out French wine to protest France's non-participation in the Iraq War. You laugh, but the protest worked and now there's no more France.
Erin Ryan: Project Veritas' WaPo Sting Fail

Tripping over one's own dick has proven to be a theme of 2017 that I hope continues into 2018 on account of it's hilarious. And nobody trips over their own dick like James O'Keefe and the organization he founded in his own dick-tripping likeness, Project Veritas. In this particular case, O'Keefe's Project Veritas sent a hayseed hack out to dupe the Washington Post with a fake story about being a statutory rape victim of then-Alabama Senate Candidate Roy Moore. The aim of the fabricated news story was to prove that the Washington Post publishes fake news and that Roy Moore, by extension, was actually good. But they inadvertently proved that major newspapers take great care to vet stories and Roy Moore lost the election. Other journalist friends and I have privately joked that we'd love to have James try to sting us on account of the fact that he's so bad at it. I'm probably the first woman to ever say this but: Do me next, James! Do me!
MOST HEARTWARMING ON-THE-RECORD QUOTE FROM A TRUMP ASSOCIATE: Anthony "The Mooch" Scaramucci (4 of 5 votes) for cementing his status as one of the White House's most memorable staffers during his 10-day tenure.
Susie Bright: "I'm not Steve Bannon, I'm not trying to suck my own cock." – Anthony "The Mooch" Scaramucci, former White House communications director
What a boffo category! I want to give all five nominees a Hot Dog Contest and a ride on the Tilt-a-Whirl. Put  them together on an itchy hayride pulled by Roy's horse, "Sassy," and see what happens!
How did I settle on The Mooch? Because it's golden.
I'll personally be quipping, "I'm not trying to suck my own cock," —and its inverse, "But I am, I am!" — over roasted chestnuts and hot toddies for many winters to come. This is one for the ages.
Katherine Krueger: "I'm not Steve Bannon, I'm not trying to suck my own cock." – Anthony Scaramucci, former White House communications director
Could there be any other?
It's a monumental shame that Scaramucci didn't get a real shot in a White House where he, a seasoned snake oil salesman with the greased-up locks to match, would've gotten along famously with the rest of the backstabbing sycophants and charlatans who populate the Trump administration. Scaramucci, a man who (reportedly) sacrificed everything, including his wife and newborn child, to bask in the overripe glow of Trump's face, could've been the first native-born creature born of The Swamp. I mean hell, this is a full-grown adult man who's comfortable with the world's first impression of him being the nickname "Mooch." He would've told Trump anything he wanted to hear any hour of the day and threatened to literally murder any leaker in the administration and yet Trump was still persuaded by the foul, unholy alliance of Steve Bannon and Reince Priebus to do away with Scaramucci like he was a kitten in a burlap sack. The man was destined for stardom and was kneecapped before he ever got the chance to soar, and we were much poorer for it.
On the bright side, it's been a protracted, public death without dignity, and Scaramucci, the consummate Italian boy from Long Island, refuses to slink away from the waning spotlight before trying to sell us something, anything, nothing.
Simon Maloy: "On behalf of the entire senior staff around you, Mr. President, we thank you for the opportunity and the blessing that you've given us to serve your agenda and the American people." – Reince Priebus, former White House chief of staff
Ah Reince, you nebbishy little goober. With the possible exception of Ted Cruz, no one in the Trump 2016 campaign orbit had to swallow more shit and debase himself as enthusiastically as Reince Priebus, but he did it all with a flat, gomerish smile because of the potential payoff: a high-powered job in the West Wing. And then he got there only to find that each soul-eroding day would be consumed by a vicious, unending brawl with a nest of vipers all writhing for the president's favor.
Priebus had no chance. None. Zero. Trump clearly didn't want him as chief of staff to begin with and never let him actually do the job. Priebus' survival strategy was to turn himself into a sponge for humiliation. Thus when it came time for Trump's aides to make their public hosannas, Reince flensed himself of all dignity and offered some groveling adoration for the man who would later abruptly fire him and kick him out of the presidential motorcade.
KT Nelson: "I'm not Steve Bannon, I'm not trying to suck my own cock." – Anthony Scaramucci, former White House communications director
Are you kidding me? Mooch is the clear winner here, bar none. If any of the other judges say otherwise they should be ousted immediately and their previous votes annulled. Scaramucci is a sad, lonely little man who craves attention in the same way as that kid who would eat bugs on the playground. So to be so thoroughly owned by a single sentence uttered by such a man must be utterly devastating, so much so that I'm surprised Bannon was seen in public the following week.
On the other hand, I have also been blocked by Moochly on Twitter two (2) separate times, and yet somehow he has unblocked me yet again. After some fairly deep cuts I laid on him went a little viral, I politely asked my followers to um, not bully necessarily, but uh, persuade him to follow me from the Scaramucci Post account. One day later I was the seventh account the account followed (suck it, Jake Tapper). This is the behavior of a man who wants attention even if it comes at the expense of deep online mockery. A man who does not care if I fuck with him constantly, as long as he gets attention. A man who perhaps, just perhaps, might be inclined to a little bit of selfsucc.
Erin Ryan: "I'm not Steve Bannon, I'm not trying to suck my own cock." – Anthony Scaramucci, former White House communications director
I do believe that Anthony Scaramucci is not Steve Bannon. I do not believe that he is not trying to suck his own cock. Yet another lie from the Trump machine. SMH.
LITERARY ACHIEVEMENT IN 140 CHARACTERS (OR INSTAGRAM) BY A PUBLIC OFFICIAL: Donald Trump Jr. (3 of 5 votes) for beating the New York Times to the punch on potentially incriminating himself.
Susie Bright: Don Jr. Doxxing Himself
Hipster tip; I like to watch The Stupidest Boy in the World tie his shoelaces together while "L.A. Plays Itself" screens in the background. The scion as shell, an illusion, on a desert, melting in neon.
Katherine Krueger: Mnuchin's Wife's Instagram Beef
As a warped soul who spends most of my waking hours pursuing "online" (a.k.a. Twitter, a.k.a. hell), this category was probably the most difficult to judge. After all, Don Jr.'s self-doxxing led to one of the best tweets of the entire year. But the winner here has got to be Louise Linton, the avatar for evil ultra-rich women everywhere. Not content with just being extremely personally wealthy—and married to Treasury Secretary Steve Mnuchin, who spent his last career becoming even richer off the mass foreclosures in the 2008 financial crisis—Linton decided to try engaging with one of her hoi polloi Instagram followers shortly after her honeymoon this summer.
In far more than 14o characters and several emojis (bless Instagram for providing a platform for long-winded rich people to stunt on the unwashed masses), Linton took some poor rando to task for daring to suggest that it was perhaps uncouth for her to tag all the luxury brands she was wearing in a photo of her and her husband disembarking a private government jet. While a smarter person might say the lady doth protest too much, I say there's no better recruiting tool for our coming socialist revolution than posting photos of yourself literally holding sheets of money while dressed like a mean girl-supervillain. You go, girl!
Simon Maloy: Don Jr. Doxxing Himself
I have to start this with a sincere apology to Eric Trump. For the longest time, I enthusiastically promoted the idea that Eric was the Fredo of the Trump family: the most flawed of all the failsons, the dimmest wit, and the one who most disastrously blended staggering incompetence with a hopeless desire to prove his intelligence and worth.
I was wrong. My eyes are now open. Don Jr. is the one true Fredo.
Don Jr.'s shifting descriptions of his now-famous Russia meeting never made much sense and gave every indication that the president's large adult son was hiding a large adult secret. Under imminent threat of having all his lying and evasions laid bare, Don Jr. "reasoned" that the failing New York Times couldn't incriminate him if he incriminated himself first, so he published all the emails he'd sent about a meeting he once denied ever took place. It was a classic Fredo move, and it got him a nice pat on the head and a "good job" from daddy.
The tantalizing possibility raised by all this is that the Trump campaign's shadiest activities were spearheaded by the dumbest and least cautious member of the Trump family. At this point it shouldn't surprise anyone if Robert Mueller turns up some Don Jr. emails with the subject header: "Here are the crimes we did."
KT Nelson: Don Jr. Doxxing Himself
This one is tough. Straight off the bat I wanted to say I never thought covfefe was funny in the slightest. Covfefe jokes are some real cornball Eric Garland shit and have been since the day President Grandpa first tweeted it. The Louise Linton US Mint photoshoot was hilarious because I might hate the Mnunchins more than the Trumps and it turns out they are just as oblivious in their own way. But in the end I gotta give it to Donny Jr. — I have long maintained that Junior is the dumbest of his family, and he has been extremely online all year doing his best to prove me right.
Erin Ryan: Mnuchin's Wife's Instagram Beef
I love Louise Linton. Everything she does is so contemptible, from the fake Africa memoir she wrote that featured photos of AIDS orphans she used without permission to how utterly convinced she seems that her skin-muppet of a husband is a sex god. I hope she starts her own lifestyle blog so I can make fun of that, too. America needs something to unite behind in these dark times, and hate-laughing at Linton might be that thing.
BEST SHAMELESS CARTOON VILLAIN MOVE BY AN ADMINISTRATION OFFICIAL: Sebastian Gorka (2 of 5 votes) for demonstrating his place in the far-right from the get-go.
Susie Bright: Chris Christie's Beach Day
From Here to Eternity, Baby: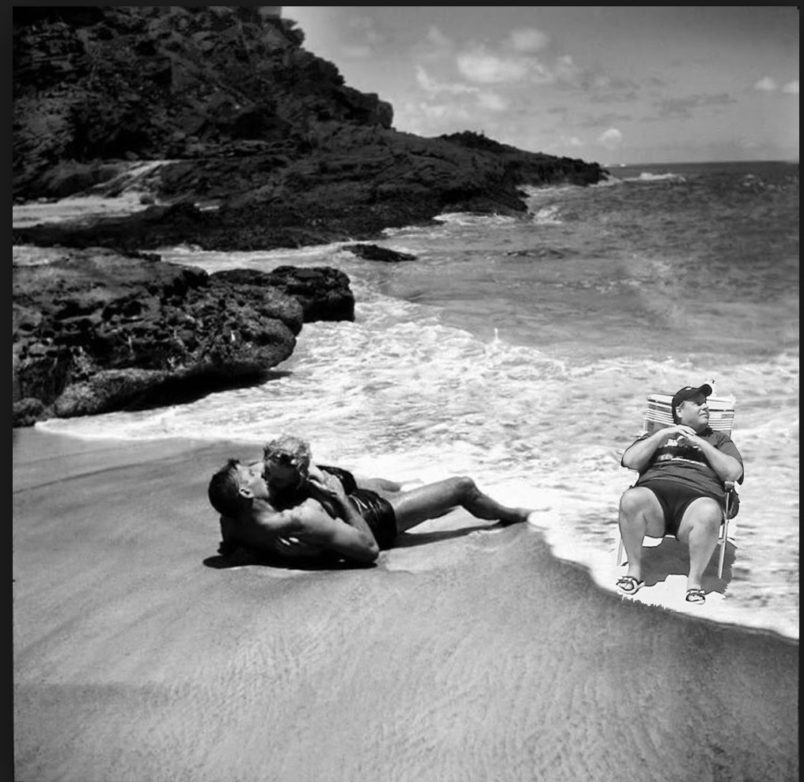 Katherine Krueger: Gorka's Special Nazi-Affiliated Attire
Before writing his name in the Trump administration's black book, Sebastian Gorka's main credentials were based entirely on falsehood: a sketchy Ph.D that academics have said might as well be written in crayon, writing fake news for the Trump propaganda outlet Breitbart, and serving as a self-proclaimed foreign policy expert whose views seem to be solely based on a blend of Islamophobia, racism, and far-right rhetoric.
Then came the most inevitable-feeling personnel news of the year: that the guy who looks like a cartoon Nazi while defending Trump on your TV actually pledged his undying allegiance to a Nazi-affiliated group. You simply can't make it up. Sadly enough for Gorka, even the Trump administration couldn't explicitly appear to be chumming it up with the far-right ideology best known for its holocaust centers and, more recently, Richard Spencer.
Simon Maloy: Gorka's Special Nazi-Affiliated Attire
Sebastian Gorka has to win the Duke for cartoon villainy for the simple reason that Gorka is, in most respects, a cartoon villain. He prowls around the DC area in a black Mustang convertible with an "Art of War" vanity plate, parking it wherever the hell he pleases. The goatee that lives on his face leads one to think that the Gorka we know is actually an evil doppelganger from a parallel dimension. At any given moment Gorka has on his person two guns, a knife, and a tourniquet.
And, on top of all that, he showed up to the Trump inaugural balls dressed like Hugo Drax with a Nazi-ish medal dangling from his chest.
This is all fairly standard supervillain stuff and it's how Gorka lives every second of every day. Soon he'll be showing up at his Fox News and Heritage gigs ranting about how Bucharest will kneel before him once the Omega Device is completed.
KT Nelson: LePage Ignoring His Constituents' Medicaid Vote
This one is easy – while the other stuff was bad optics and involves animal cruelty and a bunch of other nasty dickhead behavior, LePage's move actually will kill people – people he's supposed to represent. Anyways LePage is a pus-filled gurgling sack of evil and ground chuck and it's kind of insane that he's still the governor after all the shit he's pulled.
Erin Ryan: Trump Admin. Lifting The Trophy Ban
Donald Trump's large adult sons are a consistent national embarrassment. They're like low-T Hapsburgs. I love that President Trump is still trying to bail his stupid sons out of the trouble they make for themselves, like when he ensnared his entire inner circle in drafting a response to Don Jr's lies about meeting with a Kremlin-backed attorney. But lifting the trophy importation ban was the best. It served no discernible end besides giving the sociopaths he's raised freedom to Gaston-ify their living rooms.
BEST MOMENT FROM A PRESS CONFERENCE: Sean Spicer (4 of 5 votes) for spicing up how many attended Trump's inauguration.
Susie Bright: Spicer's Inauguration Crowd Size Debacle
C'mon! The Duke honor belongs to actor Melissa McCarthy and unheralded SNL writer who satirized this whole debacle:
"I would like to begin today, by apologizing, on behalf of YOU, to ME… and that apology is NOT accepted!"
Such screed-mongering is Sean Spicer in a bottle. As a fellow Irish Catholic, I recognize his hyperbole, temper, and vituperative guilt trips. Melissa did too. We know ye, Sean.
Memory: I was lucky enough to be at Obama's second inauguration in a tribe of street painters armed with easels and brushes who found ourselves stroking, in concert, in a happy tsunami of humanity. Everyone, from tots to elders, were expressing themselves, where they were from, how they saw themselves in America. I still tear up looking at the pictures we brought home. The hugeness of Obama's crowd and the humanity of its joie de vivre was in stark contrast to the Funeral for the new Fuhrer. Only the paid showed up. Them— and the drays they rode in on.
Katherine Krueger: Spicer's Inauguration Crowd Size Debacle
Sometimes, a single event provides such a crystal-clear vision of things to come that it's almost poetic, and Sean Spicer's inaugural White House briefing was just that. As I covered the presser for Splinter, then Fusion, still stunned by the reality that a reality TV huckster was our new Commander-in-Chief and probably still hungover from two-plus years of covering every moment of the election for TPM, a saw my tired visage reflected in a bleary-eyed, bewildered Spicer, transparently cajoled into issuing a corrective to all that unflattering press coverage of Inauguration Day 2017, a day which felt more like a state funeral than the beginning of a brave new American era. In another foretelling of things to come, Spicer badgered and argued with the assembled reporters, brought out A Beautiful Mind-esque visual aids to make his case for why Trump's crowd—like his hands—only seemed freakishly small—and, of course, repeatedly lied through his teeth.
Perhaps best of all, Spicer came out for the press conference—which was hurriedly scheduled even before his first official day on the job and certainly before he knew which West Wing bathroom could muffle the sound of his frustrated sobs—in an oversized suit, one which would've been the envy of David Byrne. So even while feverishly, nonsensically defending his incorrigible boss, Spicer looked like hell on TV—a cardinal sin in Trumpworld. Spicey, we hardly knew thee.
Simon Maloy: Spicer's Inauguration Crowd Size Debacle
No one person could have better set the tone for the Trump presidency than Sean Spicer when he delivered a series of nasal harangues to reporters angrily demanding that they admit Donald Trump's inauguration was the most popular in American history. The self-debasing performance, untethered to the truth and focused entirely on satiating the monstrous ego of the president, established early on some key characteristics of the White House: aggressive antagonism of mainstream journalists, a strong preference for "alternative facts," and dogged adherence to whatever self-aggrandizing altered reality escapes from the president's mind.
It was obvious from the outset that Spicer was acting on direct orders from Trump — what other reason would the White House press secretary have to pick such a stupid fight as his first order of business? The stunt accomplished nothing beyond making Spicer look foolish and firebombing the credibility of the White House's chief spokesman just as the administration was winding up.
After he resigned just six months into the term, Spicer told the New York Times that "of course" he "absolutely" regretted picking the fight over inauguration crowd size. Becoming a running joke and national laughingstock does tend to make one rethink one's life choices.
KT Nelson: Sarah Huckabee Sanders' Story Time With "Pickle"
Ah, famed pie-baker Sarah Huckabee Sanders. With eyes that say "I'm extremely daydrunk and demanding to speak with your manager" and a mouth that says "nothing matters, eat shit," who could deny her the top spot here. Also her brother murdered a dog in cold blood and her dad covered it up. TPM editors don't you dare take out that last part.
Erin Ryan: Spicer's Inauguration Crowd Size Debacle
Sean Spicer's ongoing public humiliation would have made me feel a little bad for him if I wasn't positive he deserved every ounce of contempt he receives. His roaring debut onto the national stage, in a comically oversized suit telling a comically oversized lie about comically undersized crowds, really set the stage. If there were ever a This Is Your Life episode featuring Sean Spicer, that footage should be the only thing that plays. Because no matter what he does for the rest of his life, no matter what he did before, it's how people will remember him.