The Congressional Budget Office dropped a new analysis Sunday night of the Senate Republican tax bill that could pass later this week after zero hearings and minimal debate showing the bill would significantly cut taxes for people in the top income brackets while raising them for people making less than $30,000 a year.
The CBO said in addition to adding $1.4 trillion to the federal deficit and reducing the number of Americans with health insurance by 13 million, the tax bill would have a harmful impact on low-income Americans.
By 2019, the agency found, Americans earning less than $30,000 a year would see their tax bill go up under the Senate bill. By 2021, those earning $40,000 or less would see a hike. By 2027, most people earning $75,000 a year or less would have to pay more. At the same time, people earning more than $100,000 a year would see the biggest benefit over time.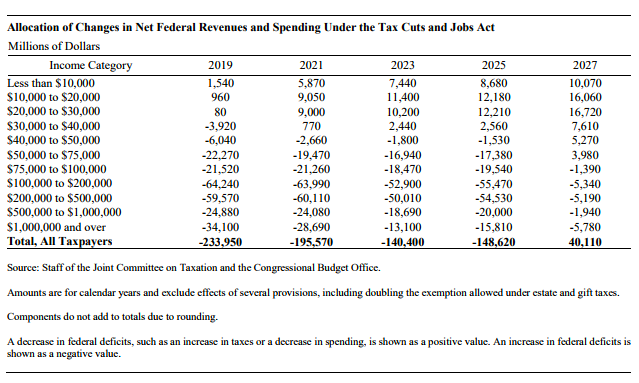 Because most Americans at the lowest-earning end of the spectrum do not pay income taxes, the estimate is largely based on them losing tax credits for purchasing health insurance because the tax bill repeals the individual mandate. Republican lawmakers have argued the drop in health coverage would be a choice, but the CBO emphasizes that many would also be pushed out of the market against their will by rising premiums.
"Those effects would occur mainly because healthier people would be less likely to obtain insurance and because, especially in the non-group market, the resulting increases in premiums would cause more people to not purchase insurance," the report states.
Republicans have also argued that the CBO's massive deficit estimates are inaccurate, because they don't take into account all of the economic growth they claim would result from slashing corporate taxes. But even studies that take that expected growth into account find that the bill would grow the federal deficit by more than $1 trillion.
As Republicans scramble to shore up the votes needed to pass the tax bill, this latest reports adds fuel to criticisms from Democrats and independent economists that the bill privileges the wealthy and corporations at the expense of the middle class and the poor.
Read the full report below: