With just over 100 days until the 2018 midterm elections, Democrats are increasingly optimistic that they'll win control of the House — while Republicans are growing more and more alarmed about their party's tenuous grip on their majority.
In more than a dozen interviews with top strategists in both parties conducted by TPM this week, every Democrat and all but one Republican said that the Democrats have the upper hand heading into the homestretch of the campaign. But there's plenty of disagreement about how sure a bet that is. Different plugged-in Democrats guesstimated their chances of winning control as between 55 percent and 80 percent. Two Republicans put their party's chances of control as low as one in three, while one optimist put it at 60 percent likelihood.
That's a wide range of opinions held by people with access to a lot of private polling and modeling information, as well as the opposition research and TV ads that have yet to air, though the majority of strategists in both parties put Democrats' chances of winning at between 50 and 60 percent. The one thing all strategists, granted anonymity so they could speak candidly, agree on: Democrats' chances of winning the 23 House seats needed for control look significantly better than they did even one month ago.
Since then, President Trump's family separation fiasco damaged him with voters, his shocking meeting in Helsinki with Russian President Vladimir Putin further weakened him, and the effects of his trade wars began alarming GOP-leaning downscale voters in farming- and manufacturing-heavy parts of the country that rely on exporting products.
After a dip during the late spring, Democrats' lead in most recent generic congressional polls has climbed back above the 7-point threshold that strategists in both parties see as the likely break-point where Democrats will win the House. And the more Trump talks, the more Republicans cringe.
"It's hard, and has gotten harder through the summer. … It's really hard to get out from underneath what's going on in the White House with this president," said one veteran GOP strategist. "I'm very scared."
Democrats' enthusiasm gap advantage remains large. Independents are breaking for Democrats by double-digit margins nationally and in most districts. The map of true tossup races seems to keep shifting Democrats' way. With Sunday marking 100 days until the election, the unofficial start of the campaign's homestretch, professional Democrats are a lot cheerier than their Republican counterparts as they look to get their clients to Congress.
"The polling data we're getting back, it's so good that it seems hard to believe. Obviously a lot can happen, and the Democratic enthusiasm gap needs to stay where it's at, but it's pretty rare the trajectory of an election can be upended this late in the game," one senior House Democratic campaign strategist told TPM.
A number of Republicans glumly agree that the Democrats' tidal wave looks big enough right now to wash over the seawall they've built with gerrymandered districts and some battle-tested incumbents.
"I'm deeply skeptical that all the pieces will come together just right to hold the House," one Republican strategist working on a number of House races told TPM. "In the summer, things always look race-by-race like you can use financial muscle to save enough seats. But at some point in the fall, the dam tends to break against the party in power. That's the worry."
Democrats are seeing some very promising polls for their candidates in surprising districts, numbers that are largely in line with what Republican strategists are seeing themselves. A few Democratic challengers are already leading GOP incumbents in head-to-head polls, something that rarely happens in polling this early, except in wave election years. In a number of other districts they're already close to a tie — numbers that Democrats see as a sign they'll eventually carry many of those districts. A tied race this early usually signals that the lesser-known challenger has more room to grow and is more likely to win, though some Republicans argue that it just shows the fired-up Democratic base has already coalesced and that the GOP has more opportunity to turn out less enthusiastic voters.
To do so, Republicans have promised to run on their tax cuts — but haven't been doing that so much in the special elections so far. GOP strategists concede the issue isn't as much of a winner as they'd hoped, especially in states like New Jersey and California where the law hurt as many wealthier suburban voters as it helped, and are hoping to message more broadly about a strong economy. Democrats plan to lean hard into discussing health care, protecting Medicare and Social Security, and economic opportunities, letting Trump's scandals of the week stand for themselves. Both parties say Trump's impact is massive — but largely baked in at this point, and outside their control.
Democrats are most confident about winning 10 open seats held by retiring GOP members. They're also very bullish about defeating Rep. Barbara Comstock (R-VA), a congresswoman in a Democratic-leaning district that many Republicans concede is a lost cause, and Rep. Rod Blum (R-IA), who holds a traditionally Democratic blue-collar district that Trump won comfortably. From there, things get a bit harder, but some surprising polls in other places have them feeling good.
Democrats are doing especially well with female voters — a number of strategists predicted a record-setting gender gap in this election, with even GOP-leaning college-educated women going the other direction. That's a major problem for Republicans in the suburban, Democratic-trending districts where Trump is deeply unpopular. They're also seeing surprisingly strong numbers in the more downscale and more rural "snap-back" districts where Trump did much better than Republicans historically did. The one area that's concerning Democrats and exciting Republicans is suburban territory where Democrats are relying on big turnout from Hispanic voters. That doesn't seem like it's materializing yet, a factor that could make it much harder for them to win districts from California to Texas that they're banking on for the majority.
Democrats have serious pickup opportunities in places they haven't been able to compete in for years without incumbents. They've seen polls showing their candidate narrowly leading in an open coal county district in West Virginia, even though Trump won it by a three-to-one margin. Navy Veteran Amy McGrath leads Rep. Andy Barr (R-KY) in both Democratic and GOP polling in another Appalachian district that Trump won by 15 points. They're competitive in typically Republican seats in rural Kansas, GOP-leaning downstate Illinois and Salt Lake City, Utah. They're also seeing some strong numbers in the Northeast and in suburban districts throughout the Midwest they haven't been able to win for years. They're confident they can beat some incumbents in GOP-leaning seats who haven't had truly tough races in years (or never have), like Reps. Peter Roskam (R-IL), Kevin Yoder (R-KS) and Mike Bishop (R-MI).
They're also feeling better than in past cycles about defeating some of the GOP's best candidates, battle-tested incumbents like Reps. Mike Coffman (R-CO), Jeff Denham (R-CA) and Carlos Curbelo (R-FL) who've won tough races in the past but haven't had to face wave elections in their swing districts.
Some Republicans agree.
"I'm scared for them. They'll run better than textbook campaign, they'll do everything right, but in these situations you can only outperform by so much," said one strategist.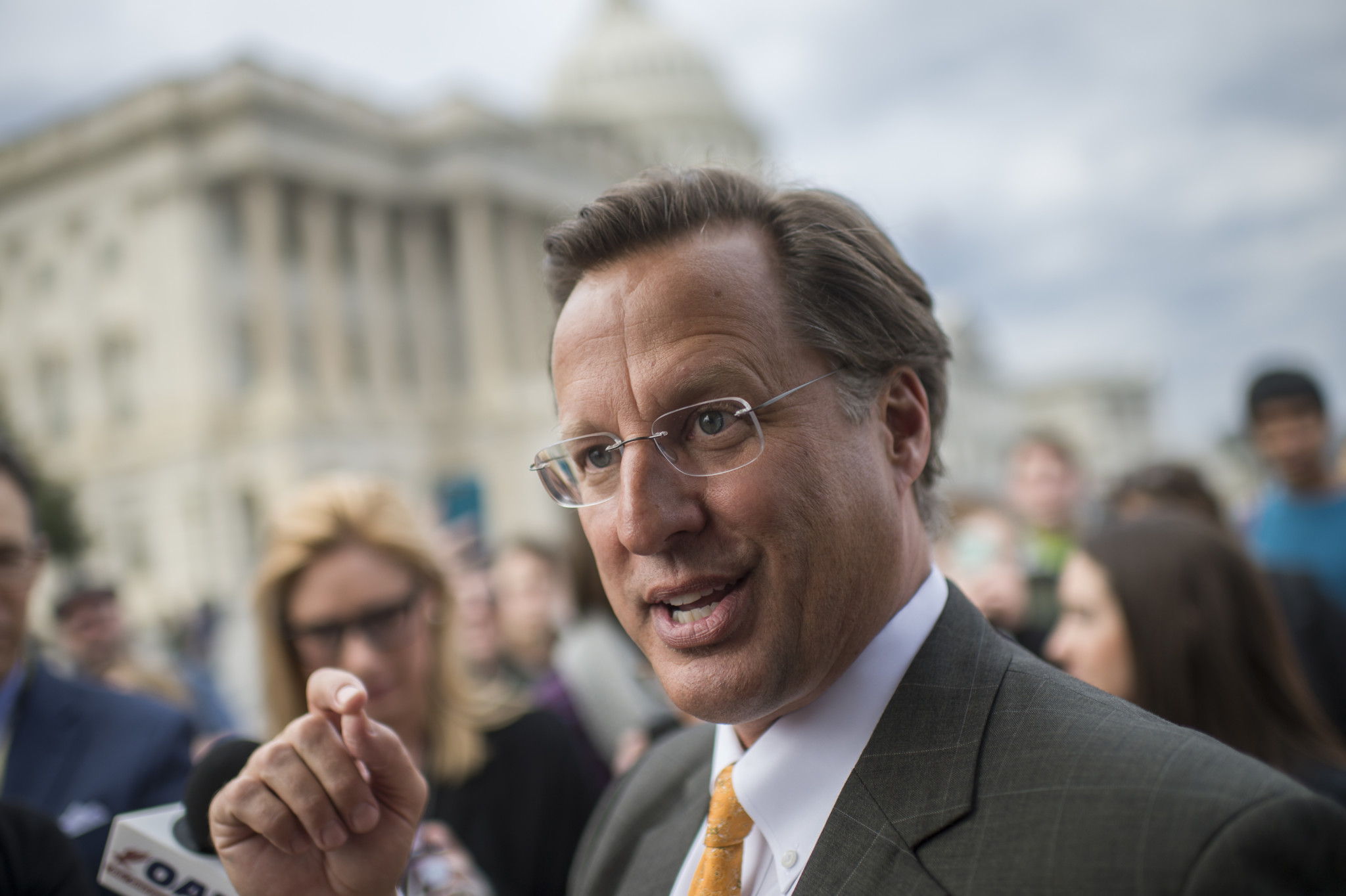 A bigger frustration for Republicans has been the incumbents in normally safe seats who haven't had tough races in the past that they worry have been caught sleeping. Those incumbents either haven't done enough to prepare financially or continue to talk like safe-district Republicans, like Reps. Dave Brat (R-VA), Claudia Tenney (R-NY) and John Culberson (R-TX).
"The majority isn't going to be won or lost on the candidates in tough seats who are working hard and doing everything right. It's going to be won or lost on the candidates in the marginal seats who don't realize this is going to be a historically tough year," said another House GOP strategist.
A huge and expanding map with candidates ready to pounce is a reality partly because House Democratic candidates are basically printing money.
It used to be true that a half-million dollar fundraising quarter was an impressive number for a House challenger. But the 2018 election cycle is throwing that out the window. In the last three months, nearly two dozen House Democratic challengers topped $1 million (!), including Navy veteran Mikie Sherrill, who hauled in an incredible $1.9 million for the seat held by retiring Rep. Rodney Frelinghuysen (R-NJ). More than 50 House Democratic challengers out-raised the GOP incumbents they'll face this fall, another rarity. More than a dozen sitting House Republicans have less cash on hand than their Democratic challengers at this point, something that's almost unheard of. Democrats also have the cash edge in nearly all of the the two dozen competitive open House seats, most of them currently held by retiring GOP members.
That's the most concrete sign of strong Democratic campaigns — and shows in most cases they will have the money they need for a much bigger battlefield map than in past cycles, even in the expensive media markets many of their suburban seats sit in. For the first time since Citizens United opened the outside spending floodgates a decade ago, House Democrats may have the fundraising advantage, or at least parity.
Outside money could undo some of that advantage — the GOP-aligned Congressional Leadership Fund already has $71 million in the bank to spend on House races this fall, far more than Democratic outside groups. But former New York City Mayor Michael Bloomberg's pledge to spend $80 million this fall, mostly to help Democrats retake the House, could neutralize the GOP's outside money edge. And outside money doesn't go nearly as far as candidates' own cash, because they can get much lower advertising rates and more tightly control their own campaign message.
Democrats have also over-performed in most special elections throughout the year. There's just one more big test before the general election — a GOP-leaning open House seat based in Columbus, Ohio, where Republicans are viewed as having the slight edge as the Democratic candidate has made some late missteps. But however that race turns out, the fact that it's competitive shows how big the 2018 electoral map is.
"The playing field is so large, it's hard to predict success," said one Republican.
The TPM Journalism Fund: A New Way To Support TPM
We're launching the TPM Journalism Fund as an additional way for readers and members to support TPM. Every dollar contributed goes toward:
-Hiring More Journalists
-Providing free memberships to those who cannot afford them
-Supporting independent, non-corporate journalism