This article is part of TPM Cafe, TPM's home for opinion and news analysis. It was originally published at The Conversation.
On April 17, 2023, the Nebraska Cornhuskers unveiled the latest version of their beloved mascot, Herbie Husker.
Herbie's left hand no longer forms the "OK" symbol. Instead, an index finger is raised to indicate that the team is No. 1.
The change was made, University of Nebraska officials explained, because the universal symbol of approbation – curling the index finger to touch the thumb, forming an "O" – had become associated with white supremacy and hate speech.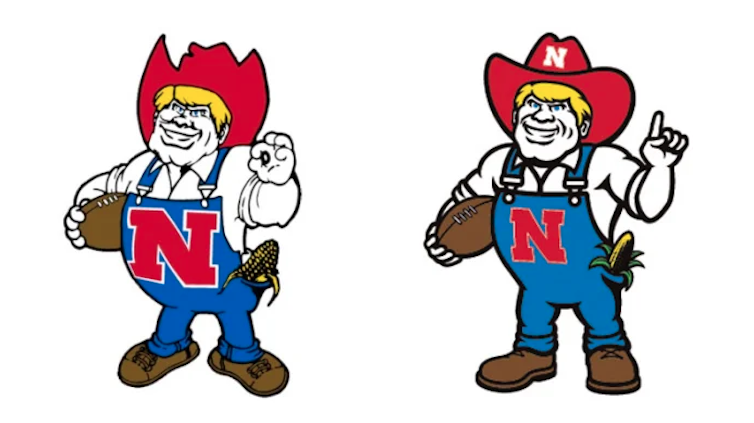 How did something as benign and commonplace as the "OK" hand gesture come to assume such sinister undertones? And what does the University of Nebraska's willingness to change its mascot say about the ways in which ambiguous signs and symbols can take on a life of their own?
A new way to hate?
In 2015, Milo Yiannopoulos, Richard Spencer and other figures of the "alt-right," a white nationalist movement, started using the hand gesture in posed photos of themselves. But it took off in February 2017, when a prank message was posted on 4-chan, the anonymous messaging site that has been a breeding ground for racism and conspiracy theories.
"Operation O-KKK" encouraged the flooding of social media sites like Twitter with posts proclaiming the familiar gesture to be a symbol of the alt-right. But what began as an effort to "troll the libs" quickly took on a life of its own.
In May 2019, an attendee at a Chicago Cubs baseball game made the gesture on camera behind a Black reporter, prompting the team to ban him from Wrigley Field.
Shortly thereafter, school officials recalled yearbooks in Petaluma, California, and Chicago after discovering pictures of students making the gesture. The Anti-Defamation League went on to add the gesture to its database of hate symbols.
There have also been cases of mistaken identity, however.
During the 2019 Army-Navy football game, midshipmen and cadets flashed what seemed to be the white power gesture on-camera behind the ESPN commentator – a game that was politically charged because then-President Donald Trump was in attendance.
The academies, however, determined that the students had been playing the Circle Game instead – a practical joke in which participants try to trick each other into looking at a circle gesture, which prompts a punch.
The Army-Navy incident was a high-profile example of misperception. But there have been several similar episodes involving the same gesture.
In June 2020, for example, a utility employee in San Diego supposedly made a white power sign while dangling his arm from a company truck. Another motorist took a picture and reported the worker to his company. The employee was fired, even though he claimed to be merely cracking his knuckles.
And in April 2021, a contestant on "Jeopardy!" held up three fingers when he was introduced in celebration of having won the three previous games. Yet the belief that it was a white power gesture prompted nearly 600 former contestants to sign a statement denouncing what they perceived as a gesture of hate.
As I describe in my recently published book on the causes of miscommunication, these types of incidents are not new and not unusual.
They can be characterized as symptoms of moral panic, in which the media, politicians and activists fan the flames of uncertainty and worry.
In the case of the "OK" symbol, concerns about white supremacy snowballed in the wake of events like the 2017 Unite the Right rally, when white nationalists and far-right militias converged on Charlottesville, Virginia.
The ensuing clashes with counterprotesters resulted in more than 30 injuries and one death. Afterward, many Americans were particularly sensitive to racist symbols – and perhaps more prone to interpret ambiguous gestures as white power signs.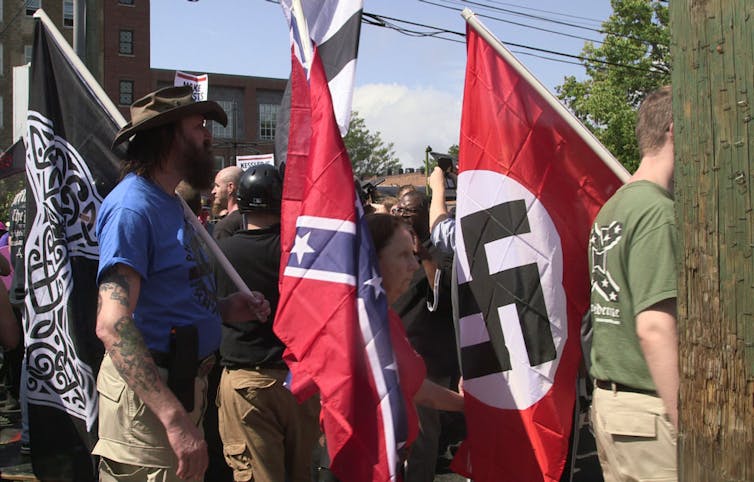 Moral panic
A very similar dynamic involving gang signs has played out over the past couple of decades.
In 2007, the Virginia Tourism Agency created an ad campaign that included actors making the heart sign: curled fingers joined with thumbs pointing downward. The campaign was changed when state officials discovered that the street and prison gang the Gangster Disciples also used the symbol.
In 2013, a group of California high school seniors ordered sweatshirts with "XIV" – their year of graduation – emblazoned on them. However, the number is also a symbol of the northern California Norteños gangs, as "N" is the 14th letter of the alphabet. To avoid any association with the gangs, school officials advised students to avoid wearing the clothing.
And in March 2014, a Mississippi high school placed a student on indefinite suspension after he had been photographed standing next to his biology project. He was accused of flashing a gang sign because his thumb and two other fingers were outstretched. These form a "V" and an "L" – a symbol of the Vice Lords gang. But the student protested that he was merely indicating "3," the number of his football jersey, which he was also wearing in the photo.
Tragically, there have also been episodes in which sign language was misinterpreted as gang symbols, leading to acts of violence against those simply trying to communicate.
Kids, cats and devils?
As these examples make clear, moral panics often reflect society's anxieties.
They run the gamut, from uneasiness about young children using smartphones to house cats killing wildlife and even to role-playing games fostering demon worship.
Fears of gangs and hate groups are just the latest manifestation of this phenomenon.
At the time of the Army-Navy game, The Washington Post wrote that the "OK" gesture "now lives in a purgatory of meaning."
It's hardly surprising, then, that universities are distancing themselves from ambiguous and controversial symbols.
Moral panics may not be grounded in reality, but the concerns they give life to can still be bad for one's image – or one's team.
Roger J. Kreuz is an associate dean and professor of psychology at University of Memphis
This article is republished from The Conversation under a Creative Commons license. Read the original article.