As Donald Trump delivers his State of the Union Address, we'll be adding some stray observations — noteworthy or humorous things that don't make it into our articles — here. Watch this space.
John Light, 8:42 p.m.: Trump's advisors have been putting together the speech for weeks and Trump has been rehearsing it for days. But reports indicate the copy was hurriedly rewritten to hit Democrats harder. We'll see what that looks like.
Tierney Sneed, 8:49 p.m.: The speech hasn't even started yet, and we have already gotten a striking visual tonight, with House Democratic women — including Speaker Pelosi — wearing white. The color is a nod to the suffragettes and the fashion choice was coordinated by the House Democratic Women's Working Group. The group organized a similar move for President Trump's Joint Address to Congress in 2017. Last year's midterms were a historic election for women, and the scene in chamber tonight really illustrates that.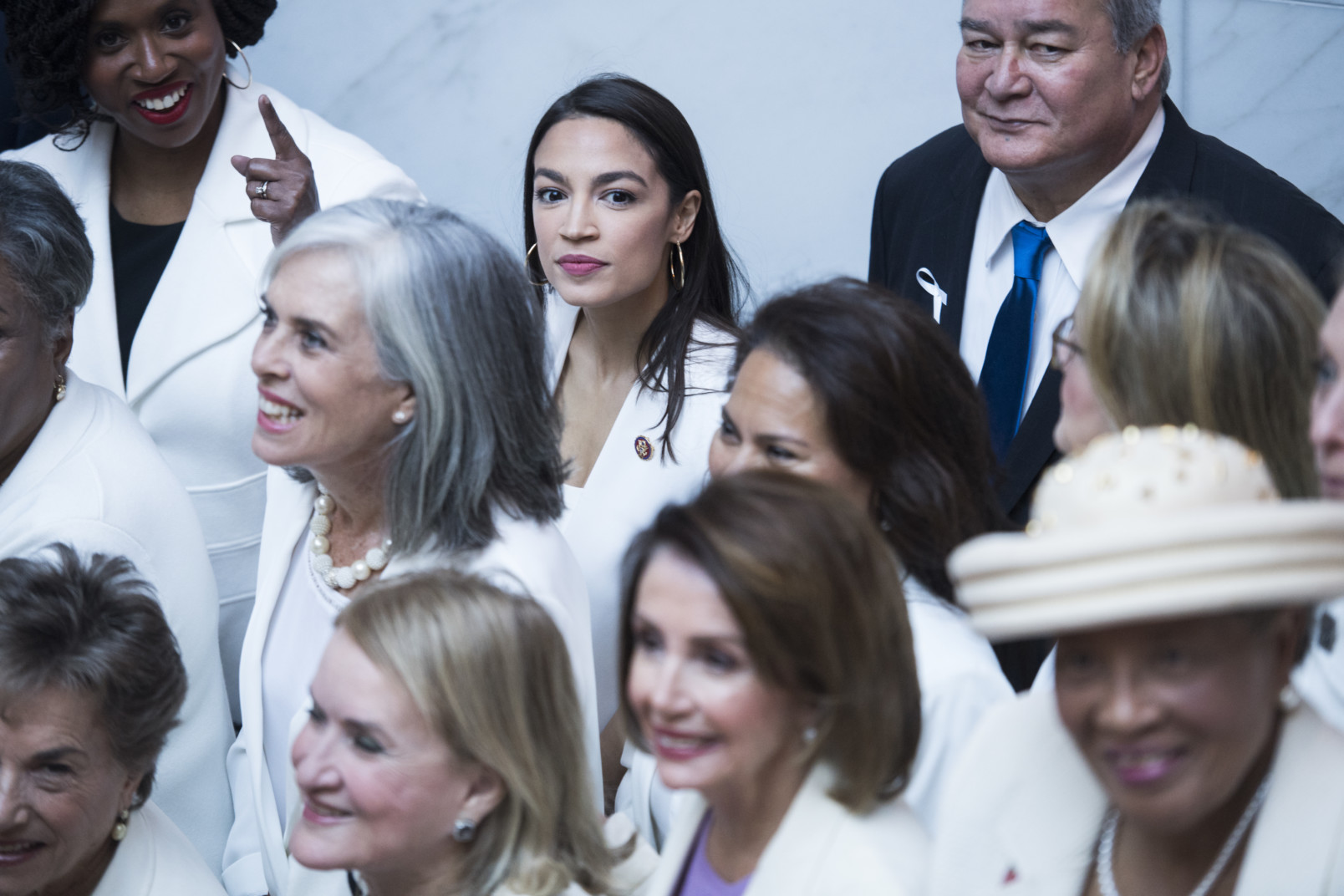 Caitlin MacNeal, 8:50 p.m.: Ooh, Rick Perry is the designated survivor.
John Light, 9:05 p.m.: Supreme Court Justice Ruth Bader Ginsburg is not in attendance, but neither are several other justices. Justices Roberts, Kagan, Gorsuch and Kavanaugh are at the speech, the rest are not. Right-wing figures are pushing a conspiracy theory that Ginsburg, who was not seen in public during January while recovering from an operation, is dead. (She is not: She went to a concert on Monday.)
Summer Concepcion, 9:07 p.m.: There are five acting cabinet officials at this SOTU — an example of how in flux the Trump cabinet is.
David Taintor, 9:16 p.m.: The first headline of this speech is Trump's crooked tie.
Tierney Sneed, 9:17 p.m.: The resistance line just now seemed pretty pointed: "We must choose between greatness or gridlock, results or resistance, vision or vengeance, incredible progress or pointless destruction. Tonight, I ask you to choose greatness."
John Light, 9:17 p.m.: Stephen Miller, alliterative poet: We have a choice between "greatness or gridlock, results or resistance." We must "reject the politics of revenge, resistance and retribution and embrace the boundless potential of cooperation, compromise and the common good."
John Light, 9:27 p.m.: The Russia probe makes its first appearance, with a rhyme. "An economic miracle is taking place in the United States — and the only thing that can stop it are foolish wars, politics, or ridiculous partisan investigations. If there is going to be peace and legislation, there cannot be war and investigation. It just doesn't work that way!"
Cristina Cabrera, 9:32 p.m. Now to the wall. With another possible shutdown looming, Trump's on borrowed time here. He's already lost this fight before.
Summer Concepcion, 9:37 p.m.: Right as Trump begins his rant on "illegal immigration," the first Native American women to serve in Congress — Deb Haaland (D-NM) and Sharice Davids (D-KS) — are seen whispering to each other. The two shared a scarf to wipe their tears during the 116th Congress' swearing-in ceremony.
Cameron Joseph, 9:50 p.m.: Trump talks about newly created jobs for women, and Rep. Dan Kildee (D-MI) jumps up and points at all the new female Democratic House members, who rise to their feet cheering. "Don't sit yet," Trump says, then goes back on script. "Exactly one century after the Congress passed the Constitutional amendment giving women the right to vote, we also have more women serving in the Congress than ever before." Whoops, then Democrats chant "USA, USA."
Caitlin MacNeal, 9:53 p.m.: She's never happy.
45 minutes in, we got 30 seconds on the wall. He better be breaking ground tomorrow.

— Ann Coulter (@AnnCoulter) February 6, 2019
John Light, 10:01 p.m.: Tonight's speech was scheduled to be about 45 minutes long. But it started just after 9:00 p.m. ET, and, at 10:00 p.m., we still have quite a bit to go. According to prepared remarks released to the press by the White House, the speech is 5,215 words long, and we're just past word 3,000.
John Light, 10:09 p.m.: Trump on North Korea: "If I had not been elected President of the United States, we would right now, in my opinion, be in a major war with North Korea." But, he cut the line that was meant to follow. The original copy read "in a major war with North Korea with potentially millions of people killed."
Tierney Sneed, 10:25 p.m.: Rep. Gerry Connolly (D-VA), who sits on the Oversight committee, tells me that Trump's warnings about partisan investigations were "Nixonian" and "inappropriate."