A civilian employee was responsible for the lewd tweets posted on the Fort Bragg military base's official Twitter account on Wednesday, according to Col. Joe Buccino, the public affairs officer for the XVIII Airborne Corps.
Buccino told TPM over the phone that the employee, who was one of three people who had access to the account, told investigators that he had sent the tweets by accident. The XVIII Airborne Corps had previously announced that the account was "hacked."
Earlier this afternoon the Fort Bragg Twitter account was hacked and a string of inappropriate tweets were posted to the account. When made aware, the Fort Bragg social media team deleted the tweets & temporarily moved the account offline. The matter is under investigation.

— XVIII Airborne Corps (@18airbornecorps) October 21, 2020
The base subsequently closed its investigation after the staffer came forward, and there will be a "less formal inquiry into appropriate measures" to address the incident, according to Buccino.
He also said that the Twitter account, which was temporarily deactivated shortly after the tweets were posted, will be turned back on in approximately one week to 30 days.
On Wednesday afternoon, the account set off a firestorm when it responded to a sex worker's tweets with decidedly graphic comments: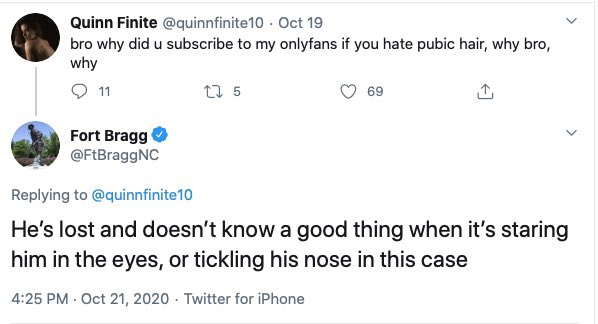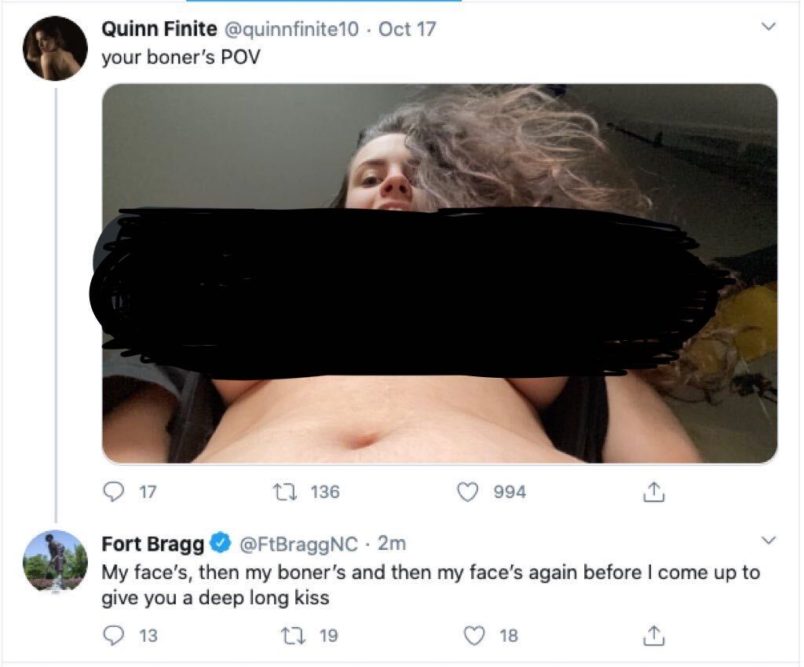 The sex worker, who goes by Quinn Finite, cheered on the mishap.
"Normalize horny tweeting from US army forts," she tweeted.
Finite also pounced on a business opportunity by offering a 50% military discount on her content on OnlyFans.