Commerce Secretary Wilbur Ross on Thursday attempted to explain to lawmakers an email he sent to an aide on May 2, 2017, expressing frustration "nothing" had been done in response to his "months old" request to add a citizenship question to the 2020 census.
The email undercut his previous congressional testimony that suggested the push to add the citizenship question was initiated by a December 2017 Justice Department request to have it included.
Ross on Thursday said that he was frustrated in the email because "I had not gotten an answer to the question: would the Department of Justice formally request the question to be re-instituted or would they not?"
He said he was "seeking to get clarification of what was the interest, if any, of the Department of Justice in the question."
It's unclear where he had gotten the idea, by spring 2017, that the Justice Department was interested in the Census Bureau asking the question. The evidence released in litigation over the question suggests that his Commerce aides had to work very hard to get the Department of Justice to formally request the citizenship question.
Commerce official Earl Comstock (the recipient of the May 2 email) prepared a memo for Ross in September 2018 that said that Comstock got in touch with the Justice Department in "early May." Commerce's White House liaison is whom Comstock used to find a contact at the Justice Department, where he was connected with a top immigration lawyer.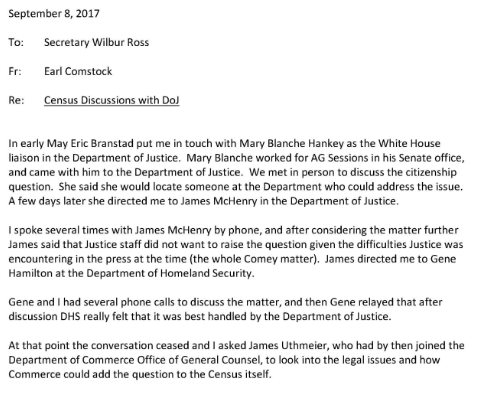 The Trump administration is now claiming the question is necessary for DOJ voting rights enforcement, not for DOJ immigration purposes.
The DOJ immigration attorney, James McHenry, said the Justice Department did not want to raise the question and then suggested Comstock contact the Department of Homeland Security. DHS official also rebuffed Comstock's interest in getting the agency to request the question.
In the fall of 2017, Ross ultimately had a phone call with then-Attorney General Jeff Sessions himself to discuss adding the question.
According to House Oversight Democrats, Mark Neuman — a former Trump transition official who did not work for the administration — provided to the Department of Justice a draft of the request. He gave it to John Gore, the Trump-appointed DOJ official who was behind the final version of the request, according to a partial transcript of Gore interview's with the House Oversight Committee.