Last week, in his sentencing hearing, George Papadopoulos expressed deep remorse for his crime and asked for a lenient sentence, which he got: 14 days in jail. In her weekend interview, Papadopoulos's wife, Simona Mangiante, seemed to all but troll the Special Counsel's office with the widespread suspicions that she is in fact herself a spy or tied in some fashion to Russian intelligence. After the sentencing I thought, what happened to all the "deep state" conspiracy theories Mangiante had been peddling on Fox News all summer, asking for a pardon, going deep into the Fox News/Hannity-sphere with every conspiracy under the sun?
Well, last night, four days after his sentencing, Papadopoulos was back on Twitter with a new or at least expanded series of accusations about being targeted by the intelligence services of either Australia or the United Kingdom, Hillary associates and more.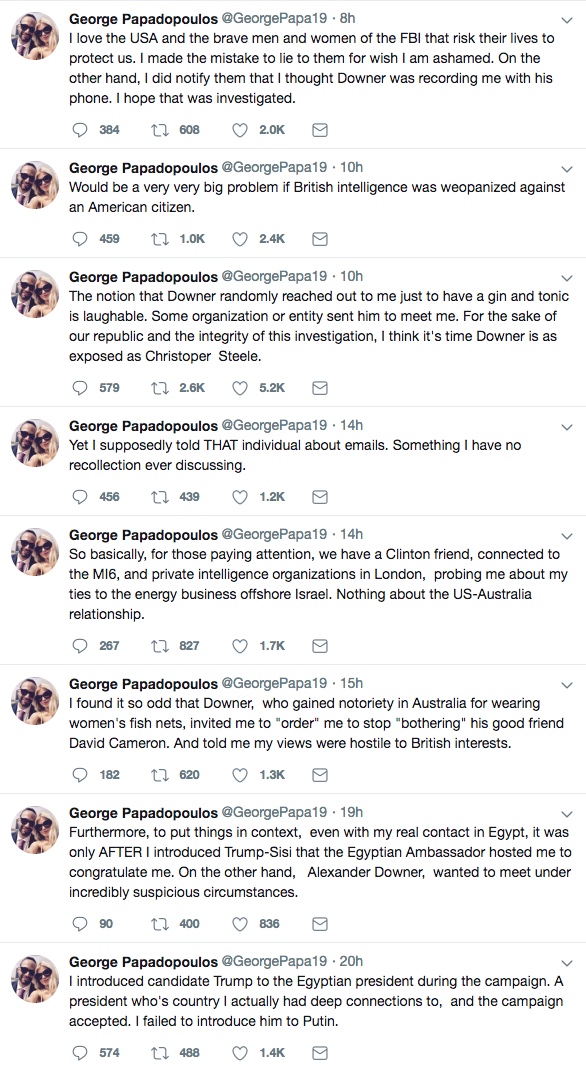 Maybe these two are just clowns. Maybe George wants back into the good graces of the Trump world. I've spoken to various people who have spoken to one or both or them over the last year. None of them can figure the two out. Listen in his on-air interviews, George reads like either a complete dope or someone who is hiding something. Maybe it's both. But I continue to believe that neither one of these people – George or Simona – is who they claim to be.