Congressional Republicans are about halfway through a hellish two-week recess, their first since their unpopular Obamacare repeal bill was disastrously pulled from the House floor.
So have they coalesced around some talking points to explain why they might need to abandon their years-long vow to dismantle the Affordable Care Act, or to address whether they over-promised on a quick replacement for the law? Not quite.
A few House GOP cheerleaders were willing to tout the failed legislation, the American Health Care Act, while chatting with their constituents at town halls over the past week. But many Republicans sought to distance themselves from the bill or, if they were among the hardliners or moderates that revolted against it, even celebrated its demise.
The legislation would have eliminated many of the Affordable Care Act's taxes, scaled back its market reforms, reworked its tax credits and gutted Medicaid. According to a Quinnipiac University poll, only 17 percent of Americans approved of the bill.
Here is a look at how GOP lawmakers are explaining that Obamacare repeal fail to their ultimate bosses, their constituents:
The "we told you so" caucus: Dancing on the AHCA's grave
Perhaps the only Republicans enjoying fielding Obamacare questions at events in their districts are those who were key to the repeal bill's defeat.
"It didn't repeal Obamacare," Rep. Justin Amash (R-MI), a vocal AHCA critic, said at a town hall. "It basically restructured Obamacare, and it didn't resolve any of the problems, and in fact some of the changes would have made Obamacare even worse."
He also told his constituents that he believed 50 to 80 Republicans would have voted against the bill, adding that, "It would have been really embarrassing."
Rep. Andy Biggs (R-AZ), who like Amash is a member of the hard-right House Freedom Caucus, also embraced his opposition to the bill.
"It leaves the framework in place. Those of you who like Obamacare, this is your best alternative," Biggs said at a town hall. 
Some Republicans sharpened their criticism of the bill to how it was rolled out.
"A bad process makes a bad policy. We have to slow down. We have to air this out," Rep. David Young (R-IA) said.
Rep. Ted Yoho (R-FL) blamed Speaker Paul Ryan (R-WI) while arguing that President Donald Trump had been "misled" by Republican leaders in Congress.
"It's a function of leadership," Yoho said.
Gluttons for punishment: Doubling down on the failed bill
Some Republicans have been willing to defend their support for the euthanized bill and even expressed optimism that it would be brought back from the dead.The legislation, Rep. John Culberson (R-TX) said at a town hall, "repealed about 70 percent of Obamacare, and that's good enough for me." As attendees chanted "Fix it," he shot back, "The only way to fix it is to replace it."
"We'll find a way because we have to," he said.
His fellow Texan Republican Rep. Joe Barton also told constituents that, "Hopefully we will bring the health care bill back up and pass it."
Rep. Glenn Grothman (R-WI) went as far as to suggest that eventually Republicans could even get Democrats on board to vote on a repeal bill.
"It would not surprise me if in five or six months, we have a plan that both Republicans and Democrats vote for," Grothman said, predicting market chaos that would force Democrats to negotiate.
"I'd still like to believe we're going to get a similar bill out of the House of Representatives," he later added.
The optimists: We'll do better next time!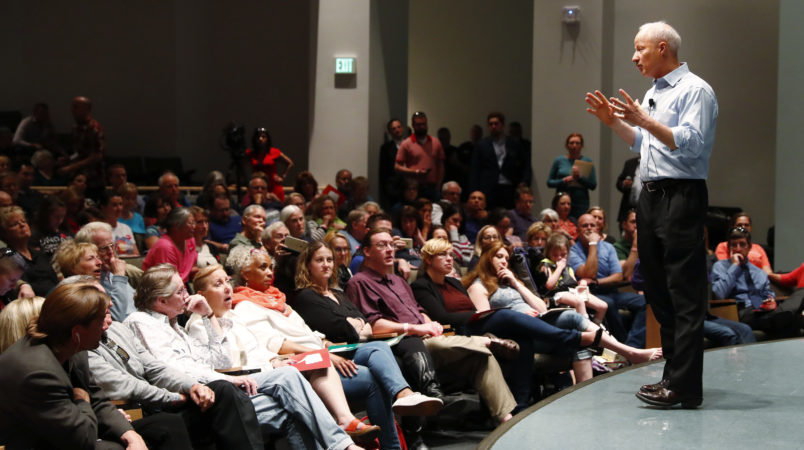 Many Republicans who were more or less holding their noses to support the toxic bill made promises to constituents that they had learned through the process and that they'd do better the next time they take a swing at health care reform.
"If you're going to be a governing majority in the House Republicans, we have to work through this stuff," Rep. Ryan Costello (R-PA) said at a town hall in his purple district in the Philadelphia suburbs. "And I get concerned … finger-pointing can diminish our ability to marshal legislation forward."
Rep, Mike Coffman (R-CO), who also represents a swing district, called the bill's failure a "faceplant" while describing the legislation as "a good starting point."
"I will protect those with pre-existing conditions. … I will maintain that commitment," Coffman said, referring to attempts by conservatives to hollow out the ACA's pre-existing conditions protections.
"We learned we need to take more time and get it right," Rep. Todd Rokita (R-IN) told his constituents. "We need to explain it better to get the next one passed."
Tellingly, Rep. Greg Walden (R-OR), the Energy and Commerce Committee chair who helped write the bill, has kept it at arms length while home in his district, according to a report by the Washington Post.
"There is a lot of reform with health care that is being done on a bipartisan basis and will be done on a bipartisan basis," he said at a town hall last week.
TPM Composite by Christine Frapech. All images via the Associated Press.