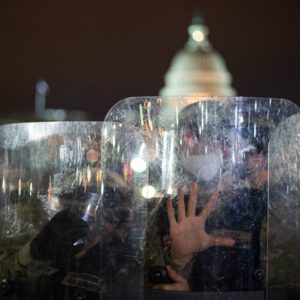 Yielding the floor to TPM Reader BK:
I am a longtime reader and Prime Member and I consider your work to be invaluable. To put it in fast food industry terms I am a heavy user, checking your site literally dozens of times a day and night.

Like many Americans, I watched the events in Washington DC unfolding just a couple of miles from my home where we were under curfew.

However, unlike the breathless TV pundits, my reaction wasn't one of "shock," or "disbelief." No, my reaction: I was enraged at what I watched. But none of this was shocking or unreal: it was entirely and utterly predictable.

I'll write more on that at another time, but this morning I want to address one particular aspect of this story that very few want to talk about: race and white privilege.

And frankly, as much as I adore TPM, in my opinion, this is one area where you have a blind spot, or a lack on interest. I am not sure why, but it is one area where TPM is just like every other new organization/talking head on TV. There is simply no way to cover Trump, his mob, and what happened yesterday without talking about the racism flowing through our society and the racism that has been mainstreamed into our media.