After weeks in which filings related to a secret grand jury case linked to the special counsel probe were submitted out of the public view, it appears that more may soon become known about the case.
The appellant in the case Tuesday asked the Supreme Court allow it to file its appeal under seal but notably with a redacted version for the public record.
It is not specified whether the appellant in the case is a foreign-owned company resisting a grand jury subpoena or prosecutors. However, given the case's history, it is likely that the company, which has lost repeatedly in lower courts, would be the party seeking the Supreme Court review.
The entry Tuesday in the Supreme Court's docket said a court document was submitted requesting permission to file a petition for a writ of certiorari under seal "with redacted copies for the public record filed." A petition for writ of certiorari is the term for the formal request that a Supreme Court take up a case. The request to file the petition under seal is not available for the public to read.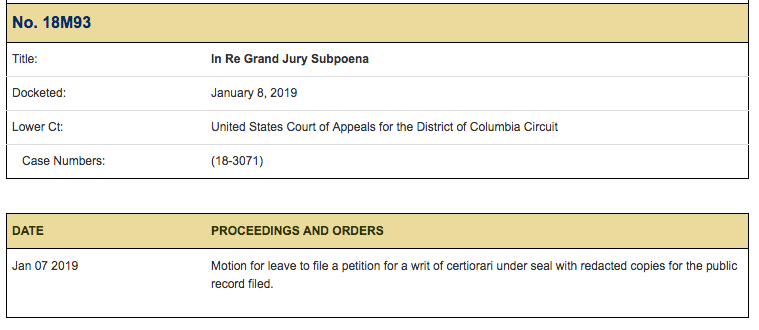 The case has been subject of much intrigue and speculation since Politico first reported in October links it saw in the sealed proceedings to Mueller's investigation. Most of what is publicly known about the case stems from the judgment an appeals court issued last month upholding the subpoena the company is seeking to quash. That vaguely-worded decision revealed that the subpoena had been issued to a corporation owned by "Country A" and that the company had claimed in court that it had immunity from complying with the subpoena under the Foreign Sovereign Immunities Act. The appeals court agreed with a lower court's decision that the matter fell within an exception to the law.
The appeal court's judgment did not say that the grand jury subpoena was issued by Mueller. Observations by reporters at the D.C. courthouse on days of key proceedings, however, suggest that his investigation is involved, as does the recusal at early stage in the case of an appeals court judge who previously served in President Trump's White House.
The foreign company turned to Supreme Court Chief Justice John Roberts, who has jurisdiction over the D.C. Circuit, seeking intervention. Roberts, on Dec. 23, temporarily halted a lower court's decision to hold the company in contempt and impose fines for its refusal to comply with the subpoena. He requested responses to the matter, which so far have been filed under seal.