Where Things Stand: Why Did Collins Turn Down Trump Just To Defy His Party, Pursue Pipe Dream?
Nicole Lafond
There's got to be something going on behind the scenes here.
Rep. Doug Collins (R-GA) has been a bulldog for President Trump from his perch on the House Judiciary Committee for months, most notably with his aggressive defense of the President throughout the impeachment inquiry. Trump rewarded his loyalty by floating to reporters Thursday night that the lawmakers is among the candidates he's considering to become director of national intelligence.
Read More
| Miscellany
Our new 'Support Independent Journalism' merchandise is now available in the TPM store. Wear your support for truly independent journalism with all profit from sales going directly back into our journalism, not into the pockets of hedge funds or corporate overlords.
TPM PRimers: get caught up
| Weekly Primers
House Oversight Panel Advances D.C. Statehood Bill
| Weekly Primers
With Impeachment Over, Trump Seeks Vengeance
| Weekly Primers
Trump Hawks 2020 Campaign Merch From The Oval Office
TPM CAFE: OUTSIDE VOICES AND ANALYSIS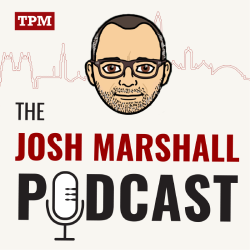 Ep. 106: What Happens In Vegas Doesn't Stay In Vegas
Kate, David, and Matt analyze the Democratic horse race just before the Nevada debate and caucus....
MEMBER EXCLUSIVES
PRIMEWIRE