Readers Respond to the Sanders' Surge, Pt. 2
Josh Marshall
TPM Reader CR takes a simple approach ..
I see this election in fairly straightforward terms:

Trump has basically had his average approval rating written in stone at about 43%, and his disapproval rating in the 52-54% range. Since, by virtually every survey, this looks to be a huge turnout election and not a "base" election, those percentages should be more accurate than if it was a base election.
Read More
| Miscellany
Our new 'Support Independent Journalism' merchandise is now available in the TPM store. Wear your support for truly independent journalism with all profit from sales going directly back into our journalism, not into the pockets of hedge funds or corporate overlords.
TPM PRimers: get caught up
| Weekly Primers
House Oversight Panel Advances D.C. Statehood Bill
| Weekly Primers
With Impeachment Over, Trump Seeks Vengeance
| Weekly Primers
Trump Hawks 2020 Campaign Merch From The Oval Office
TPM CAFE: OUTSIDE VOICES AND ANALYSIS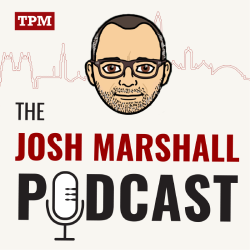 Ep. 106: What Happens In Vegas Doesn't Stay In Vegas
Kate, David, and Matt analyze the Democratic horse race just before the Nevada debate and caucus....
MEMBER EXCLUSIVES
PRIMEWIRE