Readers Reply on Despair and Withdrawal
Josh Marshall
TPM Reader DM kind of took my breath away …
In contrast to the decision to withdraw from politics, my wife and I, both recently retired, launched ourselves, for the first time, into the fray. We attended the 2016 women's march, then she ran for Alabama state house in 2018, knocking on 6000 doors in her attempt to oust an eighty-year-old white male incumbent When that failed, we sold our Alabama home, stored our belongings and moved on January 1 to Arizona for the 2020 election to help Arizona Democrats elect Mark Kelly to the Senate to put a check on this administration. This dark week just reinforces our decision to stand up against a President who is following every authoritarian's playbook in methodical fashion.
| Miscellany
Our new 'Support Independent Journalism' merchandise is now available in the TPM store. Wear your support for truly independent journalism with all profit from sales going directly back into our journalism, not into the pockets of hedge funds or corporate overlords.
| Muckraker
As the Senate votes to acquit President Trump over his bid to extort the Ukrainian government into providing him with domestic political help, TPM has new evidence suggesting that the pressure campaign came far closer to succeeding and at an earlier stage than was previously known.
Read More
TPM PRimers: get caught up
| Weekly Primers
With Impeachment Over, Trump Seeks Vengeance
| Weekly Primers
Trump Hawks 2020 Campaign Merch From The Oval Office
| Weekly Primers
This Week In Trump Investigations: The Anti-Climactic End
TPM CAFE: OUTSIDE VOICES AND ANALYSIS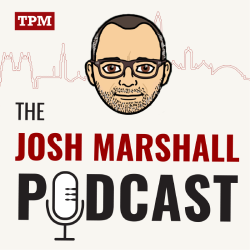 Ep. 105: What We Know After New Hampshire
Josh, Kate and David discuss what we know — and the many things we don't — coming out of the New Hampshire primary....
MEMBER EXCLUSIVES
PRIMEWIRE