The Kids at the Insider Sheets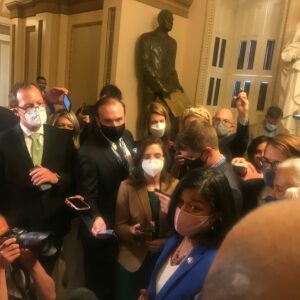 In recent months I've become paradoxically addicted to scanning the top insider sheets as they come out through the day – Politico, Punchbowl, Axios – because they're like a direct injection of the DC establishment, insider zeitgeist. It's not that you couldn't find that before. I started TPM in many ways to critique that mindset and worldview. But it's sort of like the way competition has made illicit drugs more concentrated and potent over the years. These sheets give it to you in a more concentrated form. They are each in competition with each other to refine and recut the giddiness, knowing expressions, punch phrases and conventional wisdom production into shorter and shorter bursts. In any case, not great for the country or journalism: but good for me inasmuch as I can observe it in one place so easily.
This morning I opened Punchbowl. And the story is: THE SPEECH. What's the speech? Yesterday evening as Republicans were scrambling to overcome their own filibuster Chuck Schumer gave some short remarks in which he lambasted Republicans for their recklessness and fecklessness. They played chicken with the full faith and credit of the United States and thank God they lost. And now they were scrambling to put the genie of their own recklessness back in the bottle. So you suck, you lost and don't suck next time.
Read More