COVID Notes #9 (Special Antigen Test Edition)
Josh Marshall
So many people are getting COVID, trying to figure out whether they have COVID or trying to figure out how long to isolate whether they have COVID or suspect they might. So I wanted to share with you some examples of positive and negative antigen tests. There's nothing surprising or groundbreaking about what I'm going to show you. But it can just help to see some examples if you're trying to make sense of this stuff in your own home, workplace or family.
These are six tests from a COVID infection that was antigen positive for 9 days.
Read More
| News
The Ohio Supreme Court on Wednesday struck down new legislative maps from the state's Republican-dominated redistricting commission, saying that the maps for state House and Senate favored the GOP to such an extent that they violated the state's constitution.
Read More
| News
Republicans' attacks on the democratic process didn't end on Jan. 6 — they've just changed form. Throughout 2021 and now continuing into 2022, GOP leaders have pursued endless "audits," "investigations" and "reviews" of the 2020 election results that stage hunts for non-existent evidence of widespread voter fraud and keep former president Trump's lie of a stolen election alive.
Read More
| Muckraker
The same people who organized Trump's fateful rally on the Ellipse had something else in store on Jan. 6: a separate, previously unreported rally planned in front of the Supreme Court.
Read More
| News
While the stretch between late December and the beginning of January is usually marked by slow news days patched over with pre-written, reflective stories to fill the front pages, there's been no such lull in the redistricting corner.
Read More
| News
Republican Senate leaders have suddenly expressed some openness to changing the law that Donald Trump tried to use to steal a second term in office, leading to two obvious questions: Huh? Why?
Read More
| Muckraker
In the earliest days, Steve Bannon projected uncertainty.
Read More
| News
News outlets trot out the term every time Sens. Joe Manchin (D-WV) and Kyrsten Sinema (D-AZ) make headlines: "moderates."
Read More
| News
September 2021: A blonde white woman takes the podium at a school board meeting for Lake Travis Independent School District, west of Austin, Texas. She claims that instead of speaking about a need for a second high school — the subject of the meeting — she had been "sidetracked" by something she read in a young adult novel that's available in middle schools in the area. She was here to talk about that instead.
The parent, named Kara Bell, begins to read.
Read More
| News
Gutfeld! is Fox News' weekday late night show hosted by Greg Gutfeld that promises to "look at the news of the day through a satiric lens fused with pop culture" and "feature refreshing, light-hearted takes on the day's top headlines" from various guests. The show debuted in April, and it's been an undeniable success since then, rising above almost all other late night comedy programs in the ratings, according to Nielsen. It was also among the ten top rated cable news shows in November (all the other programs with higher ratings were also Fox shows, reinforcing the right-wing outlet's status as the country's most-watched TV network).
Read More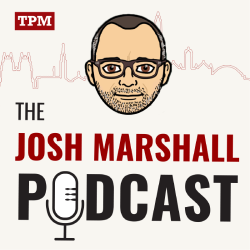 Ep. 206: Looking to the Court
With the Senate all but paralyzed, Josh and Kate discuss the Supreme Court's posture on the Biden
MEMBER EXCLUSIVES
PRIMEWIRE